Hundreds flee flooded homes as storms batter Western Cape
Man dies, apparently from electrocution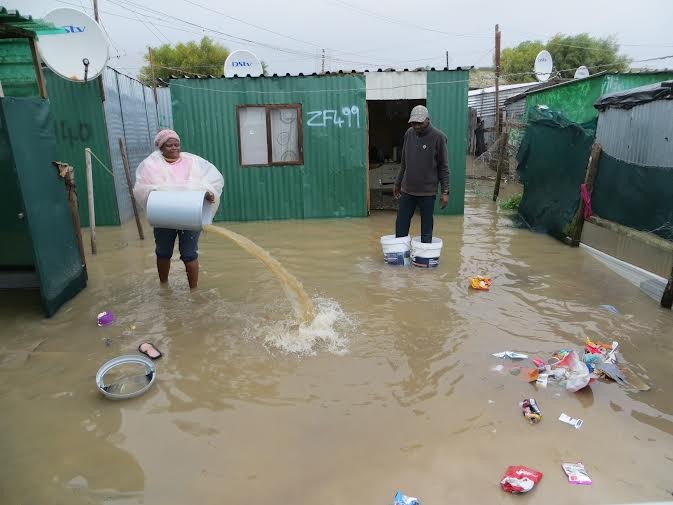 Heavy rains and winds battered the Western Cape on Sunday and Monday, forcing hundreds of families to flee their flooded homes. In Covid Village in Mfuleni, a man died, apparently electrocuted by a live wire in the water.
About 2,000 families fled their shacks in Mfuleni after a night of pouring rain, community leader Thembisa Thuba said. She said clothes and bedding had been washed away and electrical appliances drenched.
"Residents have left their shacks to save their lives," she said.
Thuba said she and other community leaders were opening locked but uninhabited shacks to accommodate flood victims.
Zukile Komani, 32, died during the storm, apparently electrocuted in flood water in Mfuleni after the Kuils River burst its banks. Neighbour Mxolisi Melento said he had stepped out of his flooded shack at about 6am and found Komani's body. (The cause of death is not yet confirmed.)
"When I saw the hood of his hooded jacket peeping out of the water, I thought it was just a jacket that had been washed away by the floods," he said.
"I noticed that the hood was heavy when I tried to pull it out of the water. As I continued to pull, I was shocked to see him come out of the water with his face down."
He and other shack dwellers believe that Komani had come into contact with electrical wires from illegal connections hidden in the water.
Melento said: "When I tried to get off my bed and place my foot on the floor, I got an electric shock today."
Thuba said she also got an electric shock when she broke down chains and padlocks at some shacks.
"We cut off all the illegal connections so that the residents could not get electrocuted when they come into contact with the rain water," she said.
She said the flood victims need blankets, food and clothes. "I have asked spaza shop owners to give the flood victims food because they are hungry," she said.
Thuba said the rains are so heavy that the methods the shack dwellers used before, such as trenches to divert the water, no longer work.
Thuba said: "We are used to floods, but the ones we are experiencing now are worse than the previous ones."
Yandisa Sono woke up when a community leader shouted to shack dwellers that water was moving into shacks at about 3am.
"My shack was already flooded, so I just took out my ID, closed the door and left," he said. Sono said his grocery, bed, cupboard and electrical appliances were all wet.
Deneo Molekwa, who lives with her seven-year-old daughter, said rain water was knee-high when she woke up at about 4am. She rushed out without any change of clothes.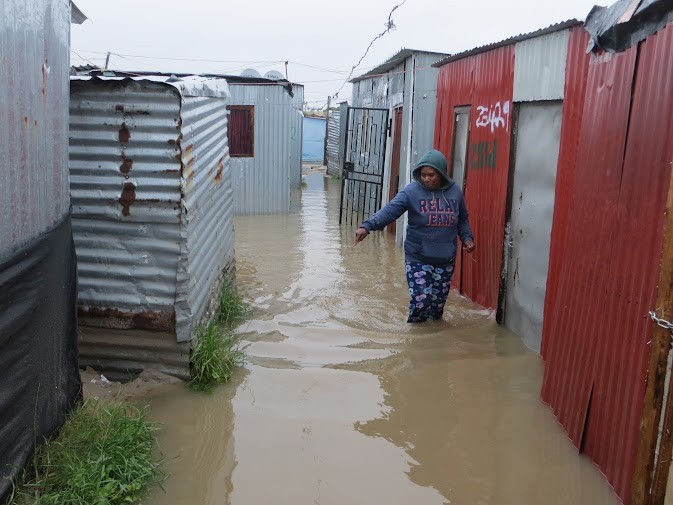 Molekwa, who lives off a R350-a-month government grant, said the floods damaged her cupboard and bed.
When GroundUp arrived, Fikiswa Tyembile's shack was almost immersed in water.
Tyembile said she fled her shack at the first sign of rain yesterday. "When I noticed that it was about to rain hard, I left along with my daughter to save my life," she said.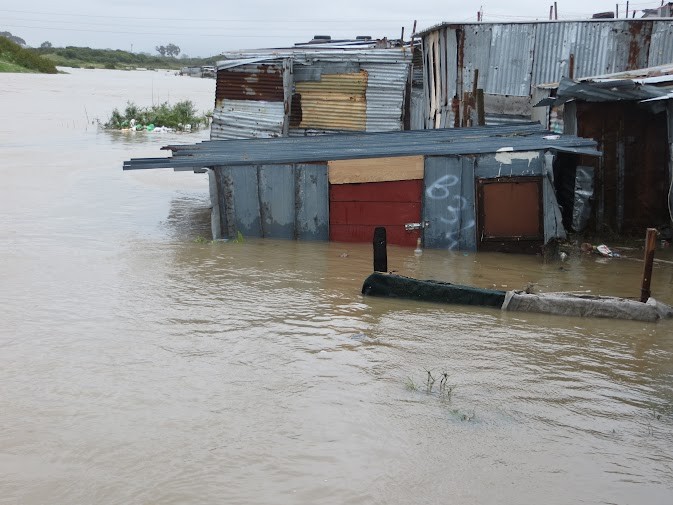 In Siyahlala informal settlement, along the Transnet railway line, in Dunoon, the rains swelled a blocked sewage system, sending a filthy river into nearby shacks.
Anele Marangxa, a 31-year-old mother of three, says she woke up to a bad smell in the one room shack she shares with her husband and three children. She and her husband set to work trying to scoop out the filthy water.
"To make matters worse, the roof was leaking," she said.
Community leader Zukiswa Khaphakhati said five families had come to her house early in the morning to ask for help but she had told them there was nothing she could do.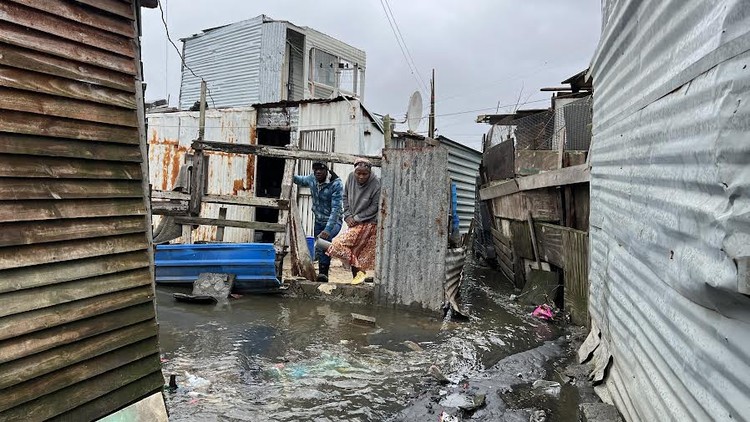 Other informal settlements in Dunoon, Khayelitsha, Philippi and Strand were also hard hit by floods.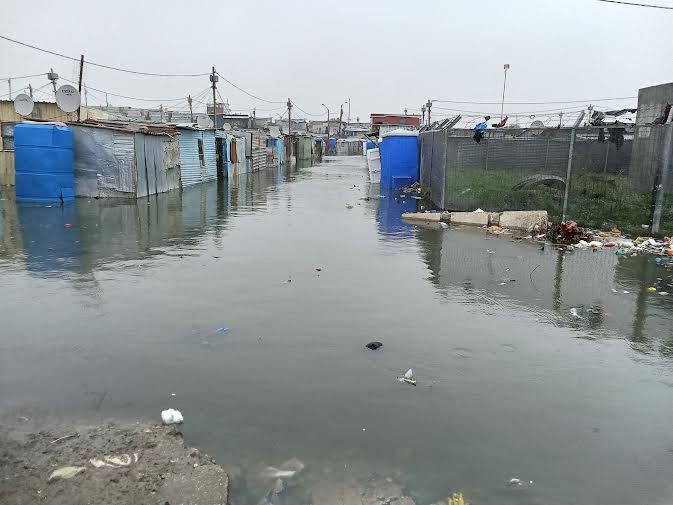 The South African Weather Service had issued a level 9 warning of disruptive rain and gale force winds.
The N2 was closed at Bot River after floods washed away the bridge, with traffic being diverted at Swellendam. The N1 between De Doorns and Worcester was also closed with traffic being diverted via Wolseley, Ceres and Trompsberg pass.
City of Cape Town disaster risk management spokesperson Charlotte Powell said the rain should start subsiding by Monday evening but very high winds would continue for three hours.
© 2023 GroundUp. This article is licensed under a Creative Commons Attribution-NoDerivatives 4.0 International License.
You may republish this article, so long as you credit the authors and GroundUp, and do not change the text. Please include a link back to the original article.
We put an invisible pixel in the article so that we can count traffic to republishers. All analytics tools are solely on our servers. We do not give our logs to any third party. Logs are deleted after two weeks. We do not use any IP address identifying information except to count regional traffic. We are solely interested in counting hits, not tracking users. If you republish, please do not delete the invisible pixel.