Court showdown over Cape Flats evictions
"We are not here because we want to be here. We are here because we need homes."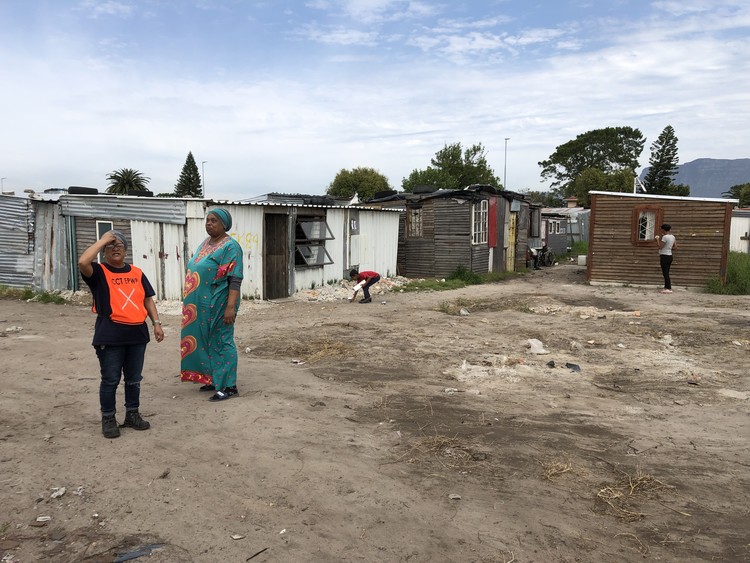 People living in about 110 informal structures and Wendy houses at Cathkin Village informal settlement in Heideveld are facing eviction.
They first moved onto the land earmarked for the Western Cape Education Department (WCED) in May 2018 due to the lack of affordable housing options in the community.
Their fate will be determined on 24 October when their eviction case is heard in court.
Hundreds of people living on land earmarked for the Western Cape Education Department (WCED) are heading to court later this month to fight their eviction.
There are about 110 informal structures and Wendy houses at the Cathkin Village informal settlement in Heideveld. It is home to hundreds of backyarders who occupied the vacant land in May 2018 due to the lack of affordable housing options in the community.
Residents like Faranaaz Fisher fear being evicted from the area where most of them have lived their whole lives. Fisher said she has been on the housing waiting list for more than 20 years and could no longer live in her mother's cramped council flat with ten other relatives.
She said that life at the settlement hasn't been easy because they don't have basic services and gang violence in the surrounding area is rife.
"We lock this (entrance) gate at 7pm for safety purposes. Everyone here, especially the children, know that they need to be inside by then. We don't allow nonsense. We try our best to keep this a safe environment from things like drugs and crime. We even have a neighbourhood watch," she said.
Fisher said that because there was no electricity in the settlement, most residents used car batteries to power small appliances, rechargeable lights, and gas stoves for cooking. "It gets completely dark here at night because we don't even have a mast light."
Another resident, Farinaas Lakay, said they only have access to three taps and porta-potties. "The City of Cape Town failed us and has probably forgotten about us," she said. "We are not here because we want to be here. We are here because we need homes."
Cathkin Village is fenced off and has two entrance/exit gates. One of the entrances is situated on the side of a block of flats, which according to Lakay, has many shooting incidents.
According to Lakay, most of the residents in the settlement have been on the housing waiting list for decades.
On the eviction order, Lakay said: "We are fighting for houses. We want houses to be built on this land. Our children go to school here, our husbands have jobs here and everything is close by like public transport and clinics. More importantly, most of us are from Heideveld."
WCED spokesperson Kerry Mauchline told GroundUp that the land was allocated to the department but it is under the custodianship of the Department of Infrastructure.
"The land is illegally invaded. Court action has been initiated to remove the illegal occupants so that the land can be used for education. An eviction order was issued against the illegal occupants. In terms of the eviction order, the City of Cape Town must find alternative accommodation for the occupants," said Mauchline.
Mayco member for Water and Sanitation Zahid Badroodien said: "The City's Water and Sanitation Directorate's Informal Settlement provided three standpipes on a City-owned piece of land on the periphery of the informal settlement, and 109 portable flush toilets. Currently there are no further plans as the land where the informal settlement stands does not belong to the City."
Junaid Jumat, the lawyer representing the Cathkin occupants, said: "An eviction order had been granted against the residents just before Covid lockdown, and there were dates for when the eviction should've taken place, but those dates have since lapsed." The case has been enrolled again, said Jumat.
Jumat said they want the court to amend the order and change the eviction date.
The matter is expected to be heard in court on 24 October.
© 2023 GroundUp. This article is licensed under a Creative Commons Attribution-NoDerivatives 4.0 International License.
You may republish this article, so long as you credit the authors and GroundUp, and do not change the text. Please include a link back to the original article.
We put an invisible pixel in the article so that we can count traffic to republishers. All analytics tools are solely on our servers. We do not give our logs to any third party. Logs are deleted after two weeks. We do not use any IP address identifying information except to count regional traffic. We are solely interested in counting hits, not tracking users. If you republish, please do not delete the invisible pixel.