March in Cape Town in support of Gaza as Israel orders evacuation
Official death toll rises to 3,000 - over 1,200 Israelis and about 1,800 Palestinians - as violence escalates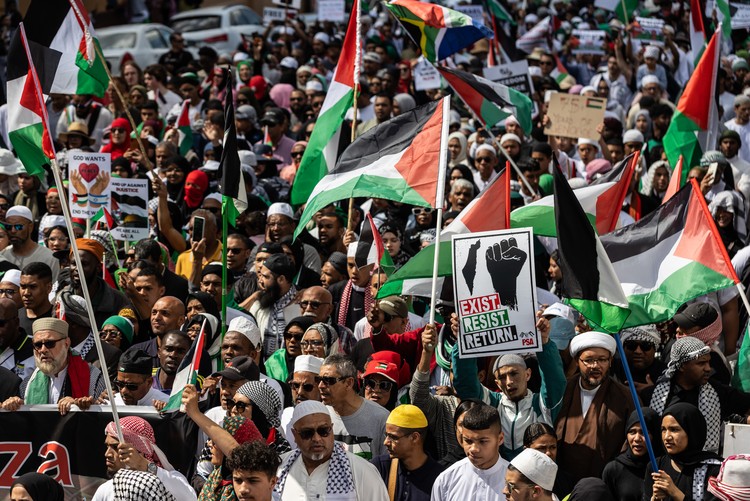 Over a thousand people marched through the streets of Cape Town on Friday afternoon in support of the people of Palestine. The march on Friday was organised by the Al-Quds Foundation. It coincided with protests around the world against the Israeli siege and bombardment of the Gaza Strip.
Proceedings started at the Muir Street mosque in District Six. The mosque was packed to capacity, spilling out into the parking lot for Friday afternoon prayers.
After prayers, the marchers proceeded to Keizersgracht Street and made their way to Parliament. "Forward we shall march, to a free Palestine," they chanted.
Friday's march came after protests on Wednesday at the offices of the South African Zionist Federation, as well as a peace vigil at St George's Cathedral.
Some protesters wore T-shirts in support of Hamas at Friday's Cape Town march.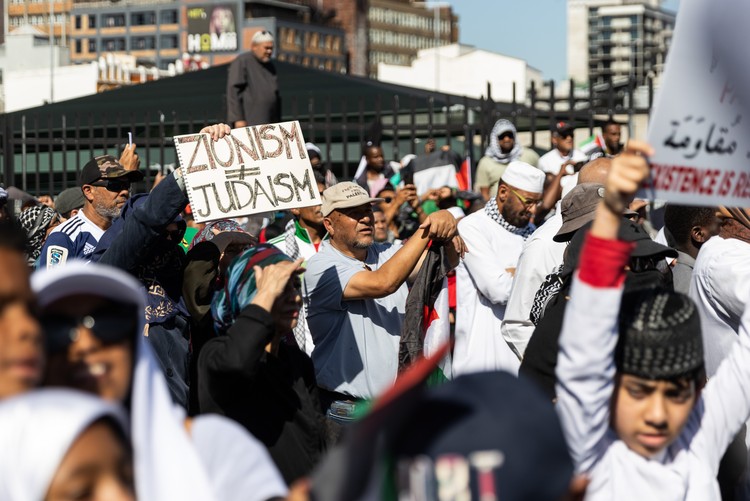 Mandla Mandela addressed the crowd. He called on President Cyril Ramaphosa and the South African government to put pressure on Israel. "We call on each and every one of you to be the voice of Gaza. Entire neighbourhoods are being torn apart as we stand here," he said.
He compared what is happening in the Occupied Palestinian Territories to apartheid South Africa.
Several of the speakers at the march also criticised US President Joe Biden for favouring Israel.
The conflict
The Occupied Palestinian Territories consist of the Gaza Strip and the West Bank. Israel has occupied these lands since a war in 1967. Currently about 4.8 million Palestinians live in the two Palestinian territories, about 2.3 million of them in the Gaza Strip. Several hundred thousand Israeli settlers also live in the West Bank.
The entire Gaza Strip is 365km2. By comparison Cape Town is about 2,460km2. It has been under siege by Israel for nearly two decades. Hamas controls the Gaza Strip.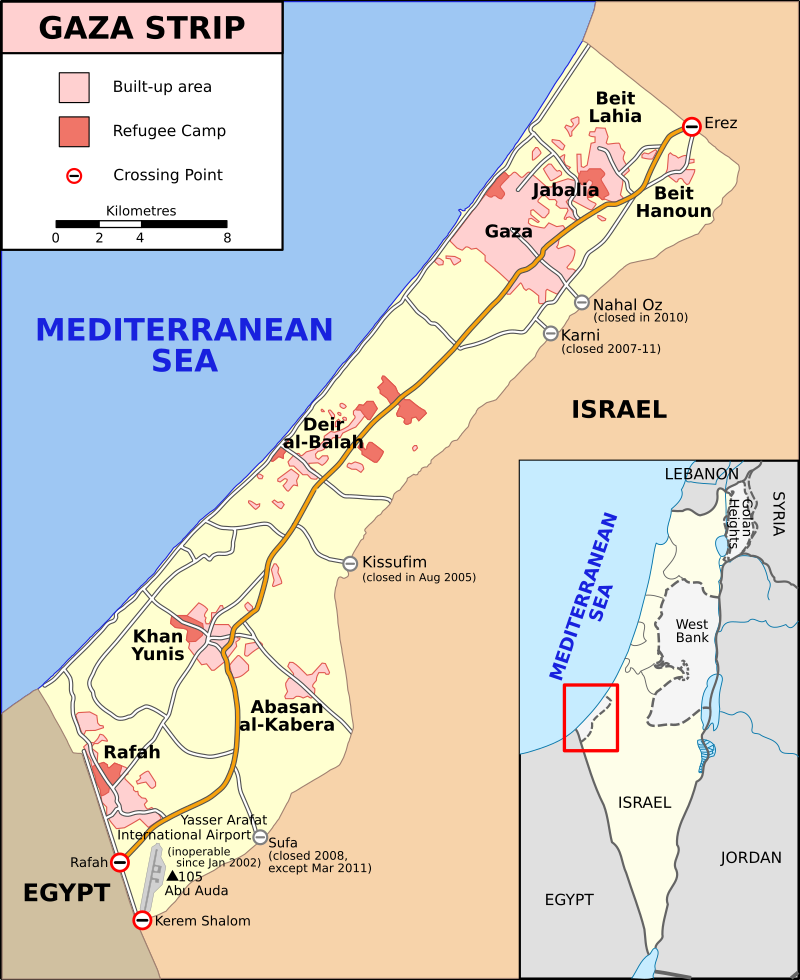 On 7 October Hamas militants entered Israel and killed over 1,200 people, most of them civilians, according to the Israeli government. In response Israel has cut off food supplies and electricity to Gaza and begun military operations against the territory. About 1,800 Palestinians have so far been killed, according to the Palestinian Ministry of Health, in Israel's retaliatory attacks.
On Friday, the United Nations announced that over 400,000 people had been displaced in Gaza.
Israel has ordered the residents of northern Gaza, including Gaza City, to relocate to the south of the territory within 24 hours. This is estimated to be over one million people.
The Guardian reports that The Norwegian Refugee Council, which works in Israel and Palestine, has described Israel's demand as a war crime.
The Guardian further reports that Jan Egeland, the organisation's secretary general, has said: "The Israeli military demand that 1.2 million civilians in northern Gaza relocate to its south within 24 hours, absent of any guarantees of safety or return, would amount to the war crime of forcible transfer. It must be reversed. The collective punishment of countless civilians, among them children, women, and the elderly, in retaliation for acts of horrible terror undertaken by armed men is illegal under international law. My colleagues inside Gaza confirm that there are countless people in the northern parts who have no means to safely relocate under the constant barrage of fire."
In a statement on Thursday, President Cyril Ramaphosa extended his condolences to all victims of the Israeli-Palestinian conflict. He further called for immediate and unconditional opening of humanitarian corridors.
"We remain gravely concerned at the devastating escalation in the Israeli-Palestinian conflict and the atrocities committed against civilian populations. We call for the immediate cessation of violence and the exercise of restraint. It is vital that all those who require urgent humanitarian assistance are provided with the basic life supporting necessities and that human suffering is ameliorated," the President said.
The Department of International Relations and Cooperation of the Republic of South Africa (DIRCO) announced that two South Africans had been killed but provided few details.
Also on Thursday, the World Health Organisation (WHO) warned that health services in Gaza were at "breaking point". "Hospitals have only a few hours of electricity each day as they are forced to ration depleting fuel reserves and rely on generators to sustain the most critical functions. Even these functions will have to cease in a few days, when fuel stocks are due to run out."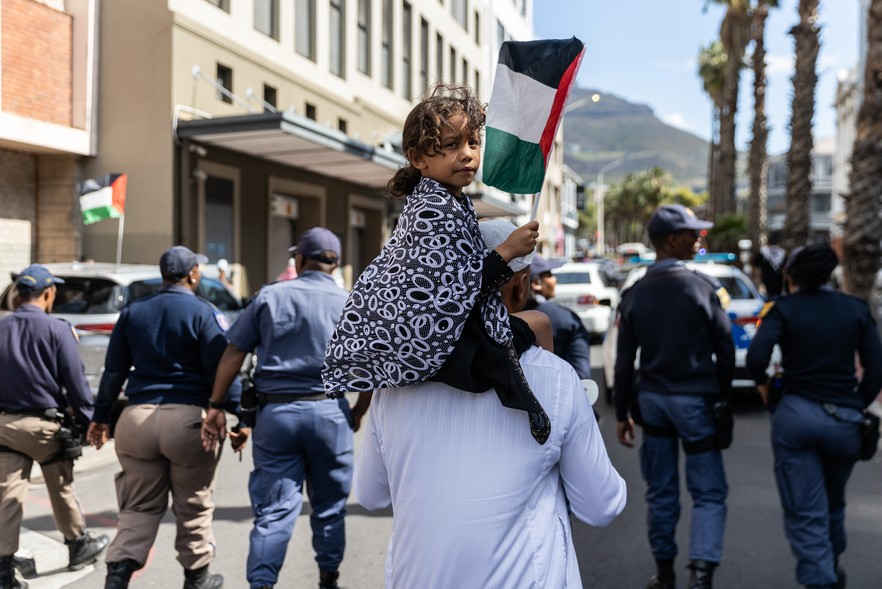 © 2023 GroundUp. This article is licensed under a Creative Commons Attribution-NoDerivatives 4.0 International License.
You may republish this article, so long as you credit the authors and GroundUp, and do not change the text. Please include a link back to the original article.
We put an invisible pixel in the article so that we can count traffic to republishers. All analytics tools are solely on our servers. We do not give our logs to any third party. Logs are deleted after two weeks. We do not use any IP address identifying information except to count regional traffic. We are solely interested in counting hits, not tracking users. If you republish, please do not delete the invisible pixel.