Hout Bay residents protest against reblocking
They accuse community leaders who support reblocking of corruption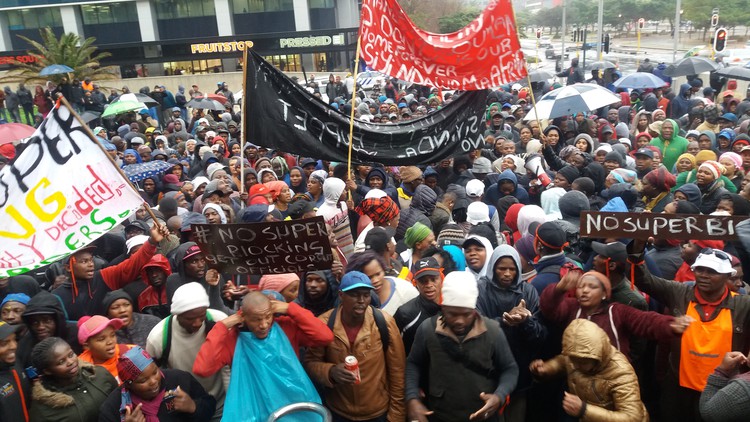 Hundreds of people from Imizamo Yethu in Hout Bay protested outside the Cape Town Civic Centre on Tuesday in cold and rain, to complain about the reblocking of their neighbourhood.
After a fire left thousands of Imizamo Yethu residents homeless in March, the City of Cape Town negotiated with residents to reblock the area. This essentially means creating space, such as proper roads, between shacks. This would make it harder for fire to spread and easier for emergency vehicles to get access during a fire. But the community is split over reblocking. Some see it as a step forward in the development of Imizamo Yethu, while others worry that it will mean months more living in temporary accommodation, while waiting for reblocking to finish.
Vathiswa Tshezi said that she took a day of leave from work today to take part in the protest. She had been living in Hout Bay for 20 years. She said she had been on a waiting list for an RDP house for many years. She is opposed to reblocking because, she believes, it will mean she has to move. 
Thomas Hifikwa, who is from Namibia, said that he had been staying in Imizamo Yethu since 1998 with his wife, child and four brothers. He is against reblocking because his shack will become smaller. He says what he needs is electricity and water.
A banner accused two of Imizamo Yethu's community leaders of corruption. A protester told GroundUp that she wanted to know what the two men did with money donated in the aftermath of the fire. GroundUp has not been able to get hold of the men, and so we have decided not to print their names until they have had fair opportunity to respond to the allegations.
A memorandum was handed to a representative of Mayor Patricia de Lille. It called on the police not to use teargas and violence against residents, to stop calling immigrants criminals and for the City of Cape Town to stop working with the two men.
Struggle songs were sung. People held anti-reblocking placards. Some placards called for the removal of corrupt officials and "away with puppets".
Protest leader Pamela Sofika told GroundUp that during the picket she had met City officials. She said the City would hold a meeting with residents next week and give feedback.
Zara Nicholson, spokesperson for the mayor, told GroundUp: "The issues raised in the memorandum about the delivery of basic services is precisely what the City is doing with the [reblocking] project and we are making progress". She also said that the City and the mayor had invited the protesting group "numerous times to be part of engagements so that they can be updated about the project to deliver the services they are asking for." She said the invitation remained open.
At the time of the protest, de Lille was in Imizamo Yethu announcing the switch-on of electricty in Madiba Square, a part of Imizamo Yethu destroyed in the fire in March. "On 11 July, following a meeting with the community leadership, we announced that electricity would be switched on in the first section by 10 August 2017. This project has taken three months to complete, of which 15 days was lost due to unrest in the area. I am, however, pleased that we were able to switch on electricity today, a few days after the initial timeline," the mayor said.
Dodgy people are suing us. Please support us by contributing to our legal costs and helping us to publish news that matters.
© 2017 GroundUp.

This article is licensed under a Creative Commons Attribution-NoDerivatives 4.0 International License.
You may republish this article, so long as you credit the authors and GroundUp, and do not change the text. Please include a link back to the original article.