Herding cattle in urban Gauteng for R1,500 a month
Motorists taunt 23-year-old herdsman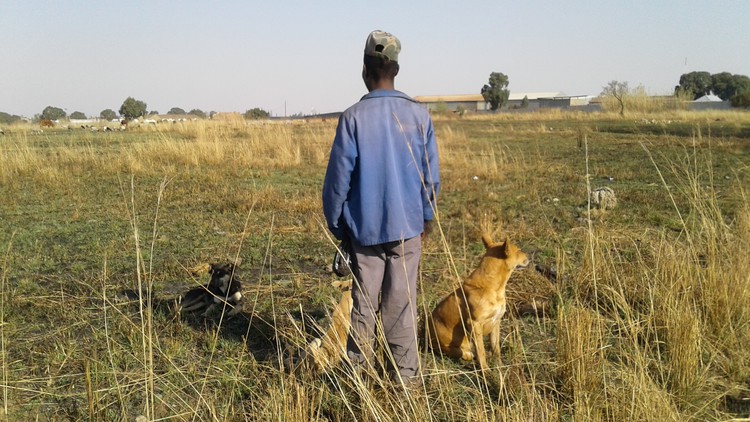 Six days a week, 23-year-old Mxolisi Zondo works herding livestock, applying skills learned in rural KwaZulu-Natal in the busy Gauteng township of Kwathema. Kimberly Mutandiro spoke to this urban herdsman
Mxolisi Zondo battles to live and support his two wives and four children back in KwaZulu-Natal on his monthly salary of R1,500. But herding livestock is the only work he could find when he came to Gauteng about a year ago.
Zondo grew up in Pomeroy village in Kwazulu-Natal where he says he learned to herd his father's livestock from the age of six.
Failing to find work in Johannesburg to support his family, he moved on to Kwathema, setted in an informal settlement and found work as a herdsman at a nearby men's hostel. "I went to different firms looking for work finding nothing. I did not know I would end up herding livestock like I did back home, in order to earn a living."
As early as six in the morning, six days a week, Mxolisi begins work. With his small salary he says he cannot afford a cellphone or an alarm clock and he relies on his ability to tell the time by the sun, a skill he learned in his village in KwaZulu-Natal.
With a long stick and three dogs, Zondo leaves his home at the corner of Vlakfontein and Hebede Street in KwaThema and summons the 25 cattle and 15 sheep which he looks after from the kraal in the bushes between KwaThema and Springs He knows all the cattle by name. The sheep do not have names.
For the first three hours of the morning Zondo lets the livestock graze in nearby bushes to avoid the early morning traffic on the roads.
At about 10 in the morning Zondo leads the animals across the Springs road with cars waiting until the road is clear to proceed. He takes the animals to drink, either at a small stream in KwaThema or near Reedville residential area. Then he takes them to graze at grasslands near a big shopping complex in nearby Brakpan. At the weekend he sometimes takes them south to other grazing near Geluksdal, where there is also a small stream.
Sometimes he takes his animals as far as 10km, crossing several roads.
There are other herdsmen in the area, he says, looking after their employers' livestock and sometimes earning as little as R1,200 a month.
Herding livestock in all weathers is not easy. Some of the animals wander off and must be tracked down with the help of the dogs. There is no time to sit down and eat and Zondo knows if he returns with a single animal missing he will be in trouble with his employer.
But, he says, he is a hardcore rural-bred young man who can survive any situation.
Zondo says some motorists hurl insults at him telling him to go and herd his livestock in the rural areas. Some make fun of him, saying he smells of animal dung and that he should look for a better job. But he says the well-being of his family is much more important than a few insults.
"If l had a choice I would be working in a better job. I still ask around for other work but nothing has come along yet."
Anyway, he says, smelling of animal dung would not bother him. "We use animal dung to polish floors back at the village in Pomeroy."
Dodgy people are suing us. Please support us by contributing to our legal costs and helping us to publish news that matters.
© 2017 GroundUp.

This article is licensed under a Creative Commons Attribution-NoDerivatives 4.0 International License.
You may republish this article, so long as you credit the authors and GroundUp, and do not change the text. Please include a link back to the original article.