Hangberg residents demonstrate outside court
|
Mary-Anne Gontsana
News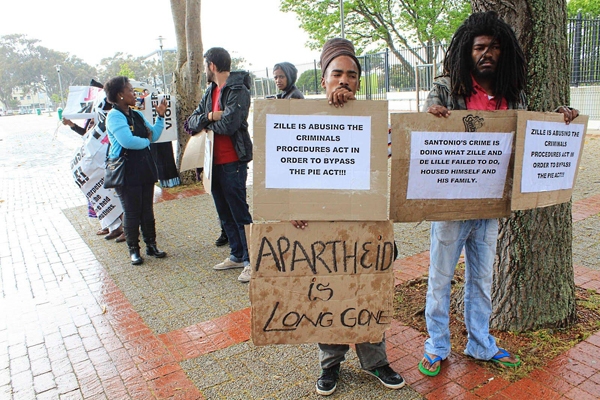 Hangberg residents demonstrated at the Wynberg Magistrate's Court on Thursday in support of Santonio Jonkers who made his second appearance in court.
Jonkers was arrested in the early hours of September 30 for contravening a court order interdicting settlement in an informal settlement in Hangberg called Die Sloot. Please see article published on the 8 October 2014.
About 30 community members sang and danced outside the court, carrying placards to show their support for Jonkers, who they claimed was wrongfully arrested, and criticising Premier Helen Zille and Mayor Patricia De Lille.
"Santonio's crime is doing what Zille and De Lille failed to do, housed himself and his family", read one of the placards.
Jonkers made a brief appearance inside a packed courtroom, before magistrate Yakhe Kaka postponed the case to 3 November. He was not asked to plead.
The magistrate reprimanded some of the supporters, including Jonkers' mother, Fadwah Vardien, who stood up in court when Jonkers was called to the stand. She warned that if they did not behave they would not be allowed in court.
Vardien said outside the court: "We cannot afford to lose Hout Bay. We were born there, I was born there."
She said her son's "spirit was broken" after his arrest by 18 members of the elite National Intervention Unit. "He said to me 'Mommy, I should not have run', but how could he not have run if he had 18 policemen running after him?"
"My grandson is still traumatised because of what happened to my son and he has nightmares and wakes up at night asking where his dad is, whether the police have taken him away."
The residents are now organising a march for 1 November to demand that more houses be built in Hout Bay.
Dodgy people are suing us. Please support us by contributing to our legal costs and helping us to publish news that matters.
© 2016 GroundUp.
This article is licensed under a
Creative Commons Attribution-NoDerivatives 4.0 International License
.