Grandmother with only one eye is still waiting for a house
Six people live in a small caravan in East London township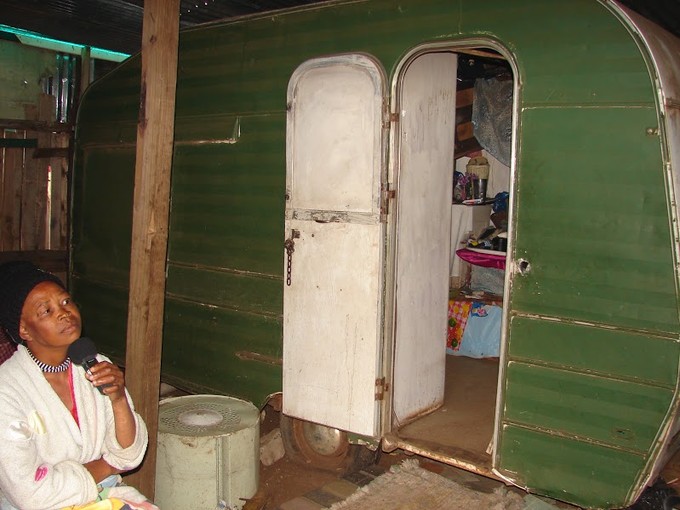 East London resident Thembeka Bhonyongo, 50, lost one eye 10 years ago and is losing sight in her other eye. She lives in a tiny caravan with her two daughters and three grandchildren. She has been on the list for a house since 2010.
Bhonyongo says she got into an argument with another woman in 2006 which developed into a fist fight and then she was stabbed in the eye. Doctors at Cecilia Makiwane Hospital in Mdantsane had to remove the eye and insert an artificial eye.
Now, she says, she is losing sight in her good eye.
Bhonyongo lives in Cambridge in East London with her two daughters and three grandchildren in a caravan she bought. The family share a communal toilet nearby with 25 other families. Both daughters work in the Expanded Public Works Programme, cleaning gutters.
Bhonyongo says she and her grandchildren sleep in one bed and her daughters sleep on the floor of the caravan. 
"I feel like I am living my life in a match box. That is how small this caravan is."
She also tried to apply for a disability grant but was told that she did not qualify because she still had sight in one eye.
But, she says, she cannot get a job; she suffers headaches and her vision is poor, especially in poor light. She says she relies on other people to guide her around.
"I never attend any of the late church meetings any more because it has become way too risky to walk late."
A spokesperson from the South African Social Security Agency (Sassa) in East London said a person with only one eye did not qualify for a disability grant unless his or her vision was failing. A Sassa official would investigate Bhonyongo's case, the spokesperson said, and refer her to a doctor to assess her vision and establish whether or not she could qualify for a disability grant.
Dodgy people are suing us. Please support us by contributing to our legal costs and helping us to publish news that matters.
© 2016 GroundUp.

This article is licensed under a Creative Commons Attribution-NoDerivatives 4.0 International License.
You may republish this article, so long as you credit the authors and GroundUp, and do not change the text. Please include a link back to the original article.