Families living in Tsolo forest say they won't be voting on Monday
The settlement of about 1,000 households has almost no basic services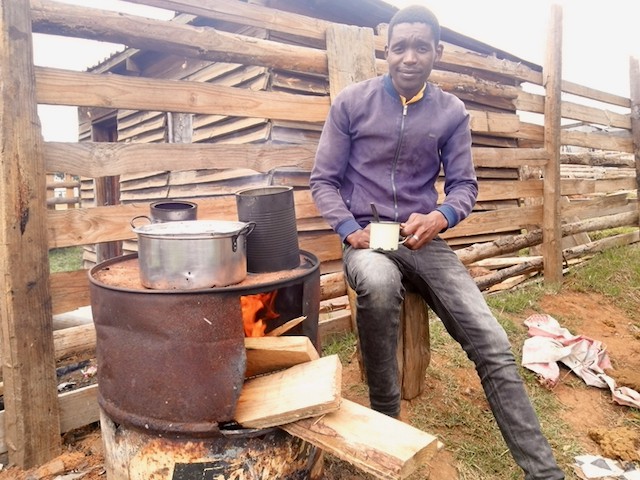 Langeni forest has about 1,000 households but almost no basic services.
Residents protested for electricity in 2013. Many say they won't vote in the upcoming local elections.
The biggest employer in the area, the Merensky sawmill, says it helps where it can in the absence of municipal services.
Mayor Nompumelelo Dywili says electrification will start in the next financial year.
---
Fed up with empty promises and a lack of basic services, many people in Langeni Forest in Tsolo, about 50km north of Mthatha in the Eastern Cape, say they won't be voting on Monday in the local government elections.
The community of about 1,000 households lives mostly in wooden bungalows. They have no electricity. The streets are potholed. There are some unserviced pit latrines installed in 2019. When a toilet is full it is closed. At night, women relieve themselves in their yards because the toilets are too far away.
When GroundUp visited Tsolo earlier in October, dozens of people were out in the icy rain cooking on open fires.
Hoza Babalo was making steam bread in an empty paint bucket. She says residents have been begging for electricity for years.
"Every time there are elections the municipality promises us electricity. But after we vote for them, they vanish," said Babalo.
"We sent a delegation to the municipal offices in Tsolo [in 2015] where we were promised that we would get electricity. But until today, nothing has ever happened," she said.
Babalo said she uses pine wood for fire but the wood is smoky and the pine resin makes the food taste bad.
"We have no choice because we cannot afford a R14 litre of paraffin and 9kg stove gas for R260. We cannot even make healthy lunch boxes for our children when they go to school. We always buy them chips. We also don't have fridges to store vegetables and meat," she said.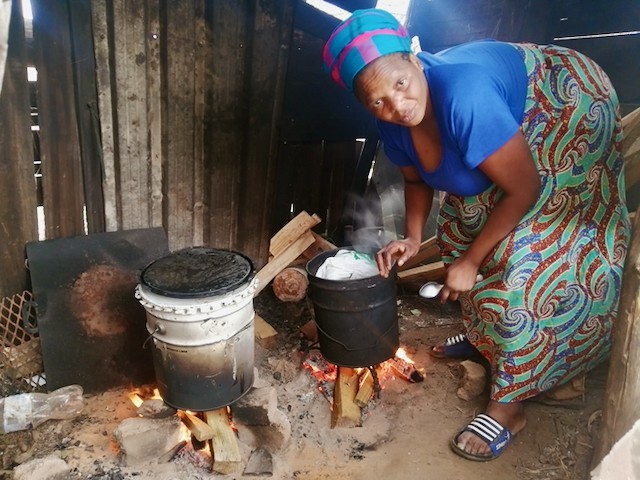 Avela Tshukutshela said, "Our municipality does not care about us. There are no Integrated Development Plan meetings here!"
"Whether it is raining, hot or windy, I have to make an open fire in this drum. For bathwater, to make baby formula and for cooking," he said.
"I save my cellphone battery for light at night when the baby cries or the nappy needs to be changed," said Tshukutshela.
He said that stormwater diverted by the Merensky Timber sawmill flooded the settlement because run-off and channels were blocked.
The company says keeping the drainage open is the job of the municipality, but it does send in its equipment and clear blocked storm drains in the village at its own cost.
After a shack fire five years ago, about 90 households were moved into wooden bungalows. Nomkhango Mtabana's was one of them. "In winter they are very cold and wind is shaking them," she says. "In summer they are very hot and we struggle to sleep. Our food rots very quickly. If we cook meat and rice we should eat all of it at once because in the afternoon it will be rotten."
"Our standpipes are filthy, like a pigsty, because there are no drains to channel away water," she said.
She said she stopped voting two elections ago. "I don't see any difference it makes in my life. I never received even a government food parcel," she said.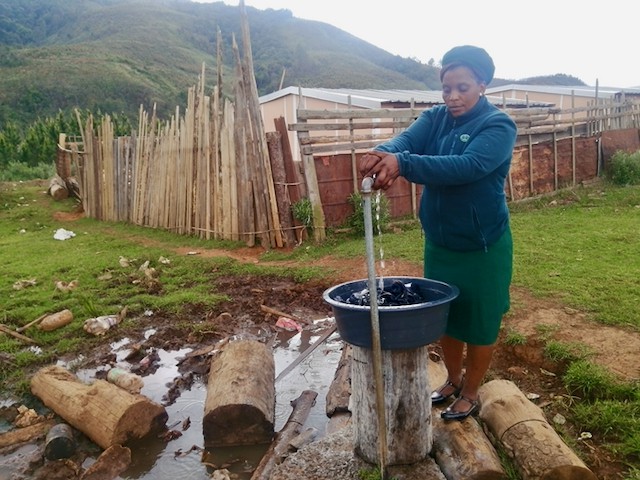 But Unathi Matiwane said she will vote. "I only vote to protect my children's grants because the municipal officials when they campaign for our votes are threatening to take our grants. They claim that they would be able to see whether we voted or not," she said.
In 2013, residents who work at Merensky Timber downed tools demanding the company electrify the settlement. The sawmill employs about 600 people from surrounding communities.
Philip Tshikhudo, operations manager for the company, said Langeni Village is under the authority and management of the local municipality.
He said the company has provided support to the community in the absence of municipal services. The company supplies water and provided standpipes, paid for a "honey sucker" to manage sewage, paid for waste collection, fixed and renovated the Early Childhood Development Centre, maintained some roads and the clinic building, and provided transport on occasion to the clinic.
Tshikhudo said Merensky had contributed funds for the environmental impact assessment "to assist the municipality as it was in the best interest of our employees who reside there".
He said the company had also provided transport for union representation from the Chemical, Energy, Paper, Printing, Wood and Allied Workers Union, employee representatives and management to get to the East London Eskom offices as well as to the Mhlontlo offices to try to get the issue of electricity addressed.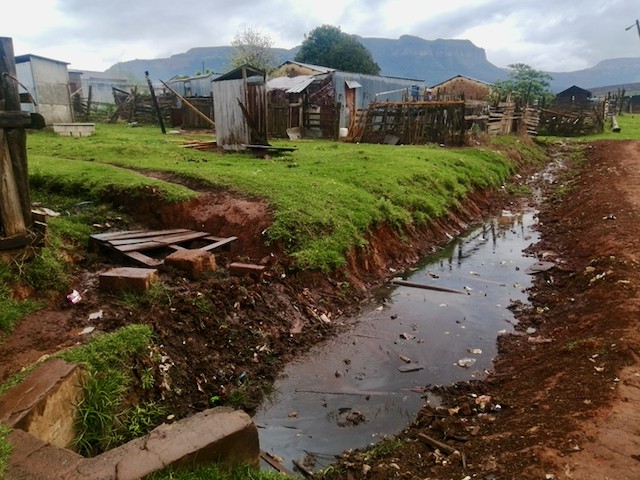 "Management has also spoken to the Mhlontlo mayor in attempts to address the issue of electricity. The Mayor advised that the ward councillor would take the matter up and deal with it within the municipal structure and protocols. No feedback was received from the ward councillor or the mayor," said Tshikhudo.
Mhlontlo Local Municipality Mayor Nompumelelo Dywili (ANC) said the land belongs to the community of Mbolompo and Qelane, and Merensky has a lease agreement with the communities for the timber. She said this made housing delivery complicated. "We are still engaging both the community and the factory about the issue of housing," she said.
Dywili said electrification would start in the next financial year for 600 households as agreed with the Department of Energy.
The mayor has not replied to our follow-up questions.
Dodgy people are suing us. Please support us by contributing to our legal costs and helping us to publish news that matters.
© 2021 GroundUp. This article is licensed under a Creative Commons Attribution-NoDerivatives 4.0 International License.
You may republish this article, so long as you credit the authors and GroundUp, and do not change the text. Please include a link back to the original article.
We put an invisible pixel in the article so that we can count traffic to republishers. All analytics tools are solely on our servers. We do not give our logs to any third party. Logs are deleted after two weeks. We do not use any IP address identifying information except to count regional traffic. We are solely interested in counting hits, not tracking users. If you republish, please do not delete the invisible pixel.