Five children die in Philippi fire
Nearest tap was hundreds of metres away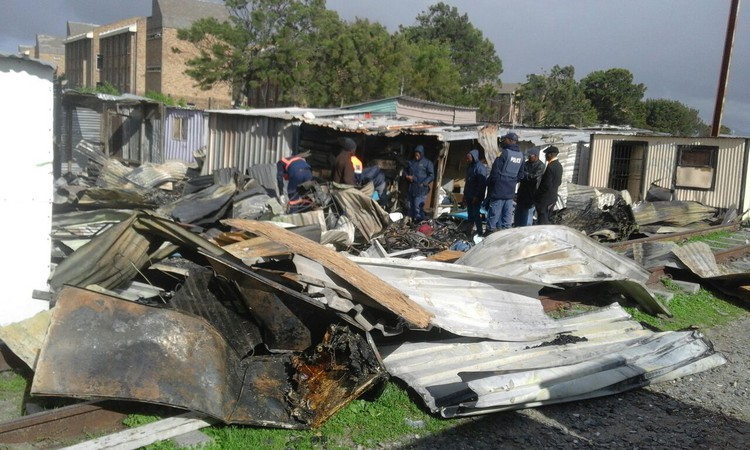 Five boys, including twin toddlers, died in a fire that gutted shacks in Masiya informal settlement in Philippi on Saturday morning. The children were all from the same family and died in the same shack.
According to Theo Layne of the City of Cape Town's Fire and Rescue department, ten structures were destroyed and 30 people were displaced.
Neighbours said that a mother, her four children and her nephew lived in the shack where the deaths occurred. The mother was heard screaming at about 1am. The surname of the affected family is known to GroundUp but we have decided not to publish it at this time. The cause of the fire is not yet known.
The City dispatched a water tanker, a rescue vehicle and 14 firefighters in response to the fire. Layne said that the incident had been handed over to SAPS for investigation.
Ward concillor Siphiwo Nqamnduku said the area was occupied 19 years ago. The land belongs to PRASA.
"These people were backyarders from Gugulethu, Samora Machel and Phillip. They decided to occupy this land because they could not afford to pay rent. Most of them are not working hence they decided to settle on this private land," said Nqamnduku.
When Groundup visited, residents were huddled in groups and were distraught by the incident. Members of the family of the deceased had gathered in one room and did not wish to speak to reporters.
Some occupants of the burnt shacks had gone to work. Others had gone to live with relatives in nearby areas.
"We could not help in any way because the fire had already done the damage. Some of the community members rushed to fill buckets of water from the only tap [hundreds of metres] away. Others threw buckets of sand but it was of no help," said Siphokazi Dube a neighbour who has lived in the area for 14 years.
Dube said three of the children that died were school-going age. The mother, a single parent, had run a spaza shop for the 14 years she has been in the area. It was burnt to ashes.
Another neighbour, Nonkululeko Qayiya, said, "This is terrifying. We are prepared to move to any other place where the City can provide us with basic services. Our councillor has been to the City several times but there seems to be nowhere to relocate us."
The community uses portable toilets and there is only one tap servicing the neighbourhood.
"The water pressure is very low and it takes hours for the whole community to get water," said councillor Nqamnduku. He said he has complained to the City about this previously.
An official from the City was seen installing three more taps on Saturday.
Dodgy people are suing us. Please support us by contributing to our legal costs and helping us to publish news that matters.