"We've lost hope in our government"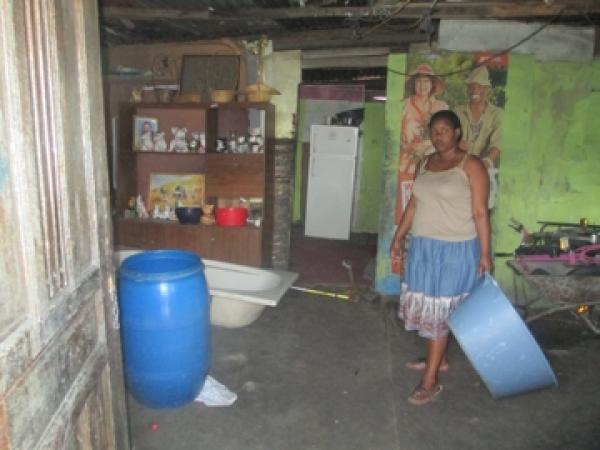 Several houses in Gugulethu were damaged by the heavy rainfall this weekend. Hombazi Fiphaza, a resident from Kanana Square informal settlement, said, "We go through the same thing everytime there is heavy rainfall … What pains me the most is watching the children suffer because of it, and there is nothing you can do to protect them from it."
Fiphaza, 29, is unemployed and stays with her mother, father and uncle, all of whom are unemployed.The father occasionally runs a small spaza to make ends meet. The family's only reliable source of income is the child support grant they receive for the children in the household.
Fiphaza said, "We've applied for RDP houses, but nothing has come of it. We've lost hope in our government. When they're campaigning for the upcoming elections, they make all these empty promises to build us houses like they did in the past. Twenty years later we are still living in this filth."
Fiphaza said, "A year ago President Zuma was here and he said the living conditions are very poor and no human should live like this. Once again he made promises to build us houses."
She said to prevent the water from flooding they use big buckets, but even that didn't help as the buckets overflowed. Their clothes, furniture and electric appliances were damaged.
"When the children were younger, they didn't understand what was happening", said Fiphaza, "but now they have gotten used to it."
She said that there are no NGOs in their community to assist when the houses are flooded.
People living in RDP houses were also affected.
Janine Ngewu, a resident of Khanya Park, said, "One would think because we stay in RDP houses we wouldn't be affected by the floods. But we are. It was so flooded that we couldn't even get out of the house… Our houses are cracked, and now that it's clearing, there are mosquitos everywhere."
© 2016 GroundUp.
This article is licensed under a
Creative Commons Attribution-NoDerivatives 4.0 International License
.