Black Sash gathers support for social grants campaign
"Hands off our Grants" event in St George's Cathedral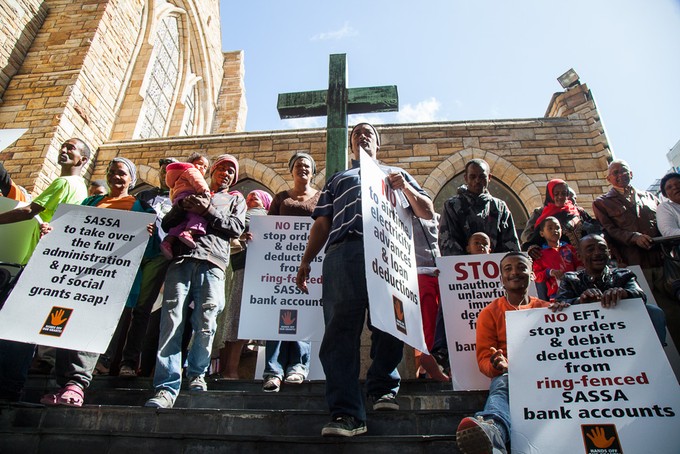 Social grant beneficiaries, members of the Black Sash and other civil society organisations filled St George's Cathedral today to pray for justice for beneficiaries plagued by unauthorised, unlawful and fraudulent deductions from their grants.
The event, part of the "Hands Off Our Grants" campaign, comes ahead of four court cases in the Gauteng High Court on 17 and 18 October. The Black Sash and six recipients of social grants are applying to be allowed to intervene in the court battle between Net1, which owns the company which pays out the grants, and the South African Social Security Agency (Sassa).
After a short mass, prayer and candle lighting by the six recipients and a few testimonies, people were asked to gather outside the cathedral on the steps, where they carried posters highlighting the problem.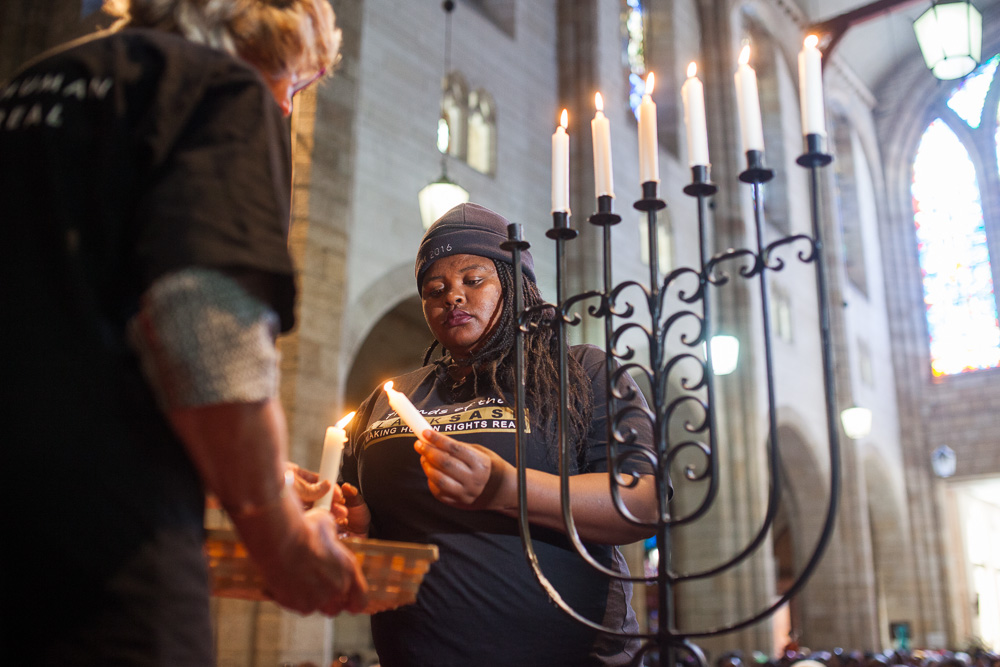 On the posters was written "No deductions from Sassa bank accounts", "Sassa take over grant payments 1 April 2017", "No to airtime, electricity advances and loan deductions".
Social grant recipient Rushni Salie from Delft told GroundUp she gets child grants for her three children, totalling R1,050. She said she sometimes ended up with only R10 in her account after deductions which she had not authorised. She had been told by Sassa that she would be reimbursed but "nothing has been fixed yet".
Her sister had the same problem, she said.
Marlene Roberts gets a disability grant of R1,450 a month. But, she says, money had been deducted from her account until she complained to the Sassa office in Belville. "They showed me a cellphone number and electricity number that did not belong to me. Apparently this person was buying electricity and airtime, using my money. They fixed the problem and this year I started getting my full grant again."
Kervin Carelse also gets a disability grant and says every month he gets only R800 to R900. He says the Bellville office gave him a number to call but it did not work. He hopes the Black Sash will help.
The Hands Off Our Grants Campaign is calling for Sassa to take over the payment of social grants by 1 April 2017 from Net1. The campaign is also calling for a special, protected Sassa bank account, better recourse for people who are victims of unauthorised deductions, the refund of all disputed deductions with bank charges and interest - backdated to 2012, and the protection of personal and private information of everyone in the social grant system.
Dodgy people are suing us. Please support us by contributing to our legal costs and helping us to publish news that matters.
Letters
Dear Editor
I am right behind you with your campaign. The social grants recipients are for the neediest people in our country. Please know that a lot of people back you all the way.
Dear Editor
Here are ways to support the Hands Off Our Grants Campaign, or raise concerns/comments..
Twitter users - see #handsoffourgrants @BlackSash or @EE_Paulus
Facebook - facebook.com/BlackSashSouthAfrica
Amandla.mobi: awethu.amandla.mobi/petitions/hands-off-our-grants
Please sign this Petition to the Minister of Social Development, SASSA, Net 1, Cash Paymaster Services (CPS) and Grindrod Bank - even if you do not have airtime or access to the Internet - you can do so by online petition facilitated by Amandla.mobi. See: https://awethu.amandla.mobi/petitions/hands-off-our-grants.
Do note that this petition does not only have an online presence. A "please call me" SMS or WhatsApp to the number 074 357 6937 will also register a vote.
© 2016 GroundUp.

This article is licensed under a Creative Commons Attribution-NoDerivatives 4.0 International License.
You may republish this article, so long as you credit the authors and GroundUp, and do not change the text. Please include a link back to the original article.