Angy Peter trial: case finally wraps up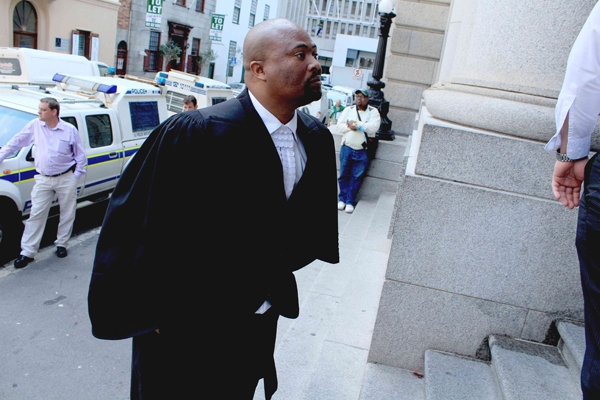 Defence advocate William King argued that conflicting testimonies of key state witnesses and the "deliberate" interference from the police constituted proof of his client's innocence.
"The accused say they were not there. It is their defence that the eyewitnesses to the crime and the police all had motives to implicate them falsely. And to send the accused to jail based on hearsay evidence of Rowan (Du Preez, the deceased) would be a mistake," he said.
King for activist Angy Peter and her husband Isaac Mbadu delivered his closing arguments in the Western Cape High Court on Wednesday.
They will have to wait another three weeks before judgement on 30 September.
In his closing argument, King argued that the state had not proved its case beyond reasonable doubt.
King described the state witnesses as "unreliable" and highlighted several crucial contradictory points in their testimonies.
"John Ndevu claimed he saw the incident about 40 metres away at night with his poor eyesight. It was too dark for him to be telling the truth.
"He was told that the accused were involved and went with it because he wanted someone to pay for his grandson's death," he said.
King also challenged the credibility of Desiree Jack, Du Preez's aunt who alleges she saw him being taken in a white taxi by the accused that night.
"It was evident that she just lied in her evidence in chief. The witnesses who would've seen the same thing all have different accounts of where the incident happened. There is a massive hole in the state's case where [Daymani and Dina, the co-accused] fit into the incident. It has been a minefield trying to untangle this case," he said.
King said it was never the couple's intention to go after Du Preez for their TV, but instead to finger the policeman known as Ta Ager who was allegedly instrumental in the crime.
"They were trying to help Rowan. They called the police station after Rowan was released because they were angry nothing had been done about Ta Ager. That was a golden opportunity for them to prove what Angy was trying to prove in the commission," he said.
King also requested Judge Robert Henney to withdraw Du Preez's "dying declaration" from evidence.
Advocate Mduduzi Ndlovu for Daymani and Dina agreed with King's arguments and added fingered witness Asavela Zici as the person who implicated his clients because of a "bad breakup."
"Asavela knew [Dina] very well because they were in a relationship. If she really saw them attacking Rowan, why in her initial statement did she not name him? It is my submission that she lied to get vengeance," he said.
Ndlovu argued that it was strange the police had not confiscated the taxi immediately after the arrests if they knew it was involved in the crime.
"Police didn't follow up on it because they knew there was no connection with the crime and it wasn't important at the time. The accused were not there," he said.
Prosecutor Phitus Pelesa briefly responded to the defence and said the evidence against the accused was enough to find them guilty of the crime.
He said the state had proven its case despite the "incompetence" of the investigating officer.
Judge Henney then remanded the matter until 30 September for judgement.
Dodgy people are suing us. Please support us by contributing to our legal costs and helping us to publish news that matters.
© 2016 GroundUp.
This article is licensed under a
Creative Commons Attribution-NoDerivatives 4.0 International License
.