ANC supporters in court over attack on rival candidate
Tension boils over in Eastern Cape ward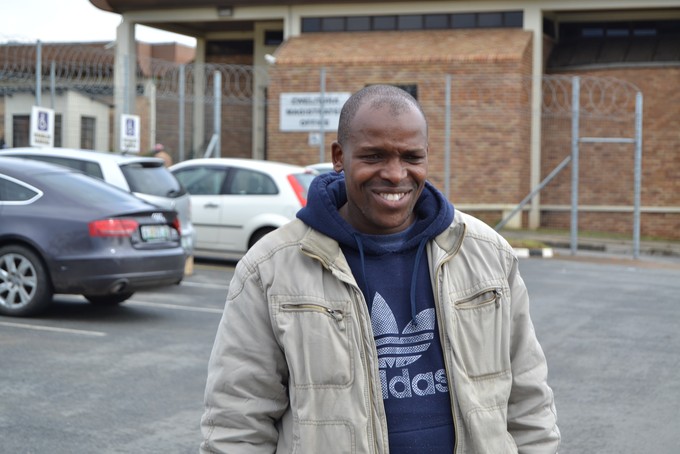 Five African National Congress (ANC), members appeared in Zwelitsha Magistrate Court in King William's Town on Tuesday, after an attack on the property of rival candidate Mpumelelo Feni last week. Vathiswa Mzomba, Anelisa Tapile,Nosandiso Ntwanambi, Peliswa Bata and Amanda Mgadla appeared briefly before magistrate Zwelethu Ngetu on charges of malicious damage to property. They were not asked to plead, and Ngetu postponed the case to 2 September for further investigation.
The case follows an incident in Tyutyu Village in King William's Town on 20 July, when, according to Feni, his car was damaged by ANC supporters.
Yesterday outside court, supporters of the five were swearing at Feni's supporters.
They told GroundUp that they would never support Feni who had only lived in their area for two years.
"We will never be led by him. Who is he? Where is he coming from, thinking to lead in our area? We are ANC members," said Anelisa Tapile showing GroundUp reporter pictures of herself in ANC colours.
Interviewed outside the court, one of Feni's supporters, Mlandeli Diko, said people who were not born in the area were not treated equally. He said they were called names like amarhanuka (outsiders) and then were only noticed at election time.
"We got tired of being treated like outsiders, hence we asked Feni to be our candidate," he said.
Feni told GroundUp that the five, who are well-known ANC members in the ward, protested outside his home on his return from an interview at a local radio station. He said they swore at him, saying they would not let him lead the area as he had only lived there for two years.
"I was about to park my car inside the yard when they came singing and swearing at me. When I moved the car they started throwing stones at my car. Then they ran away," said Feni.
Tyutyu Village is divided into two sections, the lower section where most people who were born in the area live, and the upper section where people from other towns such as Cathcart and Stutterheim have been given sites. The lower section has mostly ANC members. This is a rural area with mud houses, big houses and a few shacks.
Feni said the problem started when he was asked to stand for the ANC and he had refused.
But Vathiswa Mzomba said Feni's group had provoked them on 20 July.
"It was them who started the singing that day, marching around the area while we had an ANC meeting," said Mzomba.
She denied that they had protested outside Feni's house.
"We were standing next to an ANC member's house singing songs when Feni started firing gunshots and we ran away. We were shocked when we were arrested and accused of attacking him," she said.
She said a court case was also pending against Feni and his group for assaulting one of the ANC members. That case had been postponed to August 12.
Dodgy people are suing us. Please support us by contributing to our legal costs and helping us to publish news that matters.
© 2016 GroundUp.

This article is licensed under a Creative Commons Attribution-NoDerivatives 4.0 International License.
You may republish this article, so long as you credit the authors and GroundUp, and do not change the text. Please include a link back to the original article.