ANC councillor named on charge sheet following Save SA attack
Save SA accuse Youth League chair Lesego Makhubela and Shoshanguve councillor JJ Baloyi of theft and intimidation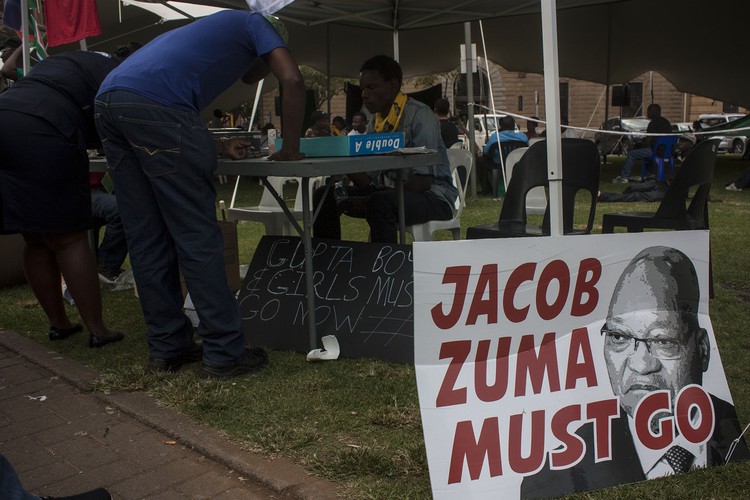 Members of the Save SA campaign camping out on Church Square in Pretoria were unrattled following an attack at their sit-in against President Jacob Zuma by several people last night, among whom were recognised ANC councillors.
Among the approximately seven people who intimidated the group of about 50 Save SA supporters, who have been campaigning on the square since Monday, were regional ANC Youth League chair Lesego Makhubela and Shoshanguve ANC councillor JJ Baloyi.
They were recognised by Save SA supporters and their names appear on the case of theft and intimidation provided to police, as well as the license plate number of a silver Mercedes Benz which Save SA's Mark Heywood said appeared to be driven by their group leader.
The Save SA group were attacked at about 6pm Wednesday night. They destroyed a small marquee, burnt a banner denouncing Zuma, issued threats and stole a bag containing a laptop, said Heywood. He said the group threatened to return. One of the attackers was carrying a gun, he said, although it was not brandished.
However, since being called last night, police had provided a 24-hour presence and today the scene at Church Square, where between 20 to 40 people have been camping out since Monday, was peaceful as thunderclouds gathered over the capital city. About 40 people, a mix of regular citizens and members of various civil society organisations were relaxing beneath a large white marquee set up on the grass, while passersby gathered at a table selling protest merchandise to sign the Save SA petition to remove Zuma.
Save SA organiser Ethel Williams Abrahamse, who was constantly on her phone assisting with logistics for protest marches tomorrow in all provinces, said thousands of people had stopped to sign the petition this week.
Heywood said the week-long vigil would culminate is a march to the Union Buildings on Friday, and he vowed the march would go ahead despite consent not having been obtained from state authorities by this afternoon. However, Heywood said all legal obligations had been fulfilled in terms of notifying police of the planned march and notifying all "relevant authorities".
He said citizens had a constitutional right to march peacefully and it wasn't a matter of asking authorities, but notifying them. While only 30 to 40 people had camped on the square since Monday, national communicator for the Forum 4 Service Delivery, Elias Mogoru, said they expected larger numbers on Thursday as an all-night vigil was being organised prior to Friday's march.
Molifi Motsau (30) said he took a week's leave from his job as caretaker to camp out in solidarity with the campaign to remove Zuma following last week's Cabinet reshuffle. Motsau said he heard about the gathering on SABC television news.
"I'm [a supporter of the] ANC and since Zuma took over things have fallen apart," he said, adding that he just wanted Zuma to leave office, but does not care who replaces him.
Thabo Mashigo, a concerned community leader from Moretele in the North West, said people were realising that Zuma's latest move, believed to be part of the state capture by the Gupta family, was the point where "enough is enough".
"People want to act," he said.
Miriam Motambi, who had walked across from the library to support the Save SA campaign, said she was a traditional ANC supporter but could no longer support the party while "this guy [Zuma]" is in charge.
Attempts to reach Lesego Makhubela or JJ Baloyi through the City of Tshwane were unsuccessful, and ANC Youth League media liason Bandile Masuku was not available. Both Gauteng and national ANC Youth League office lines remained unanswered.
© 2017 GroundUp.

This article is licensed under a Creative Commons Attribution-NoDerivatives 4.0 International License.
You may republish this article, so long as you credit the authors and GroundUp, and do not change the text. Please include a link back to the original article.