Zimbabweans battle with VFS's application system
Elderly people with little computer know-how are becoming desperate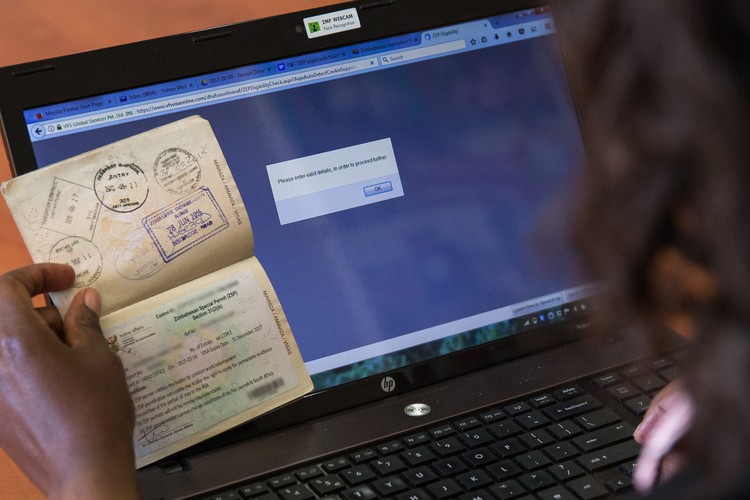 Anxiety is mounting among Zimbabweans who keep failing to complete the Zimbabwe Exemption Permit (ZEP) online application. The VFS website portal, they say, is frustrating and very user unfriendly.
GroundUp has received numerous calls, WhatsApp messages, and emails from readers, employers and human rights organisations complaining that people are struggling with the process.
The ZEP online application which replaced the Zimbabwe Special Permit (ZSP) opened on 15 September and will close on 30 November.
The permit can only be applied for through the online system and it is the only way to schedule an appointment with VFS for the submission of fingerprints as well as supporting documents. Applicants are worried they may miss the deadline for the online application and the submission of their biometrics and documents.
After receiving so many complaints, GroundUp also attempted to log on to the system but could not. Home Affairs spokesperson Thabo Mokgola said, "The system experienced a minor glitch in the morning but by midday the issue had been resolved. The website is now running smoothly."
Since that communication, GroundUp continued to attempt to complete the process, without success. We got error messages claiming the application was a duplicate even though the applicant hadn't applied; that the applicant was not eligible when she is; that the email was already registered when it had never been used on the system; that the passport number was invalid when it was entered correctly.
The call centre was not helpful. The person who answered simply repeated that the applicant must go through the same steps the system was not accepting. Automated email responses provided no solution.
Anthony Muteti of Voice of Africans for Change said that on the weekend he attempted to do online applications for more than ten friends and relatives who were struggling. "I only had one successful online application. People from different provinces have been calling and sending me WhatsApp messages to ask if they are using the right link."
He said elderly women vendors who were not technologically adept were very anxious. Some have already fallen prey to internet café owners who have been charging them between R150 to R200 to assist them but without success.
ZEP applicants also took to social media to vent their frustration on the ZEP Dispensation Forum Facebook page. The "duplicate error" on the login page seems to be a recurrent problem.
Flamboyant Facts Edwards wondered,* "Who designed that website with so many complications; that person must be fired really!"
Alec Muyambo wrote:* "Eligibility check – it keeps saying please enter valid details in order to proceed further. I've been trying to apply since the first day, but I still cannot crack the eligibility check. Also phoned them and they keep saying it's technical problems, keep trying. It's frustrating."
Sarah Ngwenya wrote:* "To call it a complication is the understatement of the month … l truly believe Home Affairs has nothing to do with this, but VFS as the people who got the tender should have done better."
People also complained on the Hello Peter website:* "After six attempts to fill in the online form, we keep getting redirected to an error message requesting us to contact site admin, but with no contact details or support details to contact! How is one supposed to meet the November deadline if it is impossible to complete the registration process? It is unacceptable!"
VFS replies
Jiten Vyas, VFS Global COO for Africa said that by 9 October of the 199,941 ZSP permit holders, 110,053 applicants had successfully completed their online forms and 51,192 applicants had secured appointments.
"To address the intermittent issues that were initially observed on the online application, VFS Global has upgraded the systems with continuous fixes to ensure the application process is smooth," said Vyas.
He said that during the previous ZSP program a number of dummy or fraudulent applications were made and so a 20-minute session validity was put in place. This means that if applicants do not finish their application within 20 minutes, the session expires.
He reiterated that ZEP was applicable only for ZSP permit holders. "We have observed that applicants often try to fill details in the form without validating eligibility first; this is a necessary first step in the process."
Vyas said that from 2 October enquiry counters had been set up across all ten ZEP centres in South Africa where applicants can get validity checks done in person, as well as check other aspects of their documentation and application status.
NGOs help
Tendai Bhiza of People against Suffering and Oppression (PASSOP) said she has had to devote herself full time to do ZEP online applications. To date she had done about 60 for Zimbabweans who had struggled to login.
Bhiza said she still has eight people from last week for whom she gets an "invalid details" error message.
She also said people are already having to book for 28 November to get a submission appointment.
Bhiza said, "I have been going an extra mile to help elderly people, helping them to get letters needed for their informal trading business, and tomorrow I am taking one of them for submission at the VFS centre. Because of the technical glitches she ended up getting two references."
An elderly woman who had her ZEP application done at PASSOP told GroundUp: "I was desperate, not knowing what to do with this situation until I was referred here. A lot of people of my age have been conned a lot of money by these young boys who pretend to be helping while they are conning people."
The fee for a ZEP is R1,090 and an optional SMS service is available at an additional R20.
Dodgy people are suing us. Please support us by contributing to our legal costs and helping us to publish news that matters.
© 2017 GroundUp.

This article is licensed under a Creative Commons Attribution-NoDerivatives 4.0 International License.
You may republish this article, so long as you credit the authors and GroundUp, and do not change the text. Please include a link back to the original article.