Woodstock woman evicted from her home of 26 years
Carmina Vieira's case has been taken up by housing activists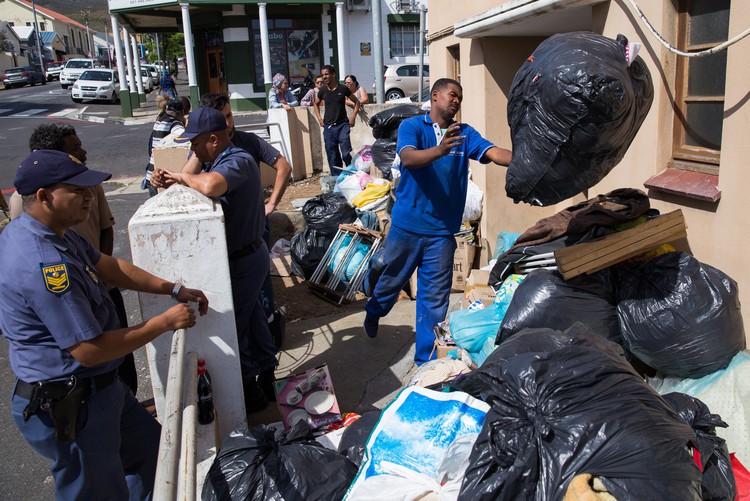 Carmina Vieira was evicted on Wednesday from her home in Woodstock. She had lived there for 26 years. On 24 October, Reclaim the City and other supporters halted her eviction but on Wednesday the eviction proceeded. All of her belongings, already packed in black bags and boxes, filled the garden area and pavement. Reclaim the City supporters picketed against the eviction as it took place. Police also watched from nearby.
Vieira said that the sheriff and police arrived unexpectedly. He told her that "his duty was to put her out", she said. "It's not a nice feeling. It's not nice to be on the street with your children, and especially if you're alone and your husband is not even here." Her husband is currently at sea and is unaware that the eviction is taking place, while Viera's daughter was at UCT at the time.
Viera's son, Damian, had to to urgently leave work to be with his mother. He is 22 and has always lived in Woodstock. "It's horrible for me and I couldn't concentrate at work," he said. Damian says that it's "heart sore" seeing all his family's things strewn across the pavement. "It's breaking me down on the inside but I do not want to show it," he said.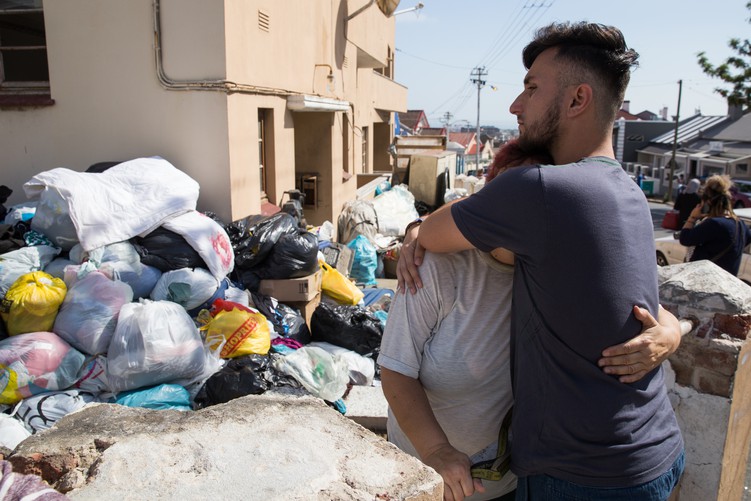 "We were so shocked to hear that the eviction is already taking place" said Reclaim the City supporter Patrick Metshile.
Reclaim the City (via a text message) said that at this point the eviction can't be stopped. "So now we are looking for support to help move their belongings and to search for alternative accommodation."
At the previous eviction attempt, the attorney of landlord Noor Parker said that Vieira had agreed to leave months ago. "We have been to court seven times with her," he said. The attorney said she had agreed to move out on 11 October, but when that date came she had not managed to find alternative accommodation.
Viera has been unable to find accommodation she can afford. "I'm just standing here on the street and we'll see what's going to happen."
After publication, we received a letter from Noor Parker's lawyers, which we republish here in full:
Response from Noor Parker
On 24 October 2017, there had been an attempted eviction of Mrs Vieira and her family from a unit in Roodebloem Road. However, as a result of the support from the Reclaim the City group, Mrs Vieira had successfully resisted the eviction.
The coverage of this story has focused mainly on Mrs. Vieira and her circumstances, neglecting to verify and recognize Mr Parker's side of the story. Due to this negligence, the account published led to Mr Parker being characterised as a capitalist slumlord and resulted in his good name being slandered over all platforms of social media.
Little do people know that Mr Parker is not rich but instead an ordinary citizen working a 9 to 5 job, 7 days a week, in an attempt to make ends meet. For the past year Mr Parker has been working solely to settle the escalating costs relating to the property, one of which is a municipal bill of R160,000.
In the duration of the ownership of the unit, Mr Parker has yet to yield the benefits of this proposed 'asset' as a result of non-paying tenants which lead to deterioration of the building to its present state.
The constant publicizing of the issue in the media has been devastating for Mr Parker and his family. It has not only placed his life on hold, but has resulted in the accumulation of debt because of the lack of payment of the unlawful tenant.
"Have a heart Mr Parker", said one of the many picket boards fixed to the building on the day of the attempted eviction. It is acknowledged by many people that Mr Parker has been more than compassionate in dealing with Mrs Vieira. In fact, he has been more than reasonable and has obliged her on numerous occasions granting her extension upon extension to find alternative accommodation. Mrs Vieira had ample time and notification to vacate the property, as she first received notice in February 2016.
Since then, Mrs Vieira has delayed moving and made empty promises on several occasions to vacate the property in order to remain in occupation. Furthermore, it should be noted that Mrs Vieira is insisting on finding alternative accommodation in the Woodstock area and is not amenable to move to other areas despite the offers of accommodation in Blikkiesdorp and Wolverivier.
It should be noted that since September 2016, Mrs Vieira has failed to make any payments in respect of rental owed by her. In addition, Mr Parker also wrote off R36,300 previously owed by Mrs Vieira as arrear rental during the course of her stay. What is unbeknown to the community is that for more than a year, the tenant has yet again defaulted in paying her rental and is once again indebted to Mr Parker for amount of R30,000. Thus, the outstanding rental due by Mrs Vieira from September 2015 to October 2017 totals an amount of R52,560.
Furthermore, it should be noted that Mr Parker has only once in the 26 year period of Mrs Vieira's occupation increased the rental from R2000 to R2500 in 2007, and that she has been paying the said amount with no increase to date despite her defaulting in the past. This indeed shows not only the compassion of Mr Parker but his empathy towards Mrs Vieira.
However, Mr Parker was forced to cancel the existing month to month lease in order to effect repairs to the building after the building started falling into disrepair as a result of lack income and increasing municipal costs.
Given notice in February 2016 and given three months to vacate, Mrs Vieira persisted to occupy the building. It was then and there that Mr Parker elected to exercise his rights and instructed legal representation to institute legal proceedings to have her vacate the property. As soon as legal proceedings were initiated in September 2016, Mrs Vieira immediately stopped paying the rental and has paid nothing to date.
Proceedings were instituted in February 2016 and after many postponements in favour of the tenant, the matter was finally finalised in July 2017, after Mrs Vieira obtained legal representation and agreed to sign a settlement agreement.
The Settlement Agreement was handed to the Magistrate and was made an Order of Court in July 2017. In terms of the said agreement, Mrs Vieira was allotted an additional three months up and until 11 October 2017, to obtain alternative accommodation and vacate the property.
On 11 October 2017, Mrs Vieira contacted Mr Parker for additional time until 23 October 2017, as she would only be able to get accommodation on this date. Reluctantly, being the compassionate person he is, Mr Parker agreed. On 23 October 2017 Mrs Vieira called Mr Parker as well as his attorneys continuously pleading once again for more time. It was at this point that Mr Parker, instructed his attorneys to proceed with the eviction.
On the 24 October 2017, the Sheriff was instructed to execute in terms of the Order of Court. Mrs Vieira was well aware that her failure to vacate by the 23rd would result in her being evicted as she was forewarned personally by the Sheriff a few days before. Having no other alternative and no legal standing, Mrs Vieira turned to an activist group Reclaim the City to support her in her cause. When the Sheriff arrived at the property on the 24 October 2017, people affiliated with this group trespassed on the property, hung banners defaming Mr Parker and were chanting and protesting against the eviction of Mrs Vieira and her family. Reclaim the City obstructed the Sheriff from executing in terms of the order, acting in contempt of court.
With the protests came a vandalization to the building, a door broken open with a crowbar from one of the units upstairs and finally objects being thrown from the balcony of that unit.
Being aware that the Sheriff would execute on the 24 October 2017, Reclaim the City called upon press to take heed and used the humanitarian approach in seeking sympathy for the unlawful occupant. The people associated with Reclaim the City obstructed the sheriff in exercise his duties thus succeeding in allowing Mrs Vieira to remain in unlawful occupation. Despite that fact that Mrs Vieira was not evicted on 24 October 2017 does not mean that Mrs Vieira was given any extension of time.
Having waited for more than a year to attend to repairs, losing rental income, indebted for rates and water and attending to pay attorney's fees to proceed with legal proceedings, this all in search of reclaiming what is rightfully his as a property owner. It is on this basis that Mr Parker was left with no option but to exercise his legal rights and proceed with the eviction of Mrs Vieira in terms of the court order which was granted in his favour.
© 2017 GroundUp.

This article is licensed under a Creative Commons Attribution-NoDerivatives 4.0 International License.
You may republish this article, so long as you credit the authors and GroundUp, and do not change the text. Please include a link back to the original article.