Philippi residents evict community leader for corruption
Two arrests made after demolition of committee member's shack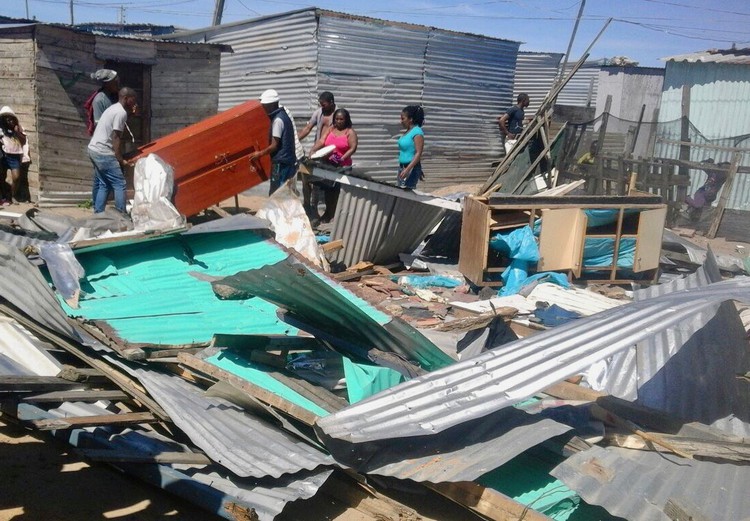 About 50 residents of Sweet Home Farm toyi-toyed outside Philippi Magistrates' Court in Cape Town on Friday. They were there to support two community members arrested on Wednesday after a community leader's shack was destroyed and she was forced to leave the informal settlement.
Paula Nonzwakazi, a community leader for the last six years, was accused of corruption. Residents accuse her of selling unoccupied pieces of land to people to erect their shacks without consulting the community.
On Sunday 22 October, residents destroyed her shack. The police arrived and watched as she was forced to pack her belongings. GroundUp was at the scene, but Nonzwakazi refused to speak.
Ernest Chulayo, who is on the community leader committee, said: "This lady must leave our area. We will not accept such behaviour in our community. She actually is aware of the community constitution that states if a community leader is corrupt we destroy his or her shack and ask her to leave the area and this is exactly what we are doing." He said the rule had been agreed to in 2009.
Police made the arrests on Wednesday and Thursday following the demolition and held the men at Nyanga police station. The men appeared in court on Friday on charges of malicious damage to property.
Sinphiwe Stofile, one of the men arrested, said, "This lady is corrupt. She is benefiting unlawfully. It is against the community constitution. We destroyed the shack according to our agreement."
Resident Avela Gqnbi said, "I came to Sweet Home Farm in 2016 … Since the accused [Nonzwakazi] was a community leader I had trust in her. She asked me for R300. I paid that same year but nothing happened."
He says he signed a paper to prove he had paid for the site. The other community committee members were apparently unaware of this according to him.
Sandisiwe Jolwana, who used to live in nearby Samora Machel informal settlement, also paid for a site. "My family is growing big so I thought of buying a piece of land in the area. I did not expect any fraudulent activities since I knew the lady as one of the community members. I paid R1,000 for the open space," said Jolwana.
But when she tried to erect her shack, someone else arrived and stopped her, saying the site had already been claimed.
"This is when I realised I had been dragged into a corrupt practice. I reported the matter to the other community members," said Jolwana.
GroundUp has asked Nonzwakazi several times for comment but she has declined to respond.
© 2017 GroundUp.

This article is licensed under a Creative Commons Attribution-NoDerivatives 4.0 International License.
You may republish this article, so long as you credit the authors and GroundUp, and do not change the text. Please include a link back to the original article.