Women march for farm and land rights
"Land now, food forever" demand activist organisations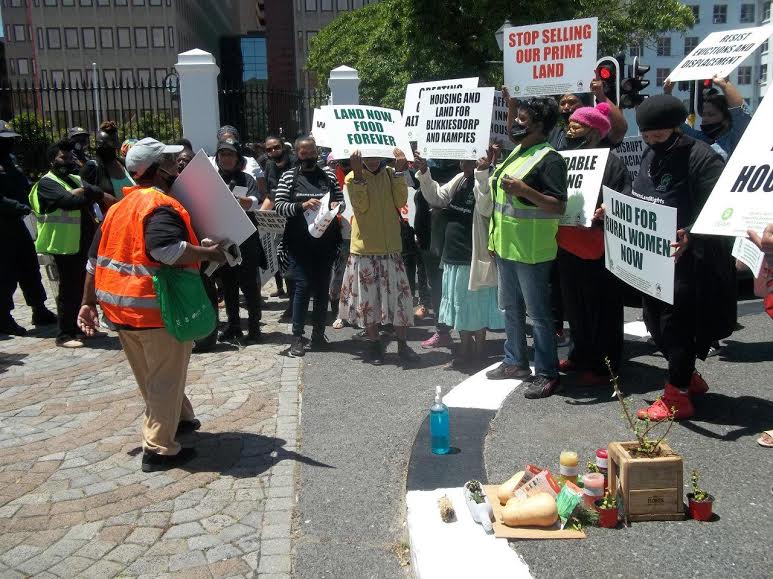 Women from 11 organisations marched in Cape Town on Monday demanding rights for farm workers and affordable housing
The marchers called for an end to farm evictions and rights for farmworkers' children
They took memorandums to the national Department of Agriculture and the provincial departments of human settlements and public works.
---
Women farm workers, fishers, backyard dwellers and land occupiers marched in Cape Town on Monday, demanding housing and land.
Dozens of people participated. They were members of the Ubuntu Rural Women and Youth Movement, Reclaim the City, Oxfam South Africa, Gugulethu Backyard Dwellers, Witzenburg Rural Development Centre, West Coast Food Sovereignty Campaign and Solidarity Forum, Doornbay Women's Fisherfolk forum, Housing Assembly, Landless People's Movement, and Elsenburg Housing Group.
They sang struggle songs and carried placards that read: "Land now, Food forever" "Stop selling prime land" and "Affordable housing now".
The protesters marched to the Western Cape Department of Human Settlements, the Department of Transport and Public Works, and Parliament.
"The City of Cape Town has drafted a human settlement strategy. Today we as women fighting for housing, land and justice are submitting our comments and objections," said Karen Hendricks, who is Woodstock leader of Reclaim the City.
She said communities should lead the implementation of the housing strategy.
"There is such a big lack of housing and service delivery in our communities. That's why we are here," said Hendricks.
Joyce Malebo, leader of Gugulethu Backyard Dwellers, said the demonstrators wanted "to beg the department to listen to backyarders".
"We were very young when we applied for houses. Now we are old and about to be buried six feet underground without receiving them," she said.
Jacqueline Samson, head of the Western Cape Department of Human Settlements, received the memorandum. "I will see what the content of the memorandum is and respond," she said.
The demonstrators marched to Parliament to submit another memorandum, but no senior official came to receive it.
Wendy Pekeur, leader of Ubuntu Rural Women and Youth Movement, said the protesters wanted the National Department of Agriculture, Rural Development and Land Reform to amend the Extension of Service of Tenure Act so as to safeguard the rights of children of farm workers. She said the Act protected farm owners and allowed them to make farm workers's children pay rent or leave farms when they turn 18 and finish school.
They also wanted Minister of Agriculture Thoko Didiza to stop farm evictions. Pekeur said farmers were closing farm restaurants, retrenching workers because of Covid19- related losses and then evicting them.
"We want Thoko Didiza to stop these evictions," she said.
Farm owners still evicted farm dwellers and workers without adequate alternative accommodation, she said. The alternatives offered by the City of Cape Town were temporary relocation sites like Wolwerivier which were overcrowded with few services.
Evictees had to live next to the road and protest for emergency housing in rural areas, said Pekeur.
Pekeur said she would email the memorandum to Parliament.
Deborah Dewee, chairperson of Doornbay Women's Fisherfolk Forum, said the forum wanted better access to the sea, and land to grow food.
Among other things, the memorandums to the Department of Agriculture and the provincial departments of Transport and Public Works and Human Settlements called for
an investigation into the tenure security of farm worker children;
an end to farm evictions;
the prioritising of women for land distribution;
an investigation into human rights violations "on farms that fall under the department of agriculture"; and
a women's housing summit next year.