Who is responsible for Blikkiesdorp?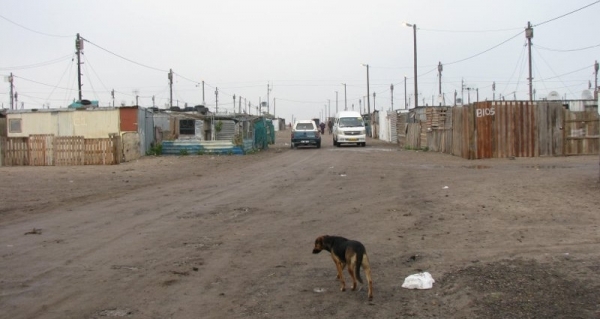 Who is responsible for Blikkiesdorp? This question has been coming up in response to work in the community by the Open Democracy Advice Centre.
A quick recap - Blikkiesdorp is located 30km from Cape Town on the N2. It is a temporary relocation area created by the City of Cape Town in 2007 as a temporary solution for people with housing problems. The houses at Blikkiesdorp were meant to be used for a period of six months - but some of the residents have been living in those houses for over seven years.
There is a plan to move people, but it involves a series of quite complex land rights issues, land ownership problems, and then planning and building. So the "solution" is at least five and probably more like seven years away.
Meanwhile the Airports Company South Africa (ACSA) is planning a runway upgrade and a new runway in the area. So far the process has excluded the residents of Blikkiesdorp - on the assumption that they will be relocated.
So whose fault is that? You could say that ACSA was complicit in that the company knew the settlement was inside the perimeter, and should have pushed back on having a settlement there. But it was all temporary, right?
The City built the settlement, so there's another finger to point. But the settlement was originally built in response to a court order. At that time, people were living on Symphony Way, on the pavement. The court ordered their eviction, but the City had to provide alternative accommodation.
So was that the court's fault? The court only made the order because the Constitution contains the right to housing, which is one of the social and economic rights everybody agreed on, back in the day.
So, in a way, all this is the result of a series of decisions, by different role players, including those who originally invaded the N2 Gateway houses, and insisted on their right to housing.
So what is to be done? The current political climate presents the option of massive protest as a catalyst for change. That is indeed an option, but difficult for people who live far from the city centre, and who don't have the kind of money for airtime and transport that organising needs. They don't even have a meeting place in the community which will house more than eight people, let alone a community centre. And organising is difficult in a fractured community, made up of so many different broken parts of the City. It is difficult to build a community of interests where people have different rights - foreign nationals, people on the housing list, people who have previously owned housing, all have competing interests. So getting the masses into the streets is a bit of a pipedream as a solution.
In many situations such as this, the mantra is that the City is responsible. There is little nuance as to who in the City: a blanket of blame cloaks everyone. Politicians, public servants, consultants – everyone is treated with suspicion.
Some people argue that the solution is to vote for a different party, whichever the other party is. That's the key, they say – put different people in power, and we will get what we want. I am afraid I am not persuaded. The quite complex land rights issues, land ownership problems and so on, will be a problem faced by whoever is in charge. The suggestion that some kind of revolution will introduce a radical new political dispensation, outside of party politics, presumes that the housing crisis can be resolved by national fiat, outside of the Constitution and current legal frameworks. Again, I am not persuaded.
So, is there any solution? I think there is, but it requires a strong stomach all round. I think you have to work with those in power. Without being co opted, without selling out, but with a clear sense of where the pressure points are, where the levers of change can be. Extra-legal tactics cannot be a solution to complicated and lengthy struggles. They are personally costly, and cannot be sustained over years, which is often what is required.
Treating 'the City' as a monolithic enemy is never helpful, just as it is not helpful to talk about 'the government' or 'business.' These are sophisticated entities, which manage competing interests.
It is tempting to fall into the "we can't trust these people, we aren't going to talk to them" way of thinking. This certainly has saved the #feesmustfall campaign, which has treated all political formations, and indeed authority, with a degree of suspicion which seems to have allowed the students to skirt around some tired old debates and go for the budgetary jugular.
But that tactic is not appropriate at all times. The difference between politicians and civil servants is one which is almost unseen in this kind of debate, yet understanding those structures of power can make or break a campaign.
If it is important to be seen to be on the 'right side', then, of course, working with those in power is not an option. My mentor, Sheena Duncan, was once told by a cabinet minister in a meeting in which the Black Sash was being castigated: "you are either with us or against us". She replied: "Minister, when you are right we are with you, and when you are wrong we are against you."
That's a good yardstick to measure your work against, and I hope it will always inform the work we, as civil society, do.
Tilley is advocacy manager at ODAC. Views expressed are not necessarily those of GroundUp.
© 2016 GroundUp.
This article is licensed under a
Creative Commons Attribution-NoDerivatives 4.0 International License
.