A week in activism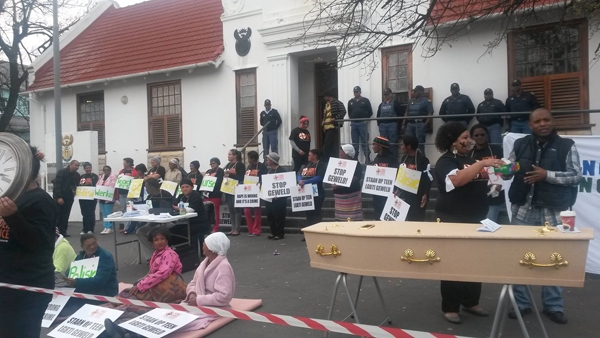 This week in political activism we look at Sonke Gender Justice's call for government to take urgent action on hate crime, charges laid by TAC against senior health officials in Bloemfontein, and the launch of an urgent intervention on behalf of Marikana residents.
Sonke Gender Justice calls government to take urgent action
Sonke Gender Justice activists protested in three provinces — the Western Cape, Eastern Cape and the Free State.
On 1 September, Sonke activists together with the Treatment Action Campaign (TAC) protested health system failures which have resulted in stock outs, inadequate treatment and additional difficulty for those already suffering from illness in the Free State. They also joined the 127 community healthcare workers and TAC members who were arrested and kept behind bars for 36 hours after participating in a peaceful vigil/sit-in in July.
In the Eastern Cape, Sonke activists are calling for justice for Sandisiwe Mhlawuli, a woman who was brutally murdered by her ex-boyfriend in Dutywa late last year. Sonke says emergency medical services failed to respond to calls for help when Sandiswa was stabbed. She was transported by taxi to the nearest hospital resulting in her not receiving sufficient medical attention in time to save her life.
In the Western Cape on the 3 September, Sonke protested outside the Ceres Magistrates' Court about the brutal rape and murder of a young gay man David Olyn in Ceres in March.
Visit their website for more details.
TAC lays charges against the senior health officials in Bloemfontein
The Treatment Action Campaign (TAC) has laid charges of corruption against Free State MEC for Health Benny Malakoane, Head of Free State Health Department Dr David Motau, Free State Deputy Director General for Health Teboho Moji and senior officials in the provincial Department of Health at the Park Road police station in Bloemfontein.
A number of charges that have been laid including multiple counts of corruption, criminal charges relating to financial mismanagement and collusion in regards to a contract for sewage management.
SERI's urgent intervention for residents of Marikana
On 1 September, the Socio-Economic Rights Institute (SERI) launched an urgent intervention application in the Fischer case on behalf of the people who lived in the Marikana informal settlement in Philippi.
SERI wants to ensure that the City of Cape Town does not confirm the interim interdict issued by the Western Cape High Court in January 2014.
The organisation states that the interdict is very similar to the one SANRAL used in the eviction of Nomzamo informal settlement.
SERI Litigation lawyer Tashwill Esterhuizen says that the judge ordered on Monday that the order be served properly and should be served in three different languages every three weeks before the next court date.
The next court date will be on the 26 of November 2014.
Dodgy people are suing us. Please support us by contributing to our legal costs and helping us to publish news that matters.
© 2016 GroundUp.
This article is licensed under a
Creative Commons Attribution-NoDerivatives 4.0 International License
.