"We have nowhere to go" say Mamelodi occupiers as eviction looms
Gauteng Department of Human Settlements have obtained a court order to evict occupants of government-owned apartments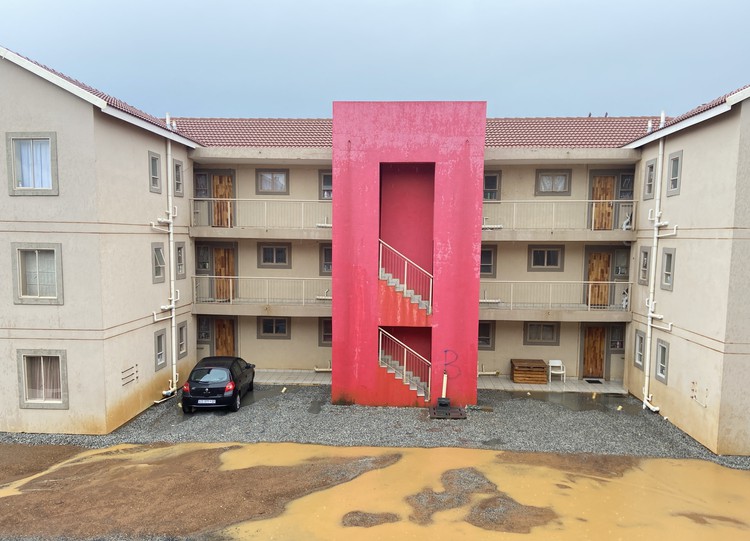 A group of people who unlawfully occupied 550 rental apartments in Nellmapius Extension 22 three years ago are refusing to move out.
This despite the Gauteng Department of Human Settlements obtaining an eviction order against them.
Some of the occupants claim that they were promised to be included in a nearby housing project but this never happened.
A group of Mamelodi residents who unlawfully occupied 550 rental apartments owned by the Gauteng Department of Human Settlements in Nellmapius Extension 22 three years ago are refusing to move out.
The group, most of them former backyarders, occupied vacant units in March 2019. The following month, they were evicted by the Red Ants after the Gauteng Department of Human Settlements obtained an eviction order in the Pretoria High Court.
The group returned to occupy the flats three days later.
Community leader Iggy Nkosi said they first occupied the RDP houses opposite the rental apartments in 2016 but were evicted three days later. When community representatives met Tshwane housing officials, they were told that beneficiaries had already been allocated to the homes. "We were promised to be squeezed in on the list for the remaining houses but that didn't happen. So we invaded the flats," said Nkosi.
Most people living at the apartments are unemployed or rely on piecemeal jobs and social grants. Nkosi said since their last meeting in 2019, there has not been a resolution.
Following the group's eviction in 2019, community leader Grace Silaule said their legal representative proposed to the provincial government's attorney that the occupiers be given services in exchange for paying a reasonable rental fee.
Tshwane municipal spokesperson Lindela Mashigo said they were waiting on the provincial human settlements department to decide on the future of the apartments. "It is our wish that the units can be reclaimed and be allocated to beneficiaries who are earning between R3,500 to R7,500 who were rejected through the fully subsidised category," said Mashigo.
But Mashigo denied the occupants' claims that the flats were left vacant for nearly three years. He said the units were invaded while they were still under construction.
Gauteng Department of Human Settlements spokesperson Tahir Sema said they plan to evict the occupants. "We have been granted an eviction order, which will be implemented once all the internal processes have been followed." He said the installation of internal services, paving and fencing of the units still needs to be completed.
When GroundUp visited the area, residents were installing their own water pipes. They say they had previously built nine toilets outside but because of Covid, each apartment block raised funds to have running water and flushing toilets in every unit. Most people cook in their units using gas and paraffin stoves. Those that cannot afford to buy fuel for stoves rely on wood fire.
Susan Mahlangu, 55, lives with her grandchildren aged ten and 12. Before occupying the apartment, she was a backyard dweller and says she applied for an RDP house in 1999. There is no flushing toilet or water in her unit. "We are unsettled because we invaded this place, we do not own it. We live in fear," she said.
"We are here because we have nowhere to go. My next-door neighbours have received houses, what about us? I know people who received their houses when they were very old. They have now died," Mahlangu said.
Dodgy people are suing us. Please support us by contributing to our legal costs and helping us to publish news that matters.
© 2022 GroundUp. This article is licensed under a Creative Commons Attribution-NoDerivatives 4.0 International License.
You may republish this article, so long as you credit the authors and GroundUp, and do not change the text. Please include a link back to the original article.
We put an invisible pixel in the article so that we can count traffic to republishers. All analytics tools are solely on our servers. We do not give our logs to any third party. Logs are deleted after two weeks. We do not use any IP address identifying information except to count regional traffic. We are solely interested in counting hits, not tracking users. If you republish, please do not delete the invisible pixel.