Walter Sisulu students protest after mass meeting
Cleaners ask for students' support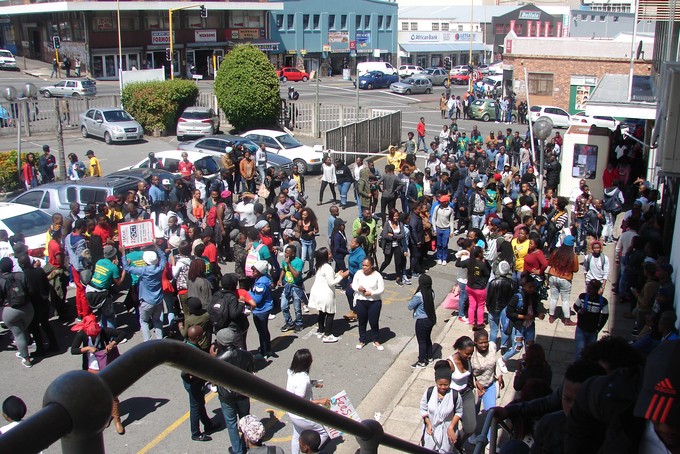 Hundreds of Walter Sisulu University students from the Buffalo City campus blocked Oxford Street today after a mass meeting.
At the meeting, members of student organisations addressed students on the university council meeting last Friday. They said they rejected an 8% increase in university fees and vowed to protest.
They said they wanted all students to register for free in 2017.
University cleaners also joined the mass meeting, calling on students to help them.They said they earned R2,000 a month and this was not enough.
"We are asking for your support on this matter. The money I get here is not enough. I take a taxi everyday and have to use the money to take my kids to school. Management has been giving us empty promises, that's why we have come to you today," one of the workers said to the students.
The students then left the campus and marched to Oxford Street chanting and carrying placards that said "fees must fall" "improve our infrastructure". Stones were thrown at some passing cars. Police used rubber bullets to disperse the protesters.
Student leader Zolile Zamisa said several student demands had been ignored by university management, including issues of student accommodation.
WSU spokesperson Yonela Tukwayo said university management was at a loss as to why the students were protesting because the university was in the process of meeting their demands.
"I can state with certainty that the majority of demands the students have mentioned have been met. Those that weren't met are in process," she said.
© 2016 GroundUp.

This article is licensed under a Creative Commons Attribution-NoDerivatives 4.0 International License.
You may republish this article, so long as you credit the authors and GroundUp, and do not change the text. Please include a link back to the original article.