Tshwane's derelict homeless shelter
"These children grow up in a dirty and dangerous place"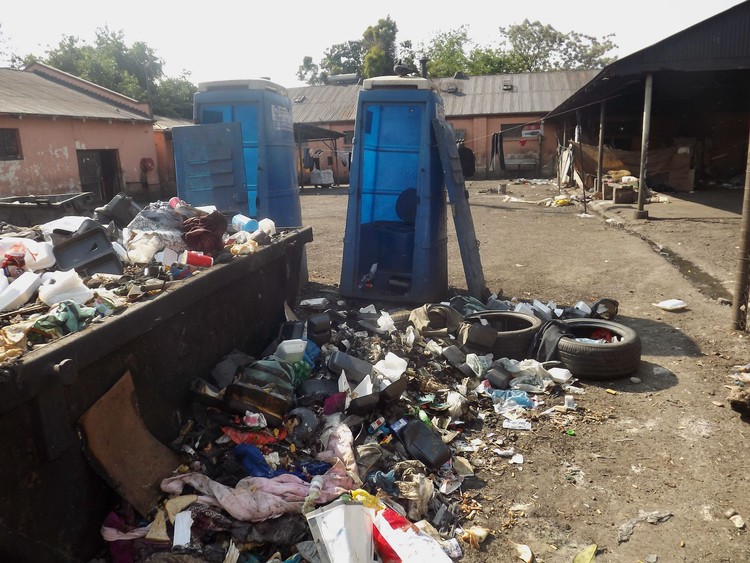 The Struben Street shelter for the homeless in Tshwane offers refuge to about 500 people, providing accommodation and three free meals a day.
But the place is filthy and neglected, and occupants worry about their safety due to a lack of security and drug use on the premises.
The City, the Gauteng department of social development, and an organisation working at the shelter say they are aware of the problems and are busy addressing them.
The Struben Street shelter in Marabastad offers refuge to about 500 homeless people, including children and babies. It was started in 2004. The shelter is supposed to offer accommodation and security, skills development and psychological support. The Gauteng Department of Social Development also funds Kitso Lesedi, a non-profit organisation, to supply the shelter's occupants with three free meals a day.
But when GroundUp visited last month, we found filthy conditions and distressed residents. There were piles of uncollected garbage, a blocked drain and leaking plumbing. Residents said there are also often power failures in addition to loadshedding. They also complained of drug usage on the premises and safety issues. There are 18 chemical toilets in a filthy state, giving off an unbearable stench. Ten were full and needed emptying; two were badly damaged.
"These toilets get full very quickly and are not cleaned regularly," said Ida Moyo, who lives at the shelter with her two-year-old baby girl. She came to the shelter in 2020 from Brits, North West, with her partner. In July last year, he disappeared.
Moyo said female residents had been allocated only four of the 16 working toilets.
Katlego Mothamedi, who has been at the shelter since July 2022, came from Mabopane, north of Pretoria, to look for a job. He stays in a small makeshift hut made of black plastic bags that he has erected on the premises. At first he stayed in a room at the shelter with three other men, but he said they smoked dagga and nyaope and he could not bear it. "I don't even smoke cigarettes," said Mothamedi.
He said his shelter is very cold in winter.
"I feel sorry for parents who live here with young children. These children grow up in a dirty and dangerous place, because they often see people using drugs. I sometimes clean this place next to my 'hut', but the next day it becomes dirty again because everyone throws rubbish everywhere."
Mothamedi said some of his clothes have also been stolen.
The shelter has two security guards who stay inside a Wendy house on the premises. But Thembi Msiza said when she and another resident, Nonqubela Hako, were recently robbed of their mobile phones, the guards said they are only hired to protect the shelter, not the residents.
The women had been sleeping on mattresses on the verandah when they were pounced on.
"The problem is that any member of the public can easily come here without being asked who they are and without being searched by the guards at the gate," said Msiza.
Hako, who has been at the shelter for eight years, came from the Eastern Cape to look for work. She said the robbery has left her feeling extremely vulnerable and she has trouble sleeping.
Mohau Selota, aged 18, is one of a number of teenagers at the shelter. She arrived from Soshanguve a year ago after their family house was destroyed by fire. She dropped out of school in grade 10, but she hopes to start schooling again next year. Her mother, a domestic worker, also sleeps at the shelter.
"People fight a lot here, day and night. I'm often scared when my mom is at work," Selota said.
Fixing the shelter
Elina Simango is the manager of a non-profit organisation Kitso Lesedi. She said the volunteers of her organisation were also affected by the unhealthy conditions when they served meals at the shelter. But the City was working on these issues, she said.
Meals are prepared off site. The organisation provides a breakfast of bread with butter and peanut butter or jam, coffee and tea with milk, and instant pap. The lunch menu varies, but includes pap with meat, rice with wors stew, as well as pap with cabbage mixed with meaty beef bones. For supper, Simango said they provide cheese and polony sandwiches.
Spokesperson for the Gauteng Department of Social Development Motsamai Motlhaolwa said besides funding the meals, Kitso Lesedi helps people reunify with family.
"While we note the challenges taking place at the site, a multi-stakeholder team is working to remedy the situation," he said.
Spokesperson for the City of Tshwane Selby Bokaba acknowledged that drug use was a problem at the shelter. He said metro police did conduct raids on the premises.
He agreed that the number of security personnel was insufficient, but said the City was busy increasing security personnel.
Bokaba said a service provider is responsible for emptying and cleaning the toilets and the City would investigate the residents' complaints.
He said the City did collect refuse but there was currently a waste collection backlog due to a wildcat strike.
He said maintenance personnel had been made aware of the water and power supply problems, and he blamed overcrowding at the shelter for this.
He said 16 toilets are sufficient based on the municipal health by-laws.
"The City will also meet with residents to discuss the best possible ways to get the place clean," said Bokaba.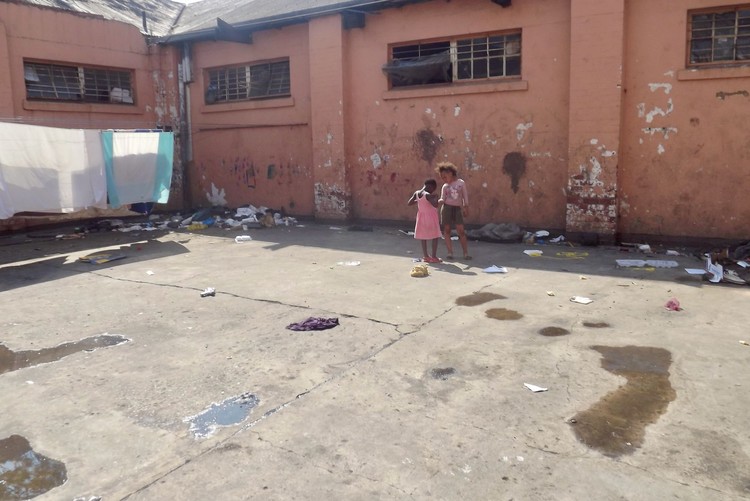 © 2023 GroundUp. This article is licensed under a Creative Commons Attribution-NoDerivatives 4.0 International License.
You may republish this article, so long as you credit the authors and GroundUp, and do not change the text. Please include a link back to the original article.
We put an invisible pixel in the article so that we can count traffic to republishers. All analytics tools are solely on our servers. We do not give our logs to any third party. Logs are deleted after two weeks. We do not use any IP address identifying information except to count regional traffic. We are solely interested in counting hits, not tracking users. If you republish, please do not delete the invisible pixel.