Train activists launch campaign to extend monthly tickets
47 carriages have been lost to fire so far in 2018 according to Metrorail manager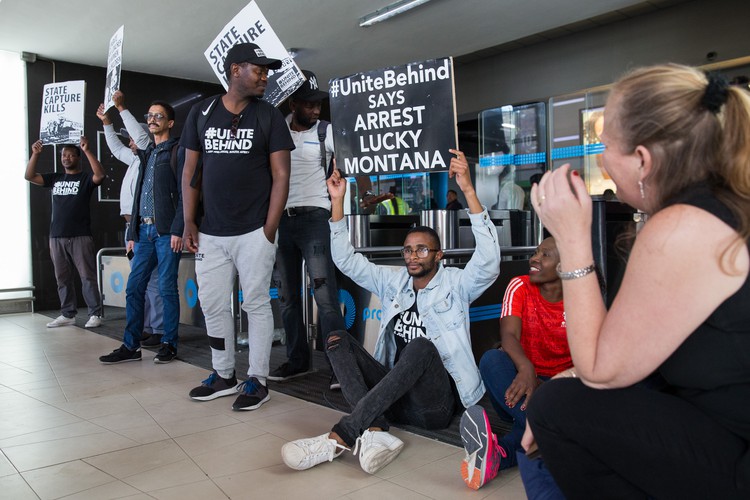 Commuter activists #UniteBehind launched a campaign they are calling #DelayRepay at Cape Town's central station concourse on Thursday. The group is demanding that until trains run on time and are not cancelled frequently, monthly ticket holders should be allowed to use their tickets for the next consecutive month. In other words, a monthly ticket would last for two months instead of one. They are also demanding greater security for Metrorail trains so that commuters can travel safely.
About 150 people, most of them wearing #UniteBehind T-shirts, filled a portion of the concourse, to support the campaigns demands. Some of those present were train commuters, who used trains on a daily basis. The campaign is directed at the Passenger Rail Agency of South Africa (PRASA), which runs Metrorail.
One commuter told GroundUp how he has been in countless dangerous situations while going to and from work. Thobile Mamba, a Khayelitsha resident, works as a construction worker in Paarl. Apart from the train delays and cancellations he says he endures everyday, he also showed two scars he had acquired while travelling by train.
"I have to be at the Khayelitsha train station everyday at 4.20am to make it to work at 9am. At that time it is extremely dangerous on the station and inside the train. I have watched countless times on my journey how commuters are being robbed on the train. This wound here on my right hand, I sustained it while fighting back against a thug who was trying to rob me of my phone and wallet. He sliced me with his panga. This happened at the Khayelitsha station. On the train carriages you cannot make or receive a call because there is always someone watching, waiting to rob you. You have to hide your belongings or leave them at home," said Mamba.
Mamba said his monthly ticket costs him R250, but he does not use the train all the time because of the dangers and the delays. "I am now forced to use buses and taxis even though I have a ticket, because I am constantly late at work. I don't know how many written warnings I have signed for at work for late-coming; I could be fired any time."
Sizwe Manqele, also a Khayelitsha commuter, told GroundUp that he stopped using Metrorail after he waited more than three hours at the Khayelitsha station for a train that ended up being cancelled. "PRASA does not care about us as customers or commuters. Sometimes I would get to the station and it is closed. What's worse is even the people on duty at these stations cannot explain … the cancellations and delays of trains."
According to #UniteBehind's communication officer Matthew Hirsch, "State Capture, criminal mismanagement, loss of infrastructure and organised crime have all led to a rail system that must be declared a disaster. The system robs commuters and the public of money and human dignity. Every delay or cancellation is a broken journey that greatly impacts on people's lives. Every broken journey means that PRASA breaks their lawful contract with commuters."
Mandy-Lynn Mott from Kensington, has been using a train for over 30 years. While most of the supporters were outside in the concourse, Mott marched inside the station with her September train ticket in hand, demanding to speak to Metrorail managers.
After much effort and picketing at one of the train platforms by some #UniteBehind members, who had followed Mott inside the station, the protesters eventually got word that Metrorail's regional manager Richard Walker would address the crowd.
Walker told the crowd that Metrorail has met with the #UniteBehind leadership and understands the challenges of commuters. "We have discussed with the leadership the plans we have put in place to make sure that we bring the service to a level that is acceptable."
Walker also mentioned the problems Metrorail was facing due to the train torchings, saying that last Friday's incidents in Paarl, Firgrove and Cape Town stations, which left six coaches damaged, were crippling the rail service. A total of 47 train coaches have been lost to train fires so far in 2018, and the Cape Town rail network requires 88 coaches to function optimally.
With regards to Mott's question about the extension of train tickets, Walker said he would discuss with his colleagues and would report back in 48 hours.
#UniteBehind had also written a letter to PRASA board chairperson Khanyisile Kweyama, Minister of Transport Blade Nzimande, and Parliament's transport portfolio committee chair, Dikeledi Magadzi. The letter highlights the problems that commuters face when using the railway service.
The letter discussed dangerous trains, stations and journeys; delays, cancellations and loss of stock; the cost of state capture, and fair and reduced fares.