Toilets overflow as Buffalo City municipality fails to ensure tender is implemented
"It is sad the municipality does not care about us"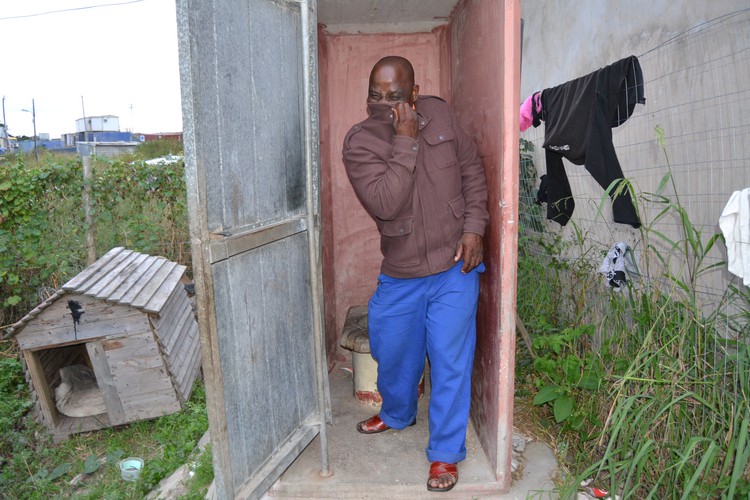 The area stinks because pit toilets are overflowing. For residents of Emivundleni area in Ngqozo village Mdantsane, hope is dying of ever having decent sanitation.
A construction company hired by the Buffalo City Metro Municipality to supply taps and flush toilets to 197 houses left before finishing the job. The company, Imvusa Trading, cites lack of funding, while a municipality spokesperson, blames the company, telling GroundUp that the municipality had done its job, which was to award the tender.
"We fight maggots here almost everyday. People are getting sick because of these toilets. It's like we are forgotten," said community leader Dumisani Dyoyi who was busy cleaning his pit latrine. "It is sad the municipality does not care about us. They are aware of these toilets but have not assisted us."
Residents told GroundUp that in 2005 the municipality promised them running water and better toilets. But 12 years later there are no proper toilets in the area. They only received water last year.
In 2015 BCMM awarded a tender of R19.4 million to KwaZulu-Natal based Imvusa to supply taps and flush toilets in this village. The company was supposed to finish the job in January 2017, but construction stopped in July 2016. Residents said that Imvusu hit technical problems because of the stony ground.
Imvusa apparently applied for increased funds. An amount of R26.6-million was approved. But at a council meeting last month deputy mayor Zoliswa Matana, ANC councillors Sindiswa Gomba, Crosby Kolela, and the DA's Terence Fritz called for the contract to be investigated for this more than 100% increase.
Fritz told GroundUp that the tender was awarded to Imvusa because their price was better. He said they were other people who applied for the same tender but were not granted the job because their prices were high hence the demand for an investigation. "The municipality has hired a company to investigate the project. Then we will get the report at council meeting end of this month," he said.
Imvusa's director, Bongi Sibiya, said the company stopped work due to lack of funding. He said the municipality was informed that the money for the project was finished, but since then there hasn't been any communication between the company and Imvusa.
Municipality spokesperson Sibusiso Cindi said the municipality had done its duty which was to award the contract. After that the failure was with the service provider. He refused to give details about the tender or the investigation. "We were not aware of this matter until you brought it to our attention and thus we could not contact the service provider," he said. Besides the fact that this is implausible given developments in council, a week after GroundUp informed him, nothing had been done for the residents of Emivundleni.
Furthermore the councillor for the area, Gwebile Lennox Gosani, said that the municipality is aware that the houses in Emivundleni have blocked toilets. "I informed them exactly after community members informed me," he said.
Community leader Dyoyi says that everyday he puts water and madubula (disinfectant) inside his toilet to reduce the awful smell. When this reporter visited the smell was so unbearable I had to cover my nose throughout the interview.
Resident Thombi Mamba said in November last year she paid R359 to the municipality for her toilets to be drained. But the people who were sent to drain her toilet told her it was too difficult to do. "We are completely forgotten here. The municipality does not care about us. I was not even supposed to pay for this but I did it thinking that I was going to be helped in time. I was wrong," she said.
Mamba's toilet is full. When she cleans it, she says she fights with her neighbours because the smell wafts over to them. "We have done everything. [We have tried] to speak with our municipality. We marched. We protested. We tried all we can. These are the first units [built] in Mdantsane but there are people who are still living in shacks waiting for RDP houses," she said.
We confirmed Mamba's story when we spoke to a Mr Mbeki at the municipality (he refused to provide his first name). He confirmed that it would be difficult to fix her toilet because the drains have "been used for a very long time". He said: "We told Mamba and others that there's nothing we can do to help. She can come to our office to collect her refund."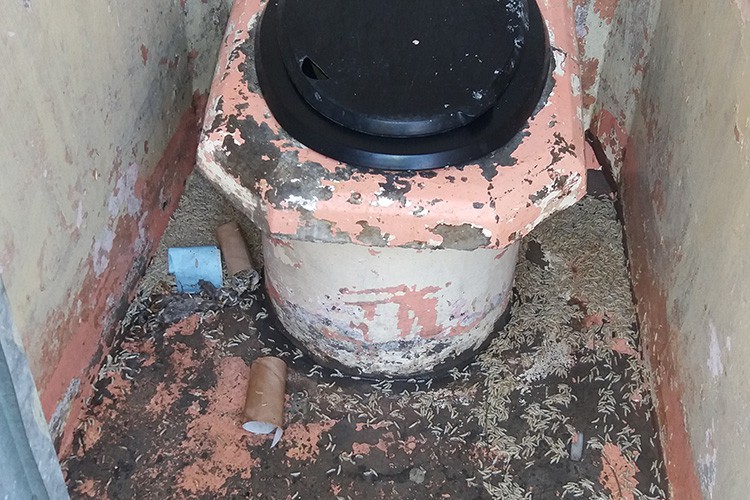 © 2017 GroundUp.

This article is licensed under a Creative Commons Attribution-NoDerivatives 4.0 International License.
You may republish this article, so long as you credit the authors and GroundUp, and do not change the text. Please include a link back to the original article.