Thousands march against ANC ward councillor
Thandi Ndlovu "is like a statue - just there and doing nothing", says protester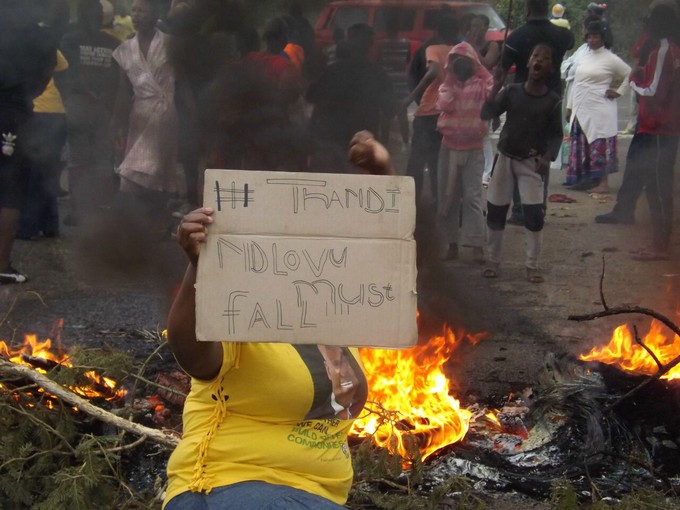 Thousands of angry residents in Copesville, Pietermaritzburg blocked roads yesterday, using stones, trees and burning tyres. They are demanding that their ward councillor, Thandi Ndlovu, leave her position.
The barricades were started at 2 am in the morning. Police eventually used teargas and rubber bullets to disperse the crowd.
Ndlovu has had a turbulent relationship with residents since she became the councillor of ward 29.
"We are fed up with her," said protester Nonhlanhla Ngema. "She must just pack her things and forget about being a ward councillor. She has done nothing good for the ward. She is like a statue that is just there and doing nothing."
Ngema said that the informal settlement has had problems with water, electricity and cable theft for years. "Not once has she taken these issues seriously. She doesn't have manners. She speaks anyhow with people. She is stubborn and does things the way it benefits her and those close to her."
Ndlovu is the chairperson of the ANC in her ward and on the ANC's regional executive committee.
Ngema alleges that Ndlovu got the position by calling a branch general meeting. Only a few people attended, and she therefore managed to manipulate the party election list.
Air-conditioned offices
Another protester, Bhekumuzi Sithole, said that residents have tried to get the ANC in the region to intervene.
"Not only is the [ANC in the] region aware of our concerns about Ndlovu, but even officials in the province have been made aware of this. They have promised to visit the ward, hear our concerns and solve the matter but they have not done so. We will continue to march and we will close more roads if they think this is a joke. The struggle of making our voices heard will continue until they leave their air-conditioned offices and attend to this matter. We can't have a councillor with other positions. That gives her access to manipulate the decisions. We know she has support from the [ANC in the] region and that is why she gets away with things," said Sithole.
March on Ndlovu's house
During the march it became apparent that residents were marching to Ndlovu's house to attack her. Police were called and began patrolling the area. Despite their visibility, residents continued to burn tyres and block roads.
KZN police spokesperson, Major Thulani Zwane, confirmed that thousands of community members protested in Copesville, blockading the New Greytown Road with burning tyres and stones. Zwane said that Mountain Rise police and public order police were deployed to the area, dispersed the crowd and were monitoring the situation. No arrests have yet been made.
Three people were injured by rubber bullets. A child has been treated for teargas inhalation.
Ndlovu refused to comment when GroundUp called her. She hung up the phone.
Dodgy people are suing us. Please support us by contributing to our legal costs and helping us to publish news that matters.
© 2016 GroundUp.

This article is licensed under a Creative Commons Attribution-NoDerivatives 4.0 International License.
You may republish this article, so long as you credit the authors and GroundUp, and do not change the text. Please include a link back to the original article.