Cape Town suburbs where homeless people count
Through the Streetscapes project, homeless people are running surveys, earning an income, and changing lives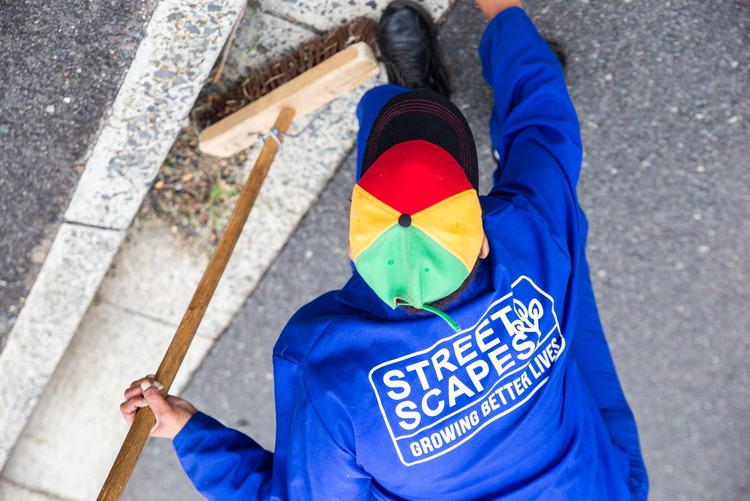 Non-profit organisations led by Streetscapes are running a public employment programme for homeless people in Cape Town.
The project is funded in part by the Presidential Employment Stimulus Programme through the City of Cape Town.
The first round of the programme ran from December 2021 to June 2022 and gave work to 667 homeless people.
Participants showed a sharp improvement in health and living conditions, with many having moved back to family or into their own homes.
What happens when you give homeless people jobs alongside social services? Streetscapes, a homelessness-focused project of national non-profit organisation Khulisa Social Solutions, has been finding out.
Since December 2021, Streetscapes, working with 14 other organisations, has run three rounds of the public employment programme for homeless people. The programmes have been funded by a contract from the City of Cape Town, using money allocated to the municipality via the Presidential Employment Stimulus Programme.
This is no ordinary public employment project. People enrolled in the programme work cleaning streets, fixing up parks and public spaces, washing windows, recycling, or running surveys as outreach workers, among other things, for a few hours a day. When their paid shifts are done, the programme offers participants several hours of rehabilitation, skills training, or developmental sessions.
One of the former beneficiaries of the Streetscapes project, Chantal Sampson, is now a supervisor and peer educator. She will begin training to become a social worker this year.
In addition to the money given to fund wages, the municipality gives an extra 30% to cover development and rehabilitation for the participants. This pays for social workers, transport, healthcare and so on.
The first round of the jobs programme ran between December 2021 and June 2022 and gave work to 667 homeless people. Participants showed a stark improvement across a range of indicators of well-being.
Participants were questioned throughout its duration about the conditions that they face and their history. Many of those interviewed said that they left their family homes looking for work. Most people (87%) wanted help to leave a life on the streets.
The participants in the programme were also asked about the state of their accommodation, their narcotic use, their mental and physical health, their recreational activities, and their "motivation for change", at the start of the programme, and then at 3- and 6-months in. There was a marked improvement across all the indicators.
Most of the participants who were living on the streets reported that they had improved their living situation - the largest share of participants were living with family or in their own place. A large share reported that their substance use was now managed and no longer a problem. Many reported improvements in their desire to change their circumstances. At the start of the programme, most participants had not even had a health assessment, but after six months, most had been assessed and were getting treatment where necessary.
Streetscapes founder Jesse Laitinen told GroundUp that this is one jobs programme that wants its participants to leave. "There's a positive culture that develops, which is only possible because we can invest in the participants," she said.
The current round of the programme, which began in September 2022, employs 410 people, including supervisors. Laitinen says the results among the participants have been consistent.
Homelessness survey
One of the projects in the employment programme was a survey of homeless people living and working in the predominantly middle-class Cape Town city bowl suburbs of Devil's Peak and Vredehoek, Ward 77.
The survey was run in November by Streetscapes in collaboration with the Devil's Peak Vredehoek Outreach (DPV Outreach), a voluntary community association formed to help homeless people in the area.
Formerly homeless people were trained and sent out to gather information from local homeless people. Laitinen said that homeless people were much more willing to talk with people who had been homeless themselves.
The surveyors spoke to 93 homeless people, of whom 35 lived in the ward. They found that there were more homeless men than women. Many people (41% of respondents) had left their family home looking for work, with 25% citing poverty as their primary reason for leaving.
The respondents cited a number of reasons why they were homeless: 29% said it was due to unemployment; 25% said that they had nowhere to go (a further 11% had nowhere to go after leaving prison); 25% had no family support, or were orphaned (15% said that fellow homeless people were like their family); and 22% cited substance abuse problems. Just 9% of respondents said that being homeless was their choice.
Nearly all those living in the ward were looking for formal employment, but many were already earning money, with 41% of respondents recycling the neighbourhood's waste.
The Service Dining Rooms on Canterbury Street, the Hope Exchange on Roeland Street, and Ladles of Love, which runs soup kitchens at the Hope Exchange, were the most-used services, and all three received high ratings from the respondents.
The respondents reported mostly positive relationships with the people living in houses and flats in the area - 47% said they were on good or really good terms, 41% said things were "OK", and 12% reported bad or really bad relationships with the neighbourhood.
On Tuesday, the City of Cape Town announced that they would be creating two new safe spaces, a 300-bed facility in Green Point, and a 30-bed safe space in Durbanville in time for winter this year, for a total of 1,060 beds across the city.
© 2023 GroundUp. This article is licensed under a Creative Commons Attribution-NoDerivatives 4.0 International License.
You may republish this article, so long as you credit the authors and GroundUp, and do not change the text. Please include a link back to the original article.
We put an invisible pixel in the article so that we can count traffic to republishers. All analytics tools are solely on our servers. We do not give our logs to any third party. Logs are deleted after two weeks. We do not use any IP address identifying information except to count regional traffic. We are solely interested in counting hits, not tracking users. If you republish, please do not delete the invisible pixel.