Thabo Bester escape: state says prison CCTV technician was offered R2.5-million bribe
Details emerge in court of state's case against Bester and co-accused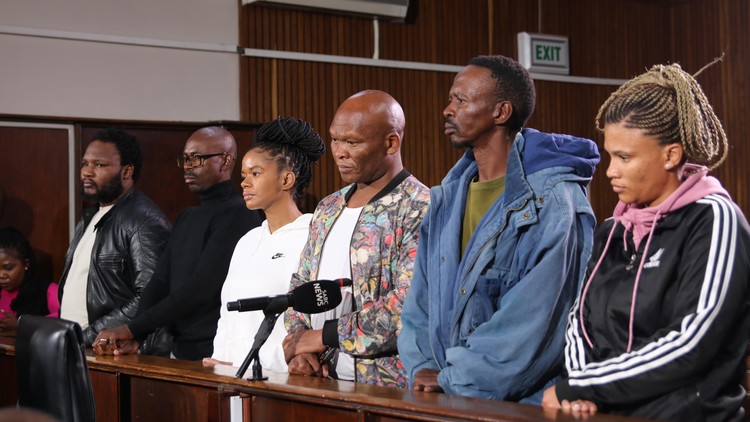 Eight people now face charges in the Thabo Bester matter.
The charge sheet reveals new details of the state's case, including allegations that Bester and his partner Nandipha Magudumana fraudulently claimed dead bodies and paid bribes.
CCTV technician Teboho Lipholo was offered R2.5-million to tamper with the cameras, according to the charge sheet.
It was previously believed that the body found in Bester's cell had been murdered by the accused, but the murder charge has been dropped.
Thabo Bester's partner Nandipha Magudumana and five other accused in the case will remain in custody after their bail hearing was postponed to 11 and 12 May.
Prosecutor Sello Matlhoko requested the postponement so that the state could prepare further, as two of the accused were only arrested last weekend.
Eight people, including Bester himself and Magudumana's father Zolile Sekeleni, now stand accused in the case. Between them, they face 16 charges, including assisting an escape, arson, fraud and corruption. Some of the accused were previously charged with murder, but that charge has since been dropped.
Magudumana appeared in the dock on Wednesday at the Bloemfontein Magistrates Court alongside four former employees of Mangaung Correctional Centre, Senohe Matsoara, Motenyani Masukela, Tieho Makhotsa and Nastassja Jansen; and Teboho Lipholo, a CCTV technician and former employee of Integritron Security Services.
Jansen and Makhotsa were arrested last weekend, bringing the number of accused in the matter to eight.
Sekeleni was released on R10,000 bail on 17 April. Bester declined to apply for bail and remains in custody.
News24 reported on Tuesday that the 16 counts on the charge sheet include violating a dead body, corruption, fraud, arson, and assisting an escape.
The state believes that Bester, Magudumana, Matsoara and Lipholo claimed an unidentified body from a morgue between 7 and 12 April 2022, saying that the body was that of Magudumana's father.
According to the charge sheet, the body was then tossed in a river in Bloemfontein and the coffin used to bury the body was filled with rotten meat. It appears that this body was intended to be used as a decoy body in Bester's escape, but the plan fell flat and the body was disposed of.
The state also alleges that Lipholo, a CCTV technician on duty the day of the escape, was offered R2.5-million, by Bester, Magudumana, Sekeleni and Matsoara, to tamper with the CCTV system at the prison. Lipholo was allegedly paid R40,000.
Bester, Magudumana, Matsoara, Sekeleni, Lipholo and Masukela are charged with fraudulently claiming a body (most probably that of Katlego Bereng) from the National Hospital in Bloemfontein. Some of them posed as employees of the hospital, according to the charge sheet.
The state alleges that they fraudulently claimed that the body was that of a Zimbabwean taxi driver, the brother of someone named "Zando Moyo". GroundUp has seen evidence that someone called Zando Moyo checked into an Airbnb in Ballito with Magudumana on 19 April, suggesting that Moyo was a close associate of Magudumana.
All eight accused are charged with defeating the ends of justice, and with arson, for conspiring to start the fire in Bester's prison cell. Bester, Magudumana, Matsoara, Sekeleni, and Lipholo are charged with violating Katlego Bereng's body by setting it alight in Bester's cell. All but Bester are accused of helping him escape.
Matsoara is charged with corruption, for accepting a R105,000 payment for helping Bester escape. Matsoara, Magudumana and Bester are charged with offering Makhotso R1,100 to help Bester escape, and Makhotso is charged with accepting the payment.
Magudumana is charged with "harbouring and concealing an escaped offender" in "Johannesburg, Bloemfontein and Tanzania" and Bester is charged with escaping from lawful custody.
© 2023 GroundUp. This article is licensed under a Creative Commons Attribution-NoDerivatives 4.0 International License.
You may republish this article, so long as you credit the authors and GroundUp, and do not change the text. Please include a link back to the original article.
We put an invisible pixel in the article so that we can count traffic to republishers. All analytics tools are solely on our servers. We do not give our logs to any third party. Logs are deleted after two weeks. We do not use any IP address identifying information except to count regional traffic. We are solely interested in counting hits, not tracking users. If you republish, please do not delete the invisible pixel.