Thabo Bester escape: no reason for bail to be granted, says prosecutor
Lawyers for the accused say they won't evade trial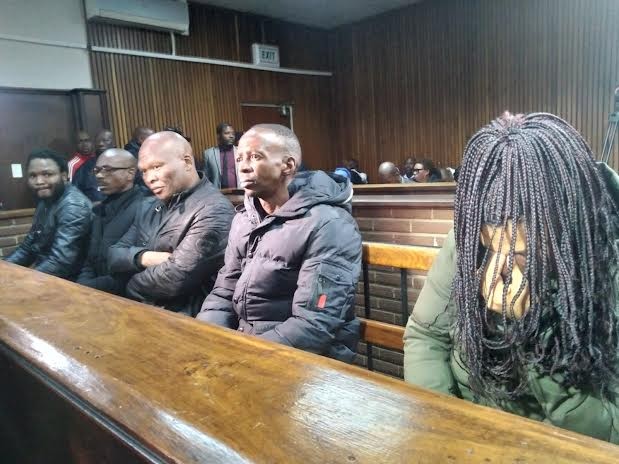 The bail hearing for five of the eight accused in the Thabo Bester case resumed for a fourth day on Tuesday.
Lawyers argued that the accused will not interfere with investigations and will not evade trial.
Some of the accused are indigent or are the main breadwinners of their families.
The accused in the Thabo Bester case appearing in court on Tuesday had not submitted sufficient evidence for bail to be granted, Prosecutor Sello Matlhoko said.
The bail hearing of five of the eight accused resumed in the Bloemfontein Magistrate's Court, with lawyers making closing arguments in favour of bail.
The criminal trial is set to begin on 20 June. Bester and his partner Nandipha Magudumana have withdrawn their bail applications. Magudumana's father, Zolile Sekeleni, is already out on bail.
Matlhoko argued that, except for Natassja Jansen who faces lesser charges, it was up to the accused to provide evidence that "the interest of justice will be served by them being released on bail". He said that the evidence submitted by the accused, via their affidavits, did not suffice.
He was responding to closing arguments by lawyers for the accused.
Advocate Kagisho Moruri, representing former G4S employee Senohe Matsoara, said that if the investigations took another month to complete, Matsoara would have been in custody for over three months. This, he argued, would not be in the interest of justice.
Moruri also argued that the testimony of investigating officer Tieho Flyman, did not show that, should he be released on bail, Matsoara would interfere with the investigation or undermine the justice system. Nor, he said, would he disturb the public order.
Moruri emphasised Matsoara's right to be presumed innocent and said that Matsoara did not have any previous convictions, was not prone to violence, was a South African citizen by birth and had a fixed address.
"The state does not have a 'watertight' case against the client," said Moruri.
Makhotsa was also represented by Moruri. He said the investigating officer had not suggested that Moruri would commit another offence. He also said that it would be difficult for Makhotsa, and Matsoara, who both have pending labour disputes with G4S in the Commission for Conciliation, Mediation and Arbitration (CCMA), to pursue those disputes and instruct their attorneys while in custody.
Teboho Lipholo, an employee at Integritron Security Solutions and the CCTV camera technician who is accused of disconnecting power to the cameras on the night of the escape, was represented by Advocate Tshotlego Makamedi. Makamedi said Lipholo did not have enough blankets at the detention centre, had contracted flu, and had not been treated.
If Lipholo was not released on bail, Makamedi said, he would not be able to instruct his lawyer properly and would not be able to find witnesses to prepare his defence. He himself could not travel to Lipholo's place of detention, he said. Makamedi is employed by LegalAid. He said that Lipholo is indigent.
Lipholo has cooperated with the police and there is no evidence that he will evade trial, Makamedi argued.
Lawyer Masile Koenane, representing G4S employee Motenyani Masukela, said there is "no direct evidence" that Masukela will interfere with the investigation or intimidate witnesses. He said Masukela, married with four children, "is a breadwinner in his household".
"He is a man that needs to go back and work for his family," Koenane told the court. "It could take a long time for this matter to be finalised."
He suggested that the state's case is too weak to guarantee a conviction.
Representing former G4S employee Jansen, lawyer Gary Botha said there was no evidence that Jansen assisted Thabo Bester to escape from prison and that she had only done her job on the night of the escape. "My client has been criminally charged with reporting for duty," Botha said.
Botha said that the case could take some time, that there was no risk that Jansen would interfere with the investigation and that she had two children.
Prosecutor Matlhoko gave a detailed account of the night of the escape and how a corpse, believed by the state to be that of Katlego Bereng, was driven into the prison in a TV cabinet. At this point, Bereng's mother, who was seated in the gallery, broke down crying.
He said releasing the accused on bail would undermine community trust in the police and the justice system. "The people employed to guard and make sure [Thabo Bester] remains behind bars for the rest of his life are the same people who assisted him in the escape," Matlhoko said.
The accused will remain in custody until Wednesday morning. The hearing continues on Wednesday.
© 2023 GroundUp. This article is licensed under a Creative Commons Attribution-NoDerivatives 4.0 International License.
You may republish this article, so long as you credit the authors and GroundUp, and do not change the text. Please include a link back to the original article.
We put an invisible pixel in the article so that we can count traffic to republishers. All analytics tools are solely on our servers. We do not give our logs to any third party. Logs are deleted after two weeks. We do not use any IP address identifying information except to count regional traffic. We are solely interested in counting hits, not tracking users. If you republish, please do not delete the invisible pixel.