Tamboville residents shutdown community over delayed housing project
Shacks were demolished over a month ago to make way for houses. Now those who lost their homes want to know why there hasn't been progress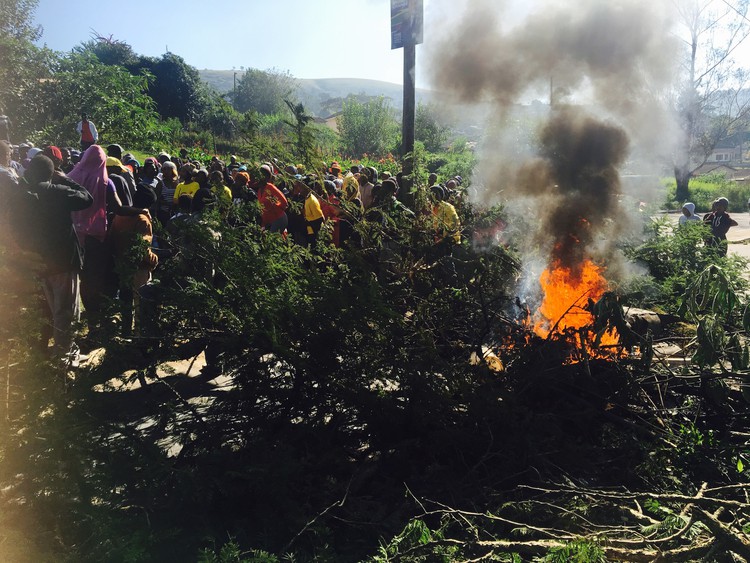 Residents of Tamboville in Pietermaritzburg blocked the entrance to the informal settlement with branches and burning tyres on Friday morning. They are demanding answers from the Msunduzi municipality on when a housing project in the area will be completed.
More than a month ago, shacks in Q-Section, Thembalihle and Tamboville were demolished to make way for new houses to be built. Fed up with the lack of progress after losing their homes, the protesters demanded that the municipality launch the housing project formally.
Msunduzi municipality mayor Themba Njilo met with the protesters in a bid to restore calm to the area which had been brought to a standstill. Children were also prevented from going to school earlier.
"I am squashed in a one-room-house with eight children said, 61-year-old Phathekile Chemane. Her house was also demolished.
"The contractors only came and dug the ground. They left without telling us when they will be back. I am suffering. I'm sharing that one room with my adult son," she said.
"We bath, cook and do everything in that leaking shack I built. We don't know what is happening with the project," said Chemane.
Another resident Mlungisi Shandu said, "It has been a month of suffering. The only language these people [government] know is this [protests]. We decided to block the road until they come and address us."
Shandu said most residents had applied for the new houses in 1997. "They are only building these houses now. … Those who can afford it have to rent rooms in other places. We want answers and solutions. Our votes should count for something," he said.
Njabulo Mthembu, of Msunduzi municipality's Housing Implementation Project, also spoke to protesters. He said construction was expected to start soon. Mthembu said there had been a delay and gave a breakdown on the different companies expected to work on the site.
"I cannot commit myself to announcing the exact date on when the project will start," he said. He promised to return with the contractors at a meeting to be held next weekend. "The community will be given clarity during the meeting. They will be also given a chance to ask questions."
No arrests were made. The roads were also cleared soon after the mayor addressed protesters.
Dodgy people are suing us. Please support us by contributing to our legal costs and helping us to publish news that matters.