"System glitch" sends scores of SASSA beneficiaries home empty handed
SASSA KZN says benefiaries will be paid by Tuesday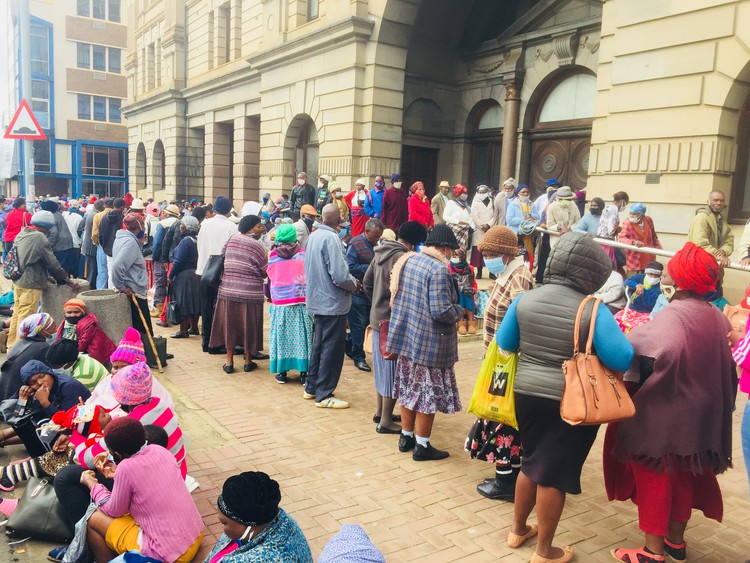 Scores of social grant beneficiaries in Pietermaritzburg returned home on Monday without receiving their old age pension grant at the post office and from bank ATMs.
Beneficiaries who collect their pension from the Pietermaritzburg Post Office in Langalibalele Street went home empty handed after spending most of morning and afternoon in snaking queues outside the building.
Until October, all social grants beneficiaries, except those who get child support grants, will receive an extra R250 per month.
In a statement, South African Security Agency (SASSA) communication and marketing director Sandy Godlwana noted that some payments which were meant to start today would be delayed "due to a system glitch".
Godlwana said SASSA identified and resolved the glitch but the implication was that funds would only be released at 3pm on Monday. This means the money can only be accessed on Tuesday.
Ntombikayise Mhlongo said she was told by a post office employee to come back on Tuesday. The 72-year-old from Imbali said she and other beneficiaries started queueing outside the post office at 4am.
"I was told there is no money. The lady did not explain to me why. I'm waiting outside because I have seen the vehicle that delivers money. Others say they have been paid. It is confusing how others are able to get their money while some of us are not. It's been hours that I have been here. I'm hungry now," said Mhlongo.
Another beneficiary, Moses Mahlangu from Elandskop, said that he had to hire a van to transport his wheelchair to the post office. He arrived early hoping to avoid long queues but by noon he was still waiting in line. "It is after 12 now and I have not been able to go inside. We don't know what is going on. I will have to wait because there's nothing left at home to eat," he said.
Beneficiaries using South African Post Office SASSA cards have been urged to go to their nearest post office to collect their grants.
The statement read: "SASSA profusely apologises to all beneficiaries for the inconvenience caused by this. For further enquiries affected beneficiaries are encouraged to call SASSA customer care number 033 846 3400 or 0800 601 011."
Dodgy people are suing us. Please support us by contributing to our legal costs and helping us to publish news that matters.