Langa hostel residents say social distancing is not an option
City does not have money to upgrade hostel this financial year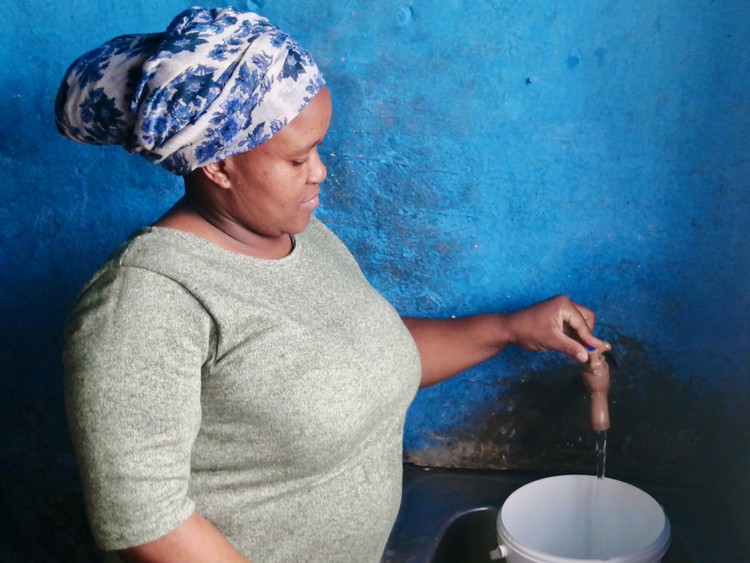 Residents living in Langa hostels say it is impossible for them to keep to social distancing guidelines in order to mitigate the spread of Covid-19.
Hlumisa Sphondo lives in one of the hostel's small rooms with her husband and two children. A double bed takes up most of the space. Inside the room are kitchen cupboards and a wardrobe. In the small space left, a mattress is laid down at night for the children to sleep on.
"We hear people talking about keeping social distancing and to be two metres apart … How do I do that when the room I stay in is just over two metres big? When my room is also my kitchen, my room, my bathroom and my living room … I go out outside the door and the next family is there. We are breathing on top of one another here."
Sphondo and her husband have been living in the hostel for five years, and before that in another hostel for eight years. She is unemployed. Her husband makes furniture, but has been home since the lockdown.
Eight other families share this hostel. They all share one tap and one toilet. There is a communal kitchen.
Nelson Klanisi next door moved to the hostel in 2011, taking over the room after his father died. The room is slightly bigger. There is a double bed for him and his wife and two children and a single bed for their co-occupant.
"The space between our beds is not even a meter, that's how we live here," said Klanisi. "We cannot tell the children not to go play outside because the is no space for them to do anything, that is why we just let them be."
Open land in front of the hostel is now occupied by over 100 shacks.
"It was better when children were going to school and people going to work because others would work night shifts so we wouldn't all be here at once, but now we are all here with nothing to do but to be in each others faces. It's hard," said Klanisi.
"For most people it's no work no pay so there isn't even money to buy sanitisers," he said.
In May 2019, Mayco Member for Human Settlements Malusi Booi told GroundUp that the upgrading of hostels in Langa would likely start this year.
He said the hostel transformation programme would see about 660 new apartments built in two sites in Langa at an estimated cost of R320 million.
Booi now says that prior to the lockdown period, the City had started community engagements around the next phase of the hostel upgrade programme.
"The planning and implementation of hostel upgrades is guided by the availability of funding to the City. The City does not have budget allocation available for hostel upgrading in the 2020/2021 financial year," said Booi
When asked about the City's plan to provide more toilets for hostel residents, he said, "Some hostels have been identified to be part of the City's Covid-19 enhanced hygiene response."