Swift response contains fire at Cissie Gool House
Community applauds City firefighters, and calls for food, water and blankets following fire at old Woodstock Hospital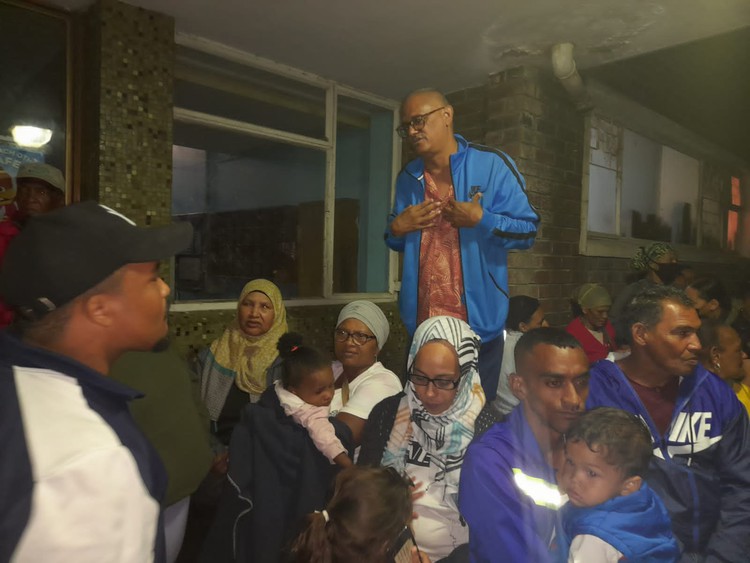 Five rooms were severely damaged following a fire in Cissie Gool House, which used to be the Woodstock Hospital, in Cape Town on Thursday night.
Other rooms suffered smoke and water damage.
Residents suspect an electricity fault to be the cause of the fire.
Bevil Lucas, house leader, said no injuries or casualties were reported but people are in need of water, food, clothing, mattresses and blankets.
A fire at Cissie Gool House in Cape Town has affected at least eight rooms, with five suffering severe damage. Residents hailed the City of Cape Town's firefighters and emergency personnel for their swift response, and appealed for supplies for affected families.
Cissie Gool House used to be the old and closed Woodstock Hospital but was occupied without permission in 2017 mostly by people in the area who were evicted or facing eviction or unable to continue paying rising rents.
According to residents, the fire started in a third floor room, and spread to four other rooms.

House leader Bevil Lucas said people were preparing to attend a mass meeting when the fire started.
"We heard a woman crying for help saying her room was on fire. Men from the building quickly went there to assist. People in the policing forum made calls to emergency personnel, and in no time they were here. To be honest we were lucky that they responded in time and managed to fight the fire," said Lucas.
According to Lucas about 350 families live in the building.
Lucas said that a family of five were living in the room where the fire started. He suspected that an electricity fault was the cause of this fire. "That family has lost almost everything," he said. "We are just happy that no one died. No one is going to be placed somewhere else. For now we will find a way to sleep here at the hall inside the building."
When GroundUp arrived at about 8pm, residents, mostly children, were standing outside, while City firefighters and emergency personnel were inside the building.
Resident Nana Makinana from Grahamstown in Eastern Cape said her room was affected by smoke but nothing much was damaged.
"We were lucky and I thank God we managed to escape unharmed," she said.
Makinana said she was renting a room in Woodstock for 18 years before she moved to Cissie Gool House. The 43-year-old mother of two said when her son got sick, she was forced to miss work, and so she could not afford rent.
"For months I was living with family and friends, changing places until I ended up on the street. Then I heard about this place," she said.
Another resident, Celani Kanwambu said that she had been living in the area for five years. "This place is very helpful to us. That is why we thank the firefighters for their quick response," said Kanwambu. She said that while the fire did not affect her room, most of her belongings were damaged by water.
Lucas has appealed to Cape Town residents to assist with water, food, clothes, mattress and blankets for the affected families.
The City's Fire and Rescue Service spokesperson Jermaine Carelse told GroundUp that they were alerted to the fire at 6:53 pm.
Nineteen firefighters from the Salt River, Roeland Street and Epping fire crews attended the fire, which was extinguished by 8:34 pm. Firefighters evacuated families from Cissie Gool House, and no injuries or fatalities were reported.
Carelse said that three rooms on the third floor and two rooms on the second floor were severely damaged by the fire, and that rooms on the first and ground floors suffered water damage. Carelse also reported that the roof had also suffered damage.
Dodgy people are suing us. Please support us by contributing to our legal costs and helping us to publish news that matters.
© 2022 GroundUp. This article is licensed under a Creative Commons Attribution-NoDerivatives 4.0 International License.
You may republish this article, so long as you credit the authors and GroundUp, and do not change the text. Please include a link back to the original article.
We put an invisible pixel in the article so that we can count traffic to republishers. All analytics tools are solely on our servers. We do not give our logs to any third party. Logs are deleted after two weeks. We do not use any IP address identifying information except to count regional traffic. We are solely interested in counting hits, not tracking users. If you republish, please do not delete the invisible pixel.