Stand off between Old Mutual and Khayelitsha occupiers
Residents were removed but returned almost immediately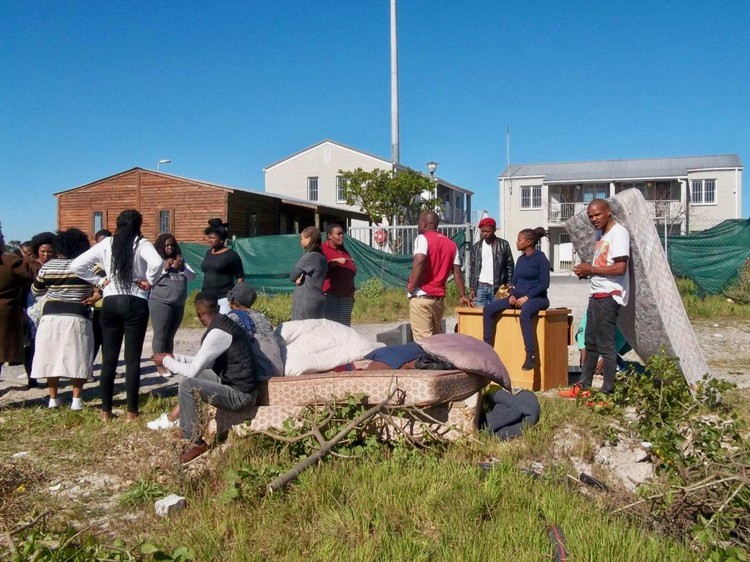 Twenty-five people who occupied an Old Mutual property, and were then evicted, have got most of their possessions back. But they claim that some of their goods are damaged or missing. They have reoccupied the building.
A leader of the group in Thembokhwezi, Khayelitsha, said they got their seized possessions back from a depot in Blackheath on Friday.
They illegally occupied the property on 16 June and were evicted on 30 July by Red Ants and police. Most of the occupants were backyard dwellers in the area. The property has been vacant since Equal Education moved its offices from there in 2016. Old Mutual intends to build "289 units and amenities such as a crèche or church, a school and a public open space" on the property, according to its spokesperson Jenna Wilson.
Neli Bomvana, a leader of the occupiers, said a fridge belonging to one occupier is broken. Another occupier could not find a digital camera that was confiscated, and another could not get their shoes back.
"We discovered that Old Mutual didn't have a list of the things it seized. Our advocate has asked us to draw up a list of the things we could not get back and he would approach Old Mutual," said Bomvana.
The property, dubbed Azania Square, by the occupiers — but as yet unnamed by Old Mutual — has several buildings on it that would be part of the project the insurance giant was about to start.
Wilson said Old Mutual had consultations with local community leaders and the City of Cape Town, and a layout for the development has been completed and approved. "The development proposal accommodates the community's requests for a commercial centre and the City's requirement for a housing development," she said.
Rough eviction
Asanda (surname withheld), one of the occupiers, said that during the eviction a police officer grabbed her by the neck and shoved her down. There was a scuffle and she said the policeman said "he would kick me until I shit". Asanda said her left eye and her thigh ached from falling down.
She said her laptop, digital camera, couch, fridge, clothes, bed, TV and money were seized.
Asanda opened a case of assault against the police at Khayelitsha police station. This was confirmed by station commander Brigadier Mkuseli Nkwitshi.
Western Cape police spokesperson Captain FC van Wyk said the sheriff of the court had a court order. He said the role of the police was to safeguard the sheriff while executing the court order.
Wilson said, "While we believe in the right of all South Africans to have the security of a roof over their heads, Old Mutual is committed to protecting the rights and properties of the local community of Thembokwezi, and ultimately, to deliver on our obligation of developing the site for use by this community."
Occupiers return
When we spoke to Asanda after the eviction she said, "We are going to break down doors and move back into Azania Square.".
Sibulelo Mkhontwana said his food, TV, clothes, and money were seized. "I was about to buy groceries with the money. Now I will starve," he said.
Mkhontwana claims the Red Ants broke the door of his room and confiscated all his belongings. "I said leave my clothes alone, but they ignored me. Now I have no clothes other than the ones I'm wearing."
Mkhontwana said he makes a living from cutting grass, cleaning yards and fixing damaged stoves for residents of Bhongweni.
He also vowed to occupy the flats again when we spoke to him after the eviction. "Because I have nowhere else to stay, I will sleep here tonight."
The occupiers did return. According to a member of the Ward Development Forum, Nolubabalo Mtshalala, they returned the very same night after the evictions took place. "Not a single one has given up and left. We are not cowards," she said.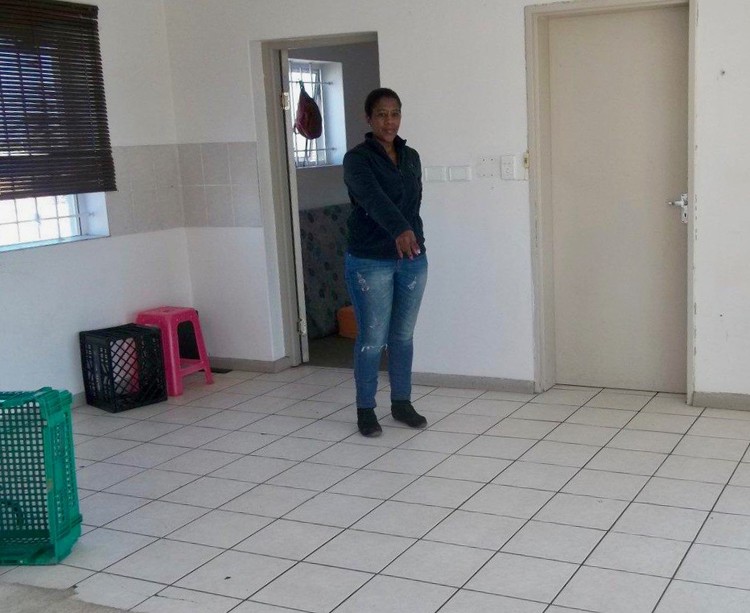 Mtshalala said she and Bomvana came to stay with the occupiers of the flats to demonstrate solidarity with them. "We as community leaders have made a decision to stay with the occupants of the flats, support them and ensure we deal with anyone who victimises them," she said.
Mtshalala said more residents are set to occupy the premises.
When GroundUp visited the flats on Thursday, she and Bomvana were sitting and chatting outside. "Some occupants of the flats have gone home and others have gone to work. We take turns to guard the flats," said Bomvana.
She said at night the occupiers share the few beds still left while others sleep on the floor.
"We put money together to buy food and divide it among ourselves. We eat take-away food because we have no groceries," said Bomvana.
But Wilson said the occupants will again be interdicted. "The interdict is open-ended and focuses on the occupation of existing structures (such as the flats) on the land as well as the erection of structures on the land."