SJC activists arrested during protest outside Mayor's office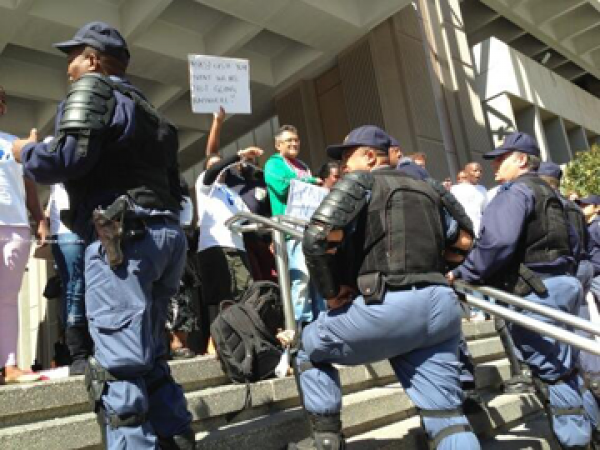 Several Social Justice Coalition (SJC) members who chained themselves to railings at the Civic Centre in Cape Town this morning vowing they would not budge until Mayor Patricia de Lille addressed them, were arrested and held at Caledon Square Police Station. They have not yet been charged.
In its demands, the SJC said its three-month progress report on janitorial service due for release next week highlights how the health, dignity and safety of both janitors and the communities they serve are severe and life-threatening.
The SJC says it has exhausted every available avenue of constructive engagement with the mayor over a period of more than two years. Through countless letters, emails, phone calls, submissions and meetings the SJC claims to have done everything possible to assist the mayor in developing a policy and plan for the janitorial service.
18-year-old Phumzile Tyulu said, "I am greatly affected by the janitorial service issue. My sisters and mother were almost raped when they walked a long distance to relieve themselves. We only have two taps used by at least 300 people in Khayelitsha informal settlement. Sometimes we only use one tap because the city council does not repair the taps when they break."
"The policy document says the toilets should be cleaned thrice a week, but it is not happening. It is affecting small children who play near the toilets. When they finally clean the toilets the chemicals they use are too strong and affect our health."
SJC spokesperson, Phumeza Mlungwana, said they are driven by the broken promises and ongoing stubbornness of the Cape Town mayor on the matter of janitorial service and the sanitation crisis in the informal settlements.
Responding to a correspondence from the mayor's office warning that the protest would be illegal and there would be consequences, Mlungwana said, "The mayor will also bear the consequences. She should not try her old tactics of ignoring us because we are not going to leave this entrance".
A statement from the executive mayor of Cape Town called the SJC's protest a "publicity stunt". The statement continues " …my office has made two appointments available to the SJC for 8 and 17 October. They have as yet not agreed to this offer for a constructive engagement. This makes a mockery of the claims of a lack of engagement by the City."
"If the SJC had sincere concerns about the roll-out of this programme, they should have immediately reported these through the numerous channels the City has available to do so, so that they could be instantly rectified.
The fact that they chose not to do so and instead resorted to an illegal demonstration again proves they are more interested in publicity than they are in genuinely trying to improve service provision."
Dodgy people are suing us. Please support us by contributing to our legal costs and helping us to publish news that matters.
© 2016 GroundUp.
This article is licensed under a
Creative Commons Attribution-NoDerivatives 4.0 International License
.