Help kickstart Khayelitsha baker's bicycle dream
|
Mary-Anne Gontsana
News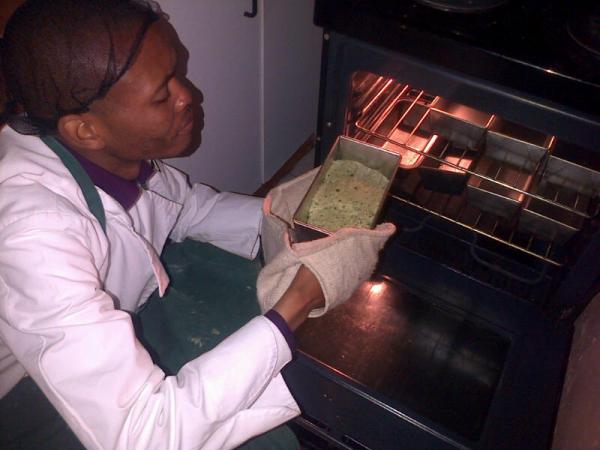 An obsession with spinach makes a good baker — that at least applies to 25-year-old Lufefe Nomjana.
Hailing from Khayelitsha, Nomjana is the founder of Espinaca Innovations which distributes nutritious food to pre-schools, orphanages and the community of Khayelitsha. His pride is his famous spinach bread.
Using just one oven, Nomjana bakes about 25 loaves of spinach bread a day. Then with the help of his employees, distributes them on foot around the township, walking up to 25km a day.
Growing up in an informal settlement in Khayelitsha's Site C, Nomjana says he witnessed the unhealthy lifestyle of his community and family daily as well as the poor environment they lived in.
"Everything was unhealthy; what the food people ate, drugs, gangsterism, even the water people drank. I remember when we were younger a friend of mine had this weird bloated tummy. We thought nothing of it until we later found out that he actually suffered from kwashiorkor. That also leads back to nutrition."
"From then on I told myself that I want to change the environment and myself. At 22, I decided to become a vegetarian. It was difficult because I lived with people who were not vegetarians. But I told myself that I would this, and that is when I moved out of my mother's house," said Nomjana.
He moved to Nyanga where he stayed as a backyarder.
In 2012, he enrolled at the Raymond Ackerman Academy of Entrepreneurial Development, where he attended an innovation class every Friday. They were tasked with coming up with innovative business ideas by looking through newspapers. This is when Espincaca Innovations was started.
After graduating from the academy, Nomjana had R40 and "intellectual capital", but could not use his one room shack to start his business.
"I started looking for someone in the area who had a stove that I could use. Sure enough I found one and I started baking. I would use her kitchen early in the morning before 6am and at night at about 10pm. I baked five mini loaves and started doing tastings at the KTC clinic and Spar. After seeing a good response, I started selling my bread. As my business was growing I got a stove from Pick 'n Pay which is where I did a course, in their school of cooking and baking."
Nomjana currently operates from his two-room flat in Ilitha Park, Khayelitsha. Apart from bread he also does muffins and is soon to introduce healthy burgers. His bread goes for R12 and is discounted for children and people with diabetes. He has three in his employment and operates six days a week.
He is also running a Bread 4 Bicycles campaign to get bicycles to make the deliveries quicker and easier. His target is R5 000. If you donate:
R100 - You get two loaves of his spinach bread and an invite to his launch in Cape Town.
R150 - Your name, will be stenciled on to one of the five bikes to give recognition.
R300 - Join a group baking workshop with Nomjana.
R1000 - A private baking day with Nomjana.
R1500 - You get to name your bike.
To support Nomjana and to find out more about his campaign visit www.thundafund.com/espinaca.
Dodgy people are suing us. Please support us by contributing to our legal costs and helping us to publish news that matters.
© 2016 GroundUp.
This article is licensed under a
Creative Commons Attribution-NoDerivatives 4.0 International License
.