Silicosis case: thousands of women could lose out
Women's work caring for sick miners is invisible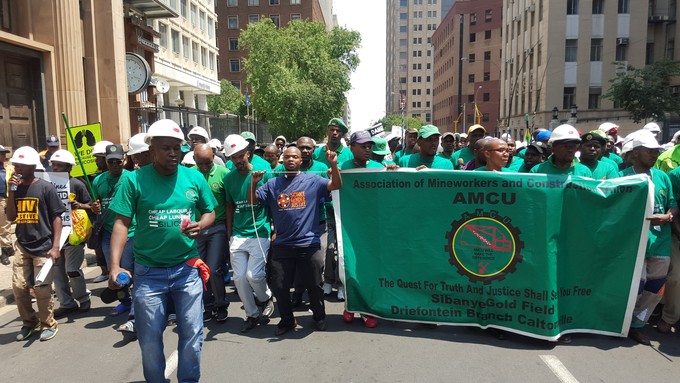 In the pending lawsuit against South Africa's entire gold mining industry, thousands of women stand to lose out on the compensation due to the dependants of deceased miners because the care work they have done to sustain the mining labour force is invisible.
In May 2016, the South Gauteng High Court issued a landmark judgment providing that miners and the dependents of deceased miners (widows and children) could proceed in a class action lawsuit against the gold mining industry.
The legal action concerns the industry's failure to prevent miners from developing silicosis, a degenerative and deadly lung disease that the mines could have prevented. Recently, the Supreme Court of Appeal has granted six of South Africa's biggest gold mining houses leave to appeal all aspects of the class action ruling, including the ruling on transmissibility which states that dependents of deceased miners can claim compensation. If the Supreme Court of Appeal overturns the High Court's judgement, thousands of women and children will have no recourse to compensation and will remain trapped in the poverty which these mining houses have greatly exacerbated over the last century.
South Africa's gold mining industry has always profited from the deadly toil of black mine workers. What is seldom discussed is how they have also benefited from the unseen and undervalued parallel work of the women and children in labour-sending communities where mineworkers come from. Women have not only ensured the labour supply to the mines through their reproduction; they have also cared for sick miners when the gruelling work has left their husbands, sons and fathers unable to continue working. For this they have not been paid.
For decades, feminist activists have written about the value and significance of unpaid care work. Society's very existence is rooted in the activities that make-up unpaid care work. In a brief published by the Women's Coalition, unpaid care work is defined as the activities that are disproportionately carried out by women and girls across the globe, including but not only "domestic work such as cooking and food preparation, cleaning, washing clothes, water and fuel collection and keeping safe living environments … directly caring for people including children, older people, people who are ill or have disabilities as well as for able-bodied adults." The authors add that without this daily care, life itself would not be sustained nor would the labour force be able to function. Yet this fact is largely ignored within society; within families, within governments and certainly within business.
The invisibility of this work stems from the perception that it is work women are "naturally" positioned to carry out and therefore should do. In reality, women and girls have this capacity because of a socially determined gender order that positions them as homemakers in the private sphere, while men are breadwinners in the public, wage-earning world of work. At its core, unpaid care work is a social obligation carried by women and girls but on which the profit-driven market relies heavily.
In a 2009 article published by the International Labour Office (ILO) the link between women's unpaid care work and the economy is described as the "systematic transfer of hidden subsidies to the rest of the economy that go unrecognised, imposing a time tax on women throughout their life cycle." In this system, women do work that offers them no wage, no pension, no health insurance or any of the other benefits that come with waged employment. The gold mining industry avoids the costs of proper medical care for mineworkers by simply sending them home to be cared for by family when they are too ill to work.
Sonke Gender Justice is entering the second phase of research aimed at making visible the burden that rural women have had to shoulder because the industry has failed in its duty not only to prevent miners from exposure to the silica dust that causes silicosis, but also to provide adequate medical care after they have become sick. Several people we interviewed said when miners get sick, they are immediately fired, often without being told that their illness is incurable. The industry's negligence not only costs miners their lives, but directly impacts on the health and wellbeing of their carers who are usually family members such as their wives and children.
No matter how readily we couch unpaid care work as a labour of love, there is no denying that it comes at great personal cost to the carer, especially in the context of unrelenting poverty.
Many studies have shown that making unpaid care work more gender-equitable requires a number of strategies, from getting more men and boys to take responsibility for housework to making sure that governments improve social services and public infrastructure, such as access to electricity and water, childcare services and healthcare. A blind spot in these studies has been how the private sector profits from unpaid care work, deepening gender inequality, and infringing on women's rights to education, political participation, health and dignity.
The pending class action lawsuit, and in particular the transmissibility of damages clause, presents an opportunity to make big business accountable.
For the first time in history, after more than a century of profiteering from women's unpaid care work in communities where miners come from, the courts will be able to release women, children and entire communities from crippling poverty and suffering.
Compensating women's unpaid care work, and not only miners with silicosis, is ultimately a matter of justice.
Dodgy people are suing us. Please support us by contributing to our legal costs and helping us to publish news that matters.
© 2016 GroundUp.

This article is licensed under a Creative Commons Attribution-NoDerivatives 4.0 International License.
You may republish this article, so long as you credit the authors and GroundUp, and do not change the text. Please include a link back to the original article.