Shacks demolished by City were not unoccupied
Residents dispute City statement on shack removals in Masiphumelele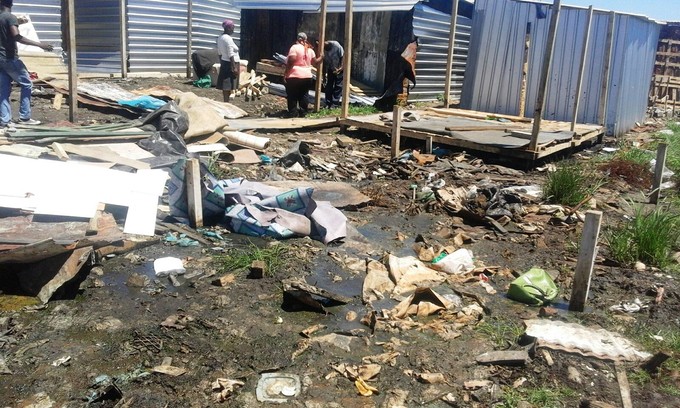 According to a statement released by mayoral committee member for human settlement Councillor Benedicta van Minnen, the City of Cape Town's Anti-Land Invasion Unit removed 24 unoccupied structures on 2 February. But resident Luvo Biyani and community leader Dumisani Nhlapo, who was in the area at the time of the demolitions, says there were people's belongings inside some of the shacks.
"Most people were at work and their belongings were left lying in the dirt … others were taken away. Why is this?" asks Mhlapo.
Van Minnen states that an interdict was served on 18 December prohibiting anyone from entering, extending or erecting any structures on erf 5131 and the area known as the wetlands, which is prone to flooding.
"To who [was interdict given]? I ask, because these people did not get it. We as community leaders were in a meeting with the councillor before the demolition; she did not say anything," alleges Mhlapo.
Resident Luvo Biyani was at work at the time the shack he shares with his friends was demolished.
"I do not understand how our house [could have] appeared to be unoccupied. Our mattresses were there, our clothes were there, and they saw them. Is it because it is not a proper bed that they think no one lives there?" asks Biyani.
He says he and two friends share the shack, because they were among the unlucky ones who did not receive building kits and space to build after the last big fire.
Fortunately, when the demolitions began, his neighbours rescued his belongings. He is now staying with relatives.
According to Van Minnen: "The City of Cape Town will continue to remove illegally erected structures in parts of Masiphumelele which are protected by court interdicts. It is vital to safeguard the piece of land which has been earmarked for the Masiphumelele housing project and also the uninhabitable area known as the wetlands."
The housing project is expected to have approximately 324 houses that will be constructed over a period of two years but the City has not yet finalised this.
"While we acknowledge that the housing need is acute, especially in light of the rapid and continuing high rate of urbanisation in Cape Town, we must do everything in our power to ensure that we have a fair and systematic approach to housing delivery," said Van Minnen.
Another community leader, Tshepo Moletsana, says the City is talking about something that has long been in the pipeline.
"We are on our way to the elections and they are now talking about things as if they are going to happen now … This housing project should have happened in 2006 already, and they are mentioning it now because they are under pressure," says Moletsana.
Dodgy people are suing us. Please support us by contributing to our legal costs and helping us to publish news that matters.
© 2016 GroundUp.

This article is licensed under a Creative Commons Attribution-NoDerivatives 4.0 International License.