Sewage-covered field causes huge stink for Witsand residents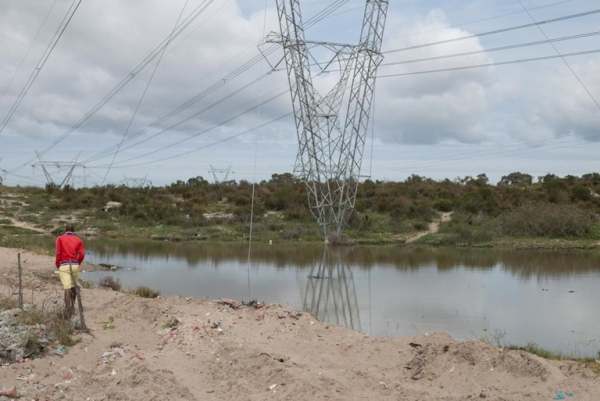 Witsand residents who live near an open field situated behind the township woke up to the "unbearable smell" of stagnant sewage water on Friday 25 September.
Witsand is a township near Atlantis, about 50km from Cape Town.
"We can't even sleep sometimes because of the smell. We have to walk over this field when we come from the taxi rank. I've seen some of the younger children playing in this dirty water and it's not safe," said resident Nowisile Mandikwa.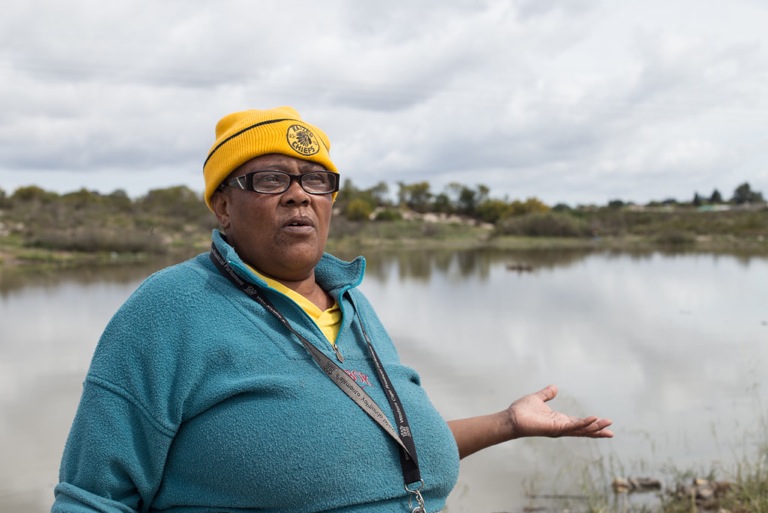 Elizabeth Mntungwa cares for foster children, and is worried for their health. Photo by Juliette Garms.
Some residents, like Mandikwa, are worried that the large pool of sewage might harm the elderly and younger children as people frequently use the field as a shortcut to their homes. It is believed that the sewage overflowed from a nearby blocked sewage pipe.
Meanwhile, following a media inquiry this week, officials from the City of Cape Town's Water and Sanitation department promised to resolve the issue by Friday 2 October.
When GroundUp visited the area earlier this week, several people said they had become used to the bad smell.
Resident Elizabeth Mntungwa, 68, cares for three young foster children. She said they were forced to stay indoors for two days as a result of the smell. "The children haven't been going to creche because they are sick. Most of the community members have to stay indoors and close their windows if they want to eat a meal without feeling sick," she said.
According to community members, it wasn't the first time the sewage overflowed onto the field behind their homes.
"It happened two years ago. We think there is a blocked drain in the suburb and it [the sewage] comes here. Most people in the township don't know their rights and won't complain," Mntungwa said.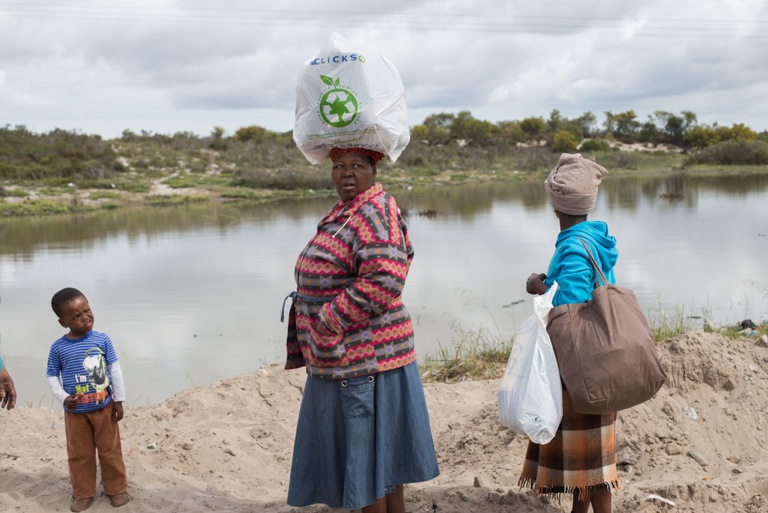 Nowisile Mandikwa describes how the smell of the sewage gets worse when the wind blows in the wrong direction. Photo by Juliette Garms.
Thandeka Mnyungula, who recently opened a daycare for children in the community, said most of the children have either stayed at home or had stomach bugs this week. "I'm in so much pain." About six children she cares for were absent this week. "The parents are scared to send their children to my creche because the smell is so bad this side," she said.
The City's mayoral committee member for Utility Services Ernest Sonnenberg said this issue "reiterates" the importance of treating sewer systems properly.
"An initial investigation indicated that the problem had already been attended to and resolved, but it appears that the burst has re-occurred and has been reported again [this week]. Sewer blockages are almost entirely avoidable and are mostly caused by disposal of inappropriate objects into the system as well as illegal stormwater," he said.
During the 2013/14 financial year, the City spent around R125 million on fixing sewer blockages, Sonnenberg said.
For water and sanitation queries or to report faults and blockages call the City's call centre on 0860103089 or SMS to 31373.
© 2016 GroundUp.
This article is licensed under a
Creative Commons Attribution-NoDerivatives 4.0 International License
.