City suspends operations in Philippi after team robbed at gunpoint
Families in Marcus Garvey informal settlement are living with a large pool of stagnant sewer water behind their homes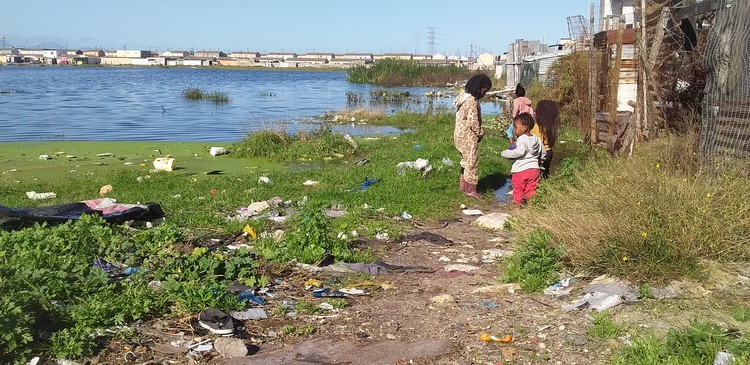 The City of Cape Town has suspended teams going into Philippi without a secure escort because of crime.

Last Saturday, a repair team was robbed at gunpoint.

Residents in Marcus Garvey informal settlement are living with a large pool of stagnant water from blocked sewers.
Residents of Marcus Garvey informal settlement in Philippi say they can no longer tolerate living next to a large pool of stagnant water caused by blocked sewers. About 100 households are affected. But the City of Cape Town says the last team of workers it sent to pump out the water was robbed at gunpoint.
Babalwa Mbendu said blocked sewers near their homes have long been a problem, but the situation has become worse in the past two years.
"When it rains the dirty water goes straight inside our shacks, destroying our furniture. We fear for our health because children play in this dirty water," said Mbendu.
She said the nearest standpipe, where people collect water and do their laundry, is next to the stagnant pool. "The smell is so unbearable," she said.
Zukiswa Siqhunyana, who moved to the area in 2012, said, "If I had other options, I would leave this area, but I can't afford rent."
Ward 88 Councillor Zukisani Sophazi confirmed that the City's team was robbed last Saturday while trying to fix the problem. It was the second team to be robbed in the area, he said.
Police spokesperson Captain Frederick Van Wyk said a robbery case is under investigation. No arrest has been made.
Sophazi said two other informal settlements in the area are also affected by overflowing sewers.
Mayco member for Urban Mobility Rob Quintas blamed illegal dumping for blocking the sewers. He also said that shacks were erected on top of infrastructure such as manholes making access to sewers difficult. As a result they had to use manual labour to remove waste and this posed risks given the depth of the sewers.
Quintas said the City has had to suspend operations in the Philippi area. He said staff will return to pump out the stagnant water once they are able to secure "safe passage".
"We cannot allow criminals to deprive residents of basic services. It puts everyone's life at risk. I appeal to residents to please work with us to bring perpetrators to book," said Quintas.
© 2022 GroundUp. This article is licensed under a Creative Commons Attribution-NoDerivatives 4.0 International License.
You may republish this article, so long as you credit the authors and GroundUp, and do not change the text. Please include a link back to the original article.
We put an invisible pixel in the article so that we can count traffic to republishers. All analytics tools are solely on our servers. We do not give our logs to any third party. Logs are deleted after two weeks. We do not use any IP address identifying information except to count regional traffic. We are solely interested in counting hits, not tracking users. If you republish, please do not delete the invisible pixel.