Rhodes Must Fall protesters burn UCT art
Fires set and students arrested in protests over accommodation shortage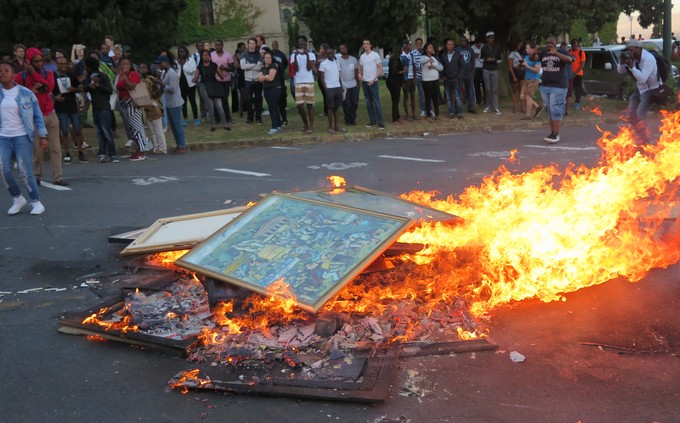 The Rhodes Must Fall "Shackville" protest came to a head on Tuesday afternoon as historical UCT artworks were burnt, a Jammie shuttle and a car were set alight and protesters were arrested.
The shack had been erected on Monday in response to the lack of housing at UCT, a situation that has left some students without rooms in UCT residences.
The situation escalated on Tuesday after protesters removed and burnt artworks from Fuller Hall and Smuts Hall residences as well as Jameson Hall, and attempted to prevent public order police and private security from demolishing the shack.
Police and private security eventually overpowered the protesters and tore down the shack, dispersing them with stun grenades. Private security then chased after protesters, capturing two. Later on in the evening another protester was arrested. The total number of people arrested has yet to be confirmed.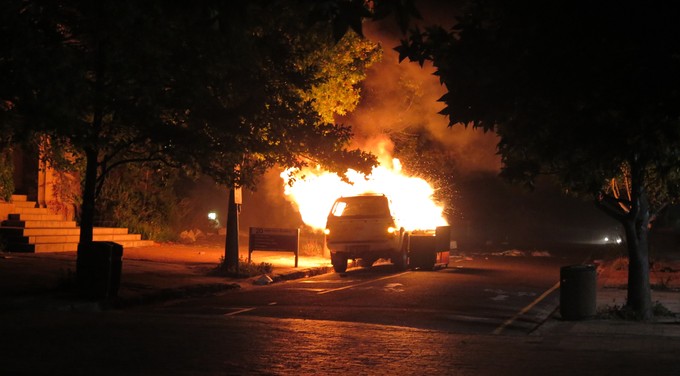 After the initial dispersion a car on upper campus was set alight as was a Jammie Shuttle outside a residence on lower campus. Protesters also managed to re-erect the badly damaged shack but after doing this they soon dispersed, fearing more stun grenades from the police.
Tuesday's protest began after the university sent a communication to the protesters telling them to move the shack as it was causing a backlog of traffic on the M3 and "interferes with the freedom of movement of other staff and students". Rhodes Must Fall (RMF) was told in the letter that at 5pm on Tuesday, the shack would be moved if RMF had not already done so. After 5pm passed without the shack being removed, protesters entered Fuller Hall, a female residence on upper campus, and served themselves dinner.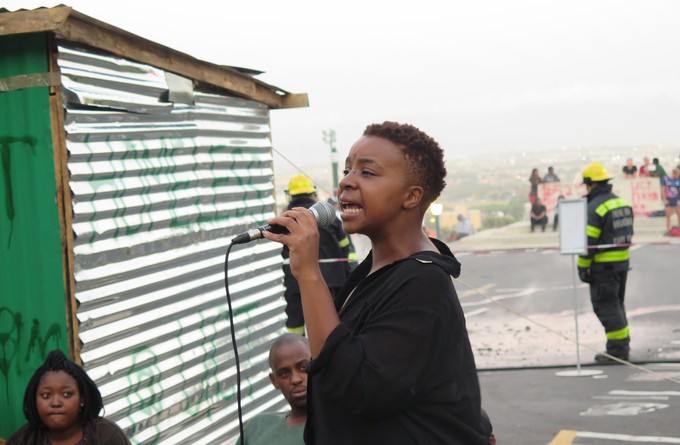 Protester Zola Shokane told GroundUp that they were eating there because despite black students being "educated and entitled enough" they were "forced to go to class hungry" as they had been "displaced", apparently referring to the shortages of rooms in residences.
The burning of the artworks then began with a protestor calling the artworks "symbols of the coloniser".
"We [must] go to each and every building and every problematic white person's picture we must take down," announced a protester to the crowd.
While most of the artworks were portraits of historical figures connected to UCT, at least one appeared to in fact be an anti-apartheid painting featuring a figure holding a sign reading "no to violence".
According to the protesters this was a "decolonisation project" and the burning of artworks represented "colonial symbols being eradicated".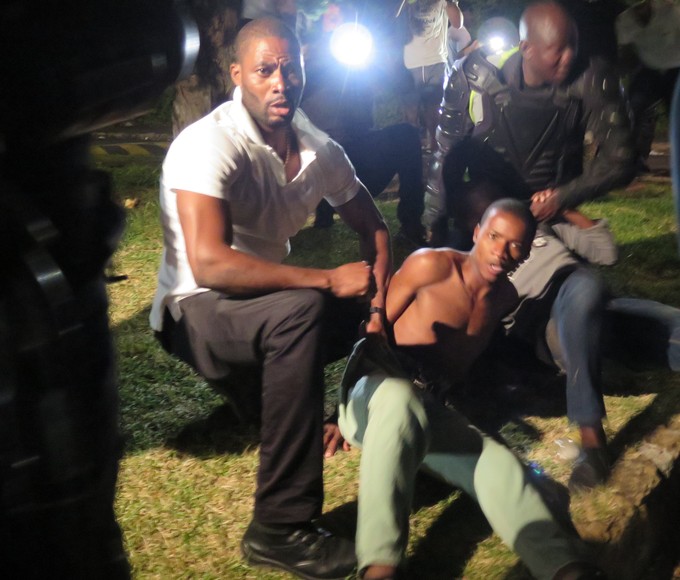 When police began to arrive they told the protesters who questioned their presence that they were called by the campus protection services as "they were feeling overwhelmed".
Protesters then discussed a way forward, and the suggestion of another UCT total shutdown was suggested.
"We are not done, we are just getting started," said Shokane to the crowd.
Shokane said that their demands were centred on housing and fees.
"The agenda is emancipation at all costs," said Shokane. She said that free education was needed because "the cure for cancer could be in the brain of a child in Khayelitsha".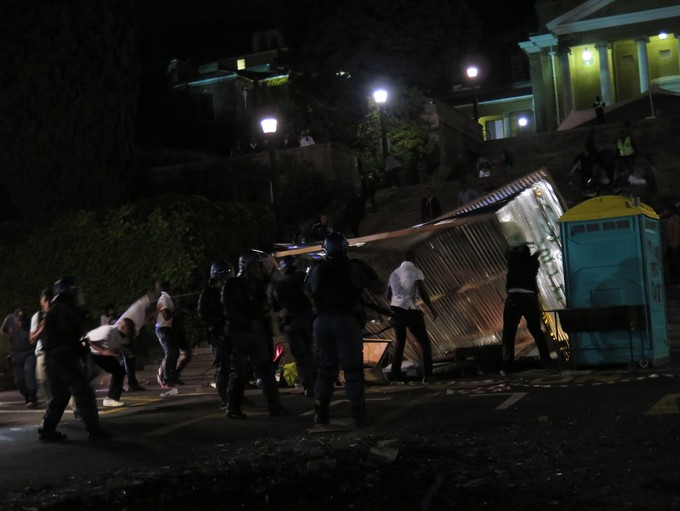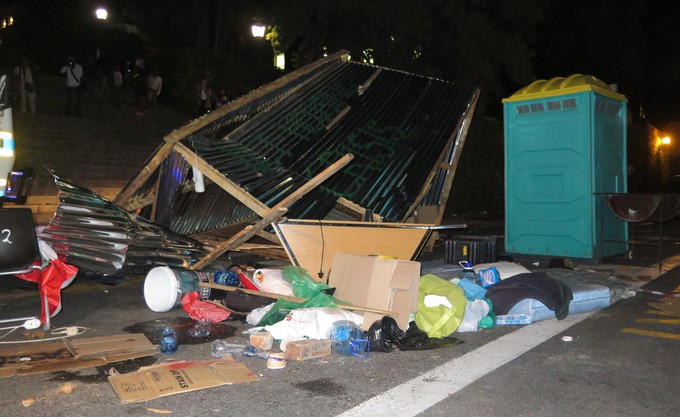 Protestor Masixole Mlandu said that they needed to know how many black students were successful or unsuccessful in appealing academic exclusion. "The first thing we need to do is to make sure that in 2016 no black child is getting excluded from UCT," said Mlandu.
UCT's Executive Director of Communication & Marketing, Gerda Kruger, wrote: "The behaviour of RMF members is criminal and has exceeded all possible limits of lawful protest action. We are deeply concerned for the safety of students and staff. We call on students to refrain from supporting RMF in these actions and to vacate the area."
The university is obtaining an interdict and charges are being laid against the leaders of RMF.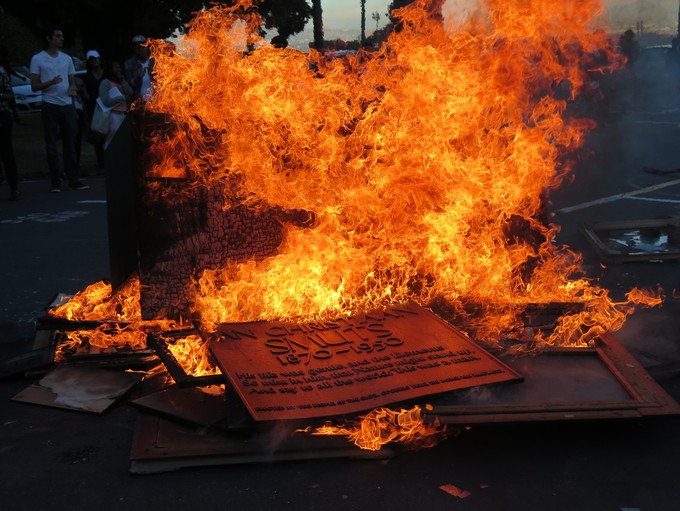 Deputy Vice-Chancellor Professor Francis Petersen gave reasons for the shortage of accommodation in a statement earlier on Tuesday: (1) the number of first-year students accepting offers from the university has increased "perhaps as a result of the expectations created nationally of better financial aid and lower fees", (2) students "completing deferred exams needed beds while awaiting decisions related to financial aid … and academic exclusion or readmission which are much later than usual due to the deferred exams," and (3) "the clearance of historic debt has increased the number of returning students".
Petersen also said that the RMF occupation of administration buildings had delayed the university's ability to respond effectively.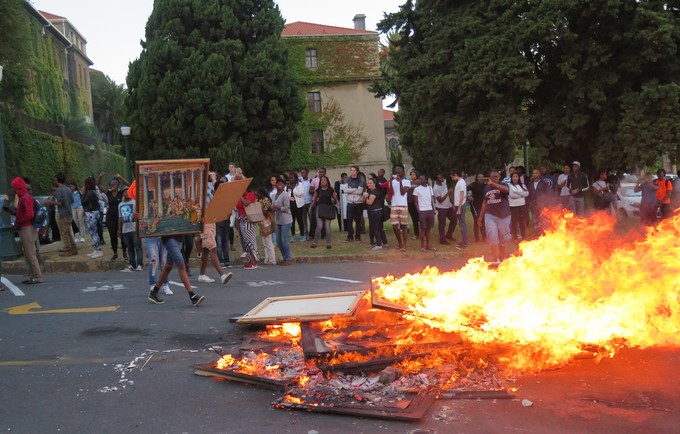 Letters
Dear Editor
Hmm, I am German. Burning of art seems to me not
too far away from burning books.
When we Germans were full of bad chemicals,
we organised art sessions like this in the past.
© 2016 GroundUp.

This article is licensed under a Creative Commons Attribution-NoDerivatives 4.0 International License.