Refugees claim abuse at UNHCR
Asylum seekers call for firing of staff at office of the United Nations High Commissioner for Refugees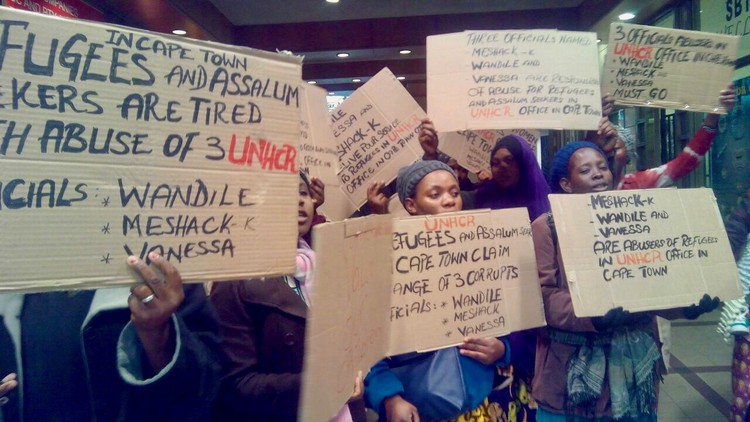 A week ago, on 28 June, dozens of refugees protested outside the Cape Town offices of the United Nations High Commissioner for Refugees (UNHCR) demanding that three employees be fired. They claim the employees verbally abused them.
GroundUp has had repeated reports of unhappiness with staff at the UNHCR Cape Town office and has heard other unsubstantiated allegations for quite some time.
The refugees' memorandum was received and signed by UNHCR field officer Abdullahi Ouldeba. 
The protesters said three officials have a history of verbally abusing refugees.
One of these officials told GroundUp they could not speak to the media.
The demonstrators also want the UNHCR to speed up a process of relocating refugees from South Africa to other countries, because they say, "We do not feel secure and safe in SA."
Jean-Pierre Balous from Western Cape Leadership for Refugee, Migrants and Women, said, "If we complain about the treatment [we get] at Home Affairs or other government institutions, then the three officials say they can never speak against their government."
"The duty remains of the UNHCR to report about the way Home Affairs is denying refugees and asylum seekers extensions, so that the international community would know of what refugees and asylum seekers are going through here in South Africa."
He accused the Cape Town office of no longer notifying his organisation of meetings or involving them in decision making.
An activist from the Women and Children at Concern, Aline Bukuru, said she and other activists were considered troublemakers and were not given an opportunity to share their experiences at UNHCR forums.
UNHCR Senior Regional External Relations Officer and spokesperson for the Southern Africa region Markku Aikomus said, "The UNHCR takes all allegations seriously. We are also looking into this issue, but need more time".
© 2017 GroundUp.

This article is licensed under a Creative Commons Attribution-NoDerivatives 4.0 International License.
You may republish this article, so long as you credit the authors and GroundUp, and do not change the text. Please include a link back to the original article.