Rats and rubbish: Somafho Flats in Gugs
|
Mary-Anne Gontsana
News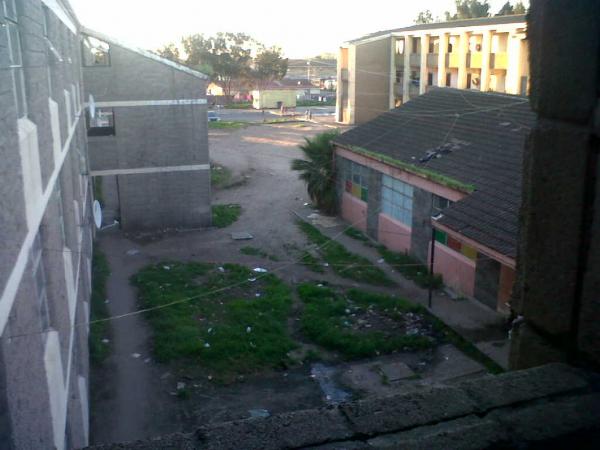 Rubbish piles, rats and no electricity. This is the site of Somafho, a block of flats in Gugulethu's NY 121.
Privately owned, Somafho is home to more than a hundred tenants who are living there rent-free. A former Peninsula Technikon residence, Somafho hostel has had its fair share of problems since winter began, including flooding and blocked drains which give off a bad smell.
Tenant Ayanda Hlamvushe says that he was sold a flat for R3 500 and did not have to pay any further rent after this. "There is no electricity in Somafho. You have to pull it from other houses and you would have to pay between R150 and R200 a month to the person that you are pulling it from. I have since also sold my flat to someone else and I live elsewhere now," says Hlamvushe. As you walk into Somafhu, you are greeted by rubbish stacked against the fence. On your left are the two-story flats and a crèche. Numerous electrical lines are strewn across the outside of the flats for electrical connections.
A Problem Building Bylaw by the City of Cape Town was endorsed to address buildings such as these. Media Liaison officer for the city, Charles Cooper, says that the bylaw was specifically targeted at dilapidated buildings, those that pose a health and safety risk and buildings in a generally bad state. "With privately owned buildings, complaints should be reported to the problem building unit who will then investigate the building. After the investigation, a notice will be served to the owner who will be given a deadline to fix the problems. If the problems are not fixed, the building might be demolished or renovated by the city," explained Cooper. He went on to say that the "major headache" sometimes was tracing the owner of a building because in some instances buildings are owned by companies, the owner is dead or they might be living overseas.
GroundUp could not locate the owner of the block.
Dodgy people are suing us. Please support us by contributing to our legal costs and helping us to publish news that matters.
© 2016 GroundUp.
This article is licensed under a
Creative Commons Attribution-NoDerivatives 4.0 International License
.