Protesters call for head of UNAIDS to go
Michel Sidibé apologises to AIDS activists but they say it's not good enough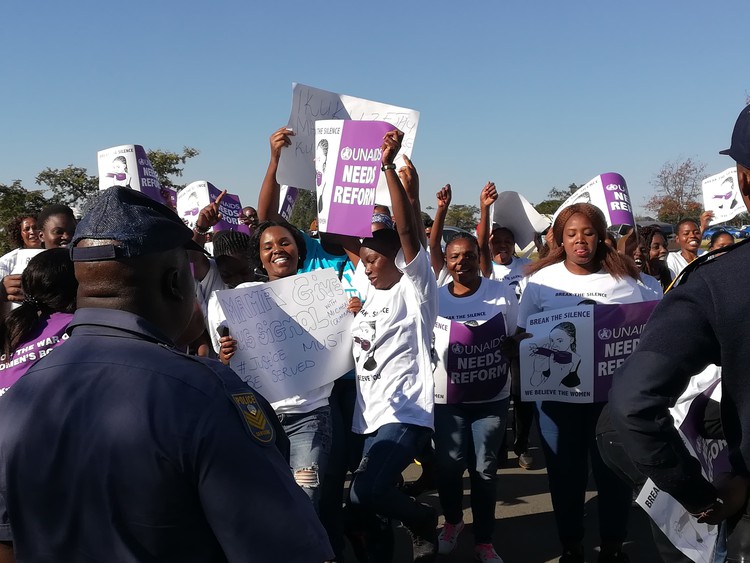 About 70 people picketed outside the Pan African Parliament in Midrand on Wednesday, calling for the Director of UNAIDS, Michel Sidibé, to step down. Sidibé is accused of failing to take proper steps to deal with sexual harassment at the organisation.
See Leading South African doctor calls for head of UNAIDS to step down
Sidibé addressed the protesters on Wednesday afternoon, but his speech was not well received. "His apology is not good enough. He has just proven that he is desperate to hold onto power and continue running UNAIDS like he used to," said Vuyokazi Gonyela from SECTION27 and the Treatment Action Campaign.
The South African Network of Religious Leaders Living with or Personally Affected by HIV and AIDS, Positive Women's Network, National Association of People Living with HIV and AIDS, AIDS Foundation of South Africa, Africa Health Forum and the South African National AIDS Council Civil Society Forum participated in the picket.
A statement released by SECTION27 on Wednesday said Sidibé had "failed to address the toxic culture within UNAIDS that has allowed perpetrators of gender-based violence to act with impunity". It said the picket was to demand that Sidibé be replaced and UNAIDS be led by an African woman.
In his address to the crowd, Sidibé denied mishandling cases of sexual harassment and assault allegations. He assured the crowd that he was against discrimination of any sort and he would fight for the women in UNAIDS who had suffered through sexual harassment.
"I'm with you. I have three daughters and four granddaughters. I would have never accepted that those women go through a situation that would break their lives," Sidibé told the crowd.
But some people from the crowd responded saying, "You already did." and "We don't trust you." Sidibé assured the crowd that he would be a "champion in this matter" and asked them to give him a chance.
Sidibé signed the petition given to him by Gonyela. He promised to read it thoroughly and respond in a meeting with representatives from the organisations on Thursday morning.
A press briefing will be held at the SECTION27 offices in Braamfontein on Thursday morning where the organisations will give feedback on Sidibé's responses to the petition.
After Sidibé's address, Gonyela told GroundUp that Sidibé's "crocodile tears" meant nothing to the organisations and they did not accept his apology. "It's just an apology. It doesn't change what he did. An external investigation must still happen … an apology is not going to change the systematic discrimination at UNAIDS."