Porta potties hit Bishopscourt
|
Johnnie Isaac and Nathan Geffen
Feature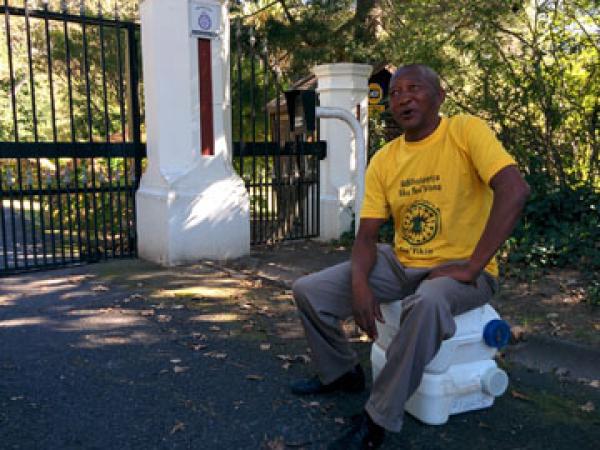 Following a campaign in Constantia earlier this week, the Ses'khona People's Rights Movement took their protest against portable toilets to Bishopscourt today.
The protesters are taking portable toilets — the so-called 'porta-potties' — to affluent suburbs in a bid to get support for their demands for better sanitation.
A handful of protesters, many wearing yellow Ses'khona T-shirts, went to Bishopscourt today.
The objective, says Ses'khona leader Loyiso Nkohla, is to show residents in these areas what the portable toilets are like and to challenge them to share the experience of using a portable toilet for a week.
"These people don't care about us, we're only a few coloured people from Mitchells Plain," said backyard dweller Verdiann Magerman.
Christal Booysen of Mitchells Plain, who has four children, said she lived in a backyard and used a bucket toilet. "You can imagine the stench … And most people are not happy when you have to throw your stuff in their toilet. This is not a life worth living."
"You come to an area like Bishopscourt where people live well, when we in Mitchells Plain don't even know when our children are going to get their next meal. That's how unequal our society is," said Booysen.
Yanga Mjingwa, of Harare, Khayelitsha, said he and his family lived in a backyard and used the portable toilet system.
"We are five or six inside. I have to use these in front of children and my wife. It's a privacy issue, a violation of human dignity."
Reverend Margaret Heyns, who came out of the residence of the archbishop to speak at length to the protesters, said, "It's not fair to our people. It's not proper sanitation. Every person has the right to proper sanitation. … Twenty years of democracy has shown a lot of improvement. There is room for more. I have the hope and faith that in the next ten years there will be fewer differences between rich and poor."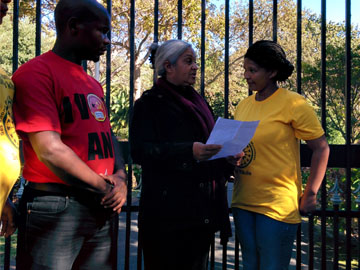 Reverend Margaret Heyns answers questions from Christal Booysen. Photo by Nathan Geffen.
Heyns invited the protesters into the Archbishop's residence for tea, but they politely declined.
"I am very busy because my domestic worker took off for the day. She took extra days off because of the public holidays," said one resident to the protesters when they asked her to come and chat to them.
However, another Bishopscourt resident was much more generous with the protestors. She came to meet them and chatted to them for a while.
"We live in the same city and share services of the City of Cape Town. We would like them to experience the differences," Nkohla said in an interview with GroundUp.
He accused the City of Cape Town of double-standards and of human rights violations in sanitation provided to informal settlements.
"It takes a few hours to fix a broken sewage pipe in areas like Rondebosch, but it takes from two weeks to months to fix the same pipe in areas like Khayelitsha, where poor people live."
Although it was reported that the group had received a cold reception in Constantia, Nkohla said Ses'khona was satisfied with the responses and added that at least one family had taken up the challenge of using the porta pottie for a week.
"The people of Constantia are now aware of what we are using for sanitation and are agreeing with us that it's a violation of human rights."
Nkohla said even those who had refused to take up the challenge agreed that this kind of toilet was a violation of people's rights. "They are saying they can't use it because they see it's not proper for human sanitation."
Former Police Commissioner, Bheki Cele spoke to the Ses'khona group earlier this month and told them not to throw faeces but rather to give the portable toilets to residents of well-established suburbs to show them what is used in other areas of the same city.
The Social Justice Coalition, which is also fighting for the right to sanitation, said it understood people's frustration. The organisation's leader, Phumeza Mlungwana, said that going door to door is a positive step because it raises awareness. She said she couldn't comment on Ses'khona's new campaign as a whole at this stage because the SJC has not yet engaged with them.
Dodgy people are suing us. Please support us by contributing to our legal costs and helping us to publish news that matters.
© 2016 GroundUp.
This article is licensed under a
Creative Commons Attribution-NoDerivatives 4.0 International License
.