Parow's block of flats from hell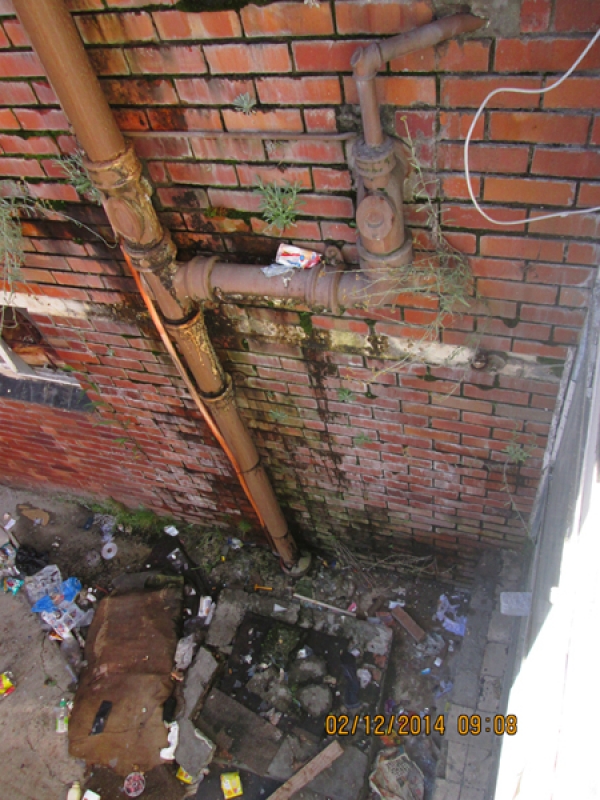 Immigrants who live in Goodman Close and Le Ruth Close at 194 Voortrekker Road Parow are fed up with the awful conditions they live in.
The blocks are an eyesore and health hazard. Tenants climbing the stairs are exposed to toilets that have not been cleaned in ages and that have attracted swarms of flies. Some of the glass panes on the stairwells are loose or broken.
GroundUp visited about five apartments. All had broken toilets, windows, doors and cupboards. The walls are in desperate need of a paint.
One tenant uses a piece of wire to secure his lounge door. His bedroom is not tiled and he has no floor cover. Pipes and taps are leaking and the drains are blocked. A man who works without detergents and protective clothing sometimes cleans the block. Tenants say that complaining to the owner is difficult because he does not have fixed offices and he sends them letters without an address on the letterhead.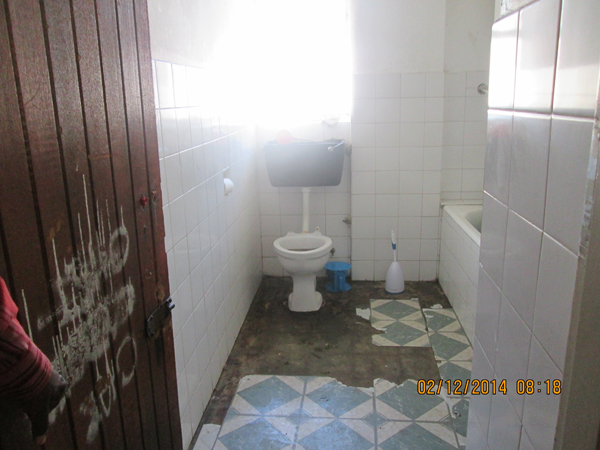 Photo by Tariro Washinyira.
The block is managed by Sheerprops, a company owned by John Mountain. GroundUp's attempts to locate him were futile. He did not respond to emails. His mobile phone was answered by a woman who identified herself as Marilyn. She said we should email questions for Mountain to her. At the time of publication she had not responded to our email.
Papi Dianzeza, 42, from DRC is a tenant in the block. He says, "They are treating us like slaves. We did not have electricity for three days and our food went rotten in the fridge. City officials attempted to restore electricity for us, but they were forced out of the property by security guards."
Acting Mayoral Committee Member for Utility Services Councillor Brett Herron confirmed that a City contractor visited the premises after the complaint was received, but was not allowed to intervene. He says, City officials will revisit the premises with law enforcement as soon as possible in order to investigate.
Dianeza says he has only been living in the block since June, but his rent was increased from 1 November. He says he is looking for a safe and affordable place to rent but it is hard because he is a foreigner. He says there is only one South African household at Goodman Close, out of almost 50 flats. The flat opposite his has stood empty because the flats are unsafe, dirty and expensive, he says.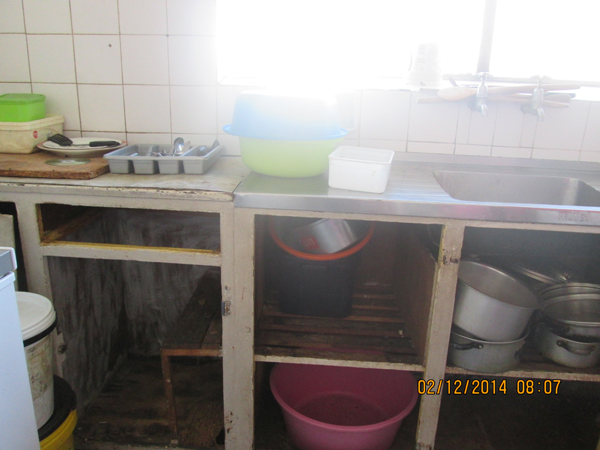 Photo by Tariro Washinyira.
Another tenant, Selemani Waziri Mussa, 34, from Tanzania, alleges that in June while at the shops, people broke in and took her furniture into the street. When his wife tried to restrain them, the caretaker and people living on the streets hit her. Mussa claims they were working on the orders of the owner of Mountain who wanted to force them to move out of his property.
Another tenant says he is paying R6,300 per month rent for his poorly maintained two bedroom flat. He says the cupboards and toilet are broken. He uses a bucket. He has four young children.
"I am tired of this," he says. "In July, we opened a case with the police but it was not investigated. The security here is fake and not registered. It is hard to deal with a property owner who does not have an office. To get a house to rent is difficult but I am busy looking."
Tenants complain that they are mugged at night, people sleep in the stairwells and drug dealers operate in the block. The block is also used for sex work.
Some tenants stopped paying rent out of frustration. The landlord has taken steps to evict them and a court case has ensued. The tenants are being assisted by Alexander John Nagel, an independent legal adviser. He says the case has been postponed to 17 March 2015.
GroundUp previously reported on another slum block managed by John Mountain.
© 2016 GroundUp.

This article is licensed under a Creative Commons Attribution-NoDerivatives 4.0 International License.