Overcrowding leads to Ekurhuleni land occupation
New settlement named after Abahlali baseMjondolo president S'bu Zikode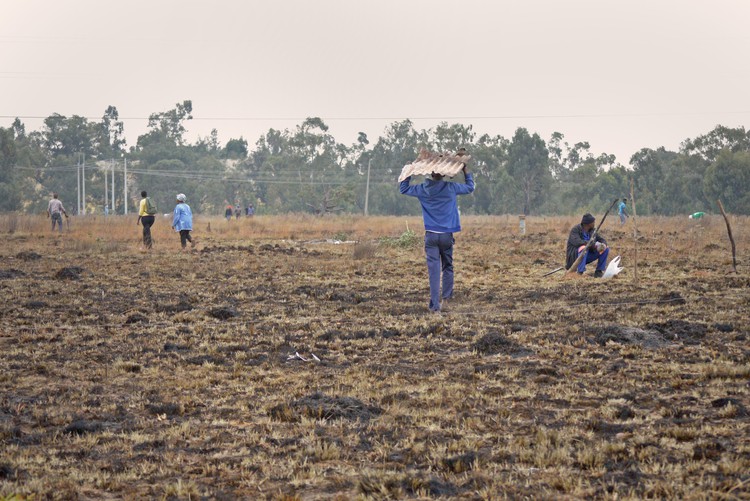 A few days before a cold front swept over Gauteng, a group of shack dwellers braved a cold night in a bid to secure a piece of vacant land.
In the early hours of Saturday morning, 12 May, residents from Good Hope's Extension 5 erected makeshift structures on a piece of land adjacent to a shack settlement called Ramaphosa in Germiston, Ekurhuleni. The community had been organising the land occupation for six months, claiming that the land had been vacant for 40 years.
Space is a luxury for residents of Good Hope, who have named the newly occupied land Zikode Extension after Abahlali baseMjondolo president S'bu Zikode. Zikode is one of the founding members of shack dweller movement Abahlali, which was formed in the mid-2000s.
"We have been living in shacks for many years. They are overpopulated. There are no toilets, and there is no improvement. I am 58 years, and in my life, I have never owned a piece of land. I am getting so old and I am going to die and leave nothing for the future of my kids," said a community member.
"Some of us haven't slept or bathed, we were up all night surrounding a small fire we had made. We left our kids unattended at home to secure this land from as early as Friday," said Abahlali's Nomnikelo Sigenu.
Wooden poles were stuck in the ground to mark out plots for shacks.
Ekurhuleni Metro Police Department dismantled about ten shacks on Saturday.
During the weekend more people brought wood gathered from a forest on the other side of Commissioner Road. They used the wood to mark out yards. The community also managed to raise R800 for building materials.
Police later demolished the shacks. Two officers who asked not to be named said they sympathised with the community members, but they had a job to do they said.
Police spokesperson Kobedi Mokheseng told New Frame that community members could claim their materials and possessions at the Boksburg pound.
"When we respond to land grabbers, we usually have instructions from corporate, which is the municipality … So when we demolish and impound the material, we are acting on instruction from that office," he said, referring New Frame to the Ekurhuleni city council for comment.
Mayoral Committee Member for Human Settlements Lesiba Mpya told New Frame that no study had yet been done to declare the land fit for permanent occupation. He said that the department will not tolerate the illegal occupation of land. "The land [they are on] belongs to the City," Mpya said.
He said the occupied land had not been developed because it was set aside in case of emergencies so that people can be temporarily placed there. He gave, as an example, what happened to the people of Yulana last year. "Because they live in low-lying areas, we were compelled to move them to an area of safety. We moved them just adjacent to the land where [the people of Good Hope] have tried to occupy."
Mpya said the City has made a commitment to provide 59,000 serviced stands in the next five years. He appealed for patience.
Sigenu, who has been living in Extension 5 since 2010, said the community intends to erect an estimated 500 shacks. She said the occupiers have sought legal advice from the Socio-Economic Research Institute (SERI) to help prevent their shacks getting demolished.
Dodgy people are suing us. Please support us by contributing to our legal costs and helping us to publish news that matters.