An Eastern Cape municipality promised its residents houses over a decade ago. They're still waiting
If residents accept a proposal by the province they will get houses with pit latrines and water tanks within two years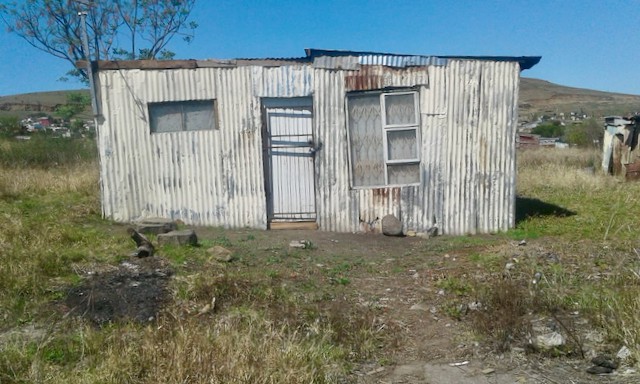 Residents of Zizamele informal settlement in Butterworth are still waiting for RDP houses they were promised in 2009.
For 11 years the community has been bounced between the Eastern Cape Department of Human Settlements, the Mnquma Local Municipality and the Amatole District Municipality.
The Province says it can build the houses by 2023 with pit latrines and water tanks if residents agree.
But Mnquma Municipality has not submitted plans to Amatole, nor has it presented the Province's proposal to the community
---
Zizamele informal settlement residents in Butterworth were promised RDP houses by 2009 by the Mnquma Local municipality.

A dozen years later, the houses have not been delivered.
Yanga Funani, spokesperson for the Eastern Cape Department of Human Settlements, says Zizamele could get the houses within the next two years, but only if they accept that their new homes will have pit latrines and water tanks.
This is because the homes would be built according to rural specifications, even though Zizamele is in a township.
Funani said 1,241 houses are budgeted for 2022/2023. He said if residents accept the terms, the department is ready.
Formed in 1992, Zizamele has 630 households. It has only three communal standpipe taps. There are communal pit toilets. There is no electricity.
But community leader Vuyokazi Fatman said residents have not been officially informed of the human settlements' plan to build according to rural standards. She said she believes the community would accept homes with pit latrines.
She said that last year residents were so fed up with waiting they demanded ownership of the land so that they could go ahead and build their own homes.
Community leader Collygen Daniso said they have been bounced for the past 11 years between the provincial Department of Human Settlements, the Mnquma Local Municipality and the Amatole District Municipality.
"This informal settlement is very old. People are tired of living in shacks. We are tired of having to buy paraffin every day. The local municipality is cutting all illegal electricity connections," said Daniso.
Mnquma Municipal spokesperson Loyiso Mpalantshane said its role is to provide land. It will assist with providing community facilities and registering beneficiaries.
Bulk infrastructure for the houses would be supplied by the district municipality.
But Amatole District Municipality (ADM) spokesperson Nonceba Madikizela-Vuso said its involvement can only start after the local municipality submits a plan to formalise an area, stating how many houses it intends to build.
"ADM has no record of these submissions for Zizamele Informal Settlement," she said.
Mnquma Municipality therefore appears to be the stumbling block to advancing the housing plan. Told that ADM said it had received no plans and that the Eastern Cape Human Settlements is ready and waiting for an answer, the Mnquma Municipality was unable to clarify why this is the case.
Dodgy people are suing us. Please support us by contributing to our legal costs and helping us to publish news that matters.
© 2021 GroundUp. This article is licensed under a Creative Commons Attribution-NoDerivatives 4.0 International License.
You may republish this article, so long as you credit the authors and GroundUp, and do not change the text. Please include a link back to the original article.
We put an invisible pixel in the article so that we can count traffic to republishers. All analytics tools are solely on our servers. We do not give our logs to any third party. Logs are deleted after two weeks. We do not use any IP address identifying information except to count regional traffic. We are solely interested in counting hits, not tracking users. If you republish, please do not delete the invisible pixel.