No lights, no security and piles of rubbish at Parow train station
Commuters say they don't feel safe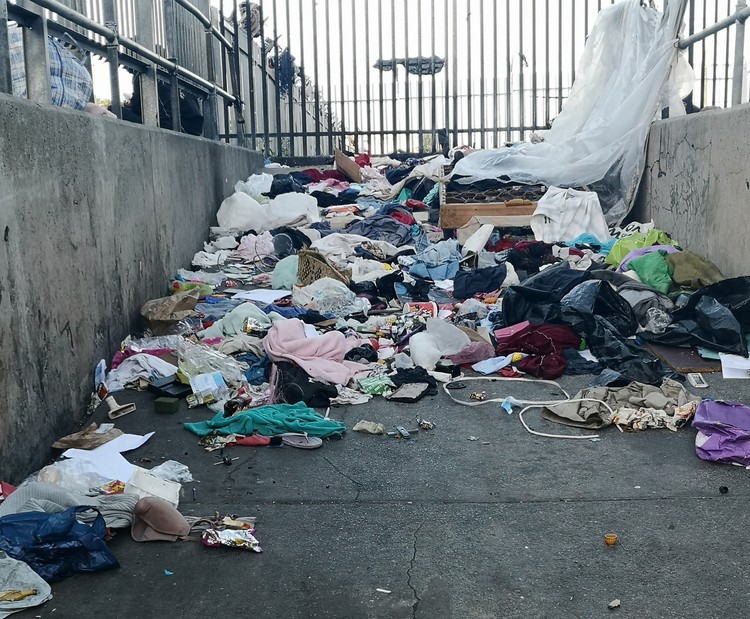 Parow is one of the busiest stations on the northern line in Cape Town. But there is no visible security, there are no lights in the subway and garbage is piling up near the subway entrance.
Train commuters and commuters who queue for taxis to Panorama, Nyanga, Delft and Khayelitsha told GroundUp that they don't feel safe and have been robbed of their valuables at Parow station.
They said the station and its surroundings are being neglected by the City Council and by Metrorail.
Informal traders are selling inside and outside the fence. Homeless people are sleeping under the stairs which train commuters use to go up to Cape Town Platform and near the subway inside the station fence.
GroundUp asked Riana Scott, spokesperson for Metrorail, if Parow station had been included in the programme of the new Rail Enforcement Unit launched by the City Council, Western Cape Provincial Government and Passenger Rail Agency of South Africa (PRASA) last October. The 100-officer Rail Enforcement Unit was deployed to protect rail commuters and infrastructure.
Scott said she had asked the head of security to place Parow station on the agenda for the next meeting with the Rail Enforcement Unit. The regional manager of the division responsible for facilities management would also assess the situation at Parow Station.
She said Parow station was not being neglected, but available resources only stretched to vegetation control and clearing of rail reserves twice a year. Where this was not enough, managers were encouraged to collaborate with "local stakeholders" to organise clean-up initiatives, she said.
Scott said 23 people who had been living in the station areas at Parow and Bellville had been removed in February and March, and 17 structures demolished.
JP Smith, the City's Mayco Member for Safety and Security, said the collaboration with PRASA was aimed primarily at commuter safety and preventing theft of infrastructure. He said the area is a "hotspot for street people and related challenges", and that the City conducts "operations" in the area at least once a week, and that the area is not being neglected.
Charity Madiki lives in Nyanga and works in Parow as a security guard. She believes that the environment around the station has contributed to a high crime rate in the area.
She said she doesn't feel safe from the moment she is dropped at the station. In winter it is dark when she is dropped at the station by taxi at about 5:30am for her 6am shift. Her shift ends at 6pm when roads are empty and quiet.
"I was recently mugged outside Parow station and there was no security to help me. Since that time I carry a small phone and keep my smartphone at home. I also make sure that the cash on me is just enough for my fare," she said.
Parow resident Ellen Johnson complained about street lights close to the station which had not been working, she said, for "almost a year".
Some people working in a hair salon that specialises in dreadlocks near the station accused the traders of terrorising commuters and of stealing the clothes, shoes and other goods which they display for sale on the ground at the station."They are the ones trespassing in our homes here in Parow, stealing laundry on the washing lines," said one hairdresser.
But Naomi Geswindt who lives in Elsies River and sells second hand shoes and clothes inside Parow Station said she had been given the goods by Parow residents. She said she had been doing business at Parow Station for three years.
Selling the goods helps her to take care of her daughter and two grandchildren. She resigned as an assistant nurse at a private hospital in Milnerton so that she could take care of her sick mother. After her mother's death the hospital refused to take her back, she said.
She told GroundUp that the last time the vendors were chased by law enforcement was 2017.
Dodgy people are suing us. Please support us by contributing to our legal costs and helping us to publish news that matters.