Mbekweni Rasta's five storey wooden house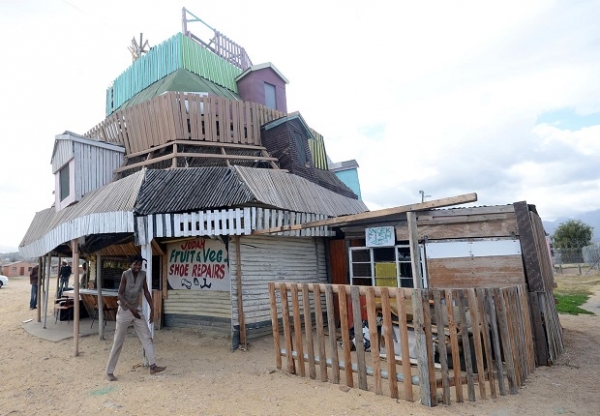 A Rastafarian in Mbekweni has spent 20 years building himself a five storey wooden house - and he plans to add two more storeys.
Ras Juda Ngqoshela, 52, constructed his house in Phinzi Street in Mbekweni, Paarl.
The former police officer says he started building in 1996 and hasn't finished yet. He plans to add two more storeys which he hopes will make his house a tourist attraction in the Boland town. The house is made of wood, and has five open-plan rooms and no toilets.
Ngqoshela, a devout Rastafarian, says he built his house with the aim of teaching locals the true meaning of Rastafarianism. He named his shack "12 Tribe" – after the Twelve Tribes of Israel, a Rastafari group founded in Kingston, Jamaica, in 1968.
Ngqoshela says: "This is where the Rasta congregation of Paarl meets for Nyabinghi (Rasta church) every Tuesday. "We are twelve Rastas living here. We teach each other about our beliefs. "It is where we praise Haile Selassie."
Ngqoshela reckons tourists will pay big money to see his house in a few years' time. "By 2018 this place will break some records," he says.
He built the house alone. "No one taught me how to build with planks. It's something I learnt and developed on my own."
Every floor has its own function – the living room is on the ground floor, the kitchen is on the second floor, and the bedrooms are on the third and fourth floors.
"On the fifth floor we Rastas hold our church," Ngqoshela says.
"When stormy days come I don't fear the shack will fall. I built the shack on a solid foundation," he says.
Ngqoshela, who sells fruit and vegetables for a living, says his house is already attracting curious people from the area who come and learn about his religion.
"People now know that we do not only grow dreadlocks and smoke ganja.They know we stand for peace."
He also hopes to create jobs in the future for Rastas who are discriminated against.
"Employers do not want to employ Rastas. They associate us with ganja and disapprove of our dreadlocks and demand we shave. And that is against our belief," he says.
© 2016 GroundUp.
This article is licensed under a
Creative Commons Attribution-NoDerivatives 4.0 International License
.